Ceramics enthusiasts might well recognise Michael's name for his important work in co-authoring ground-breaking reference works such as 'A Directory of British Teapots' and 'A Compendium of British Cups', but a perhaps lesser-known passion of his was the works Henry & Richard Daniel's porcelain and earthenware factory in Hanley, Stoke-on-Trent.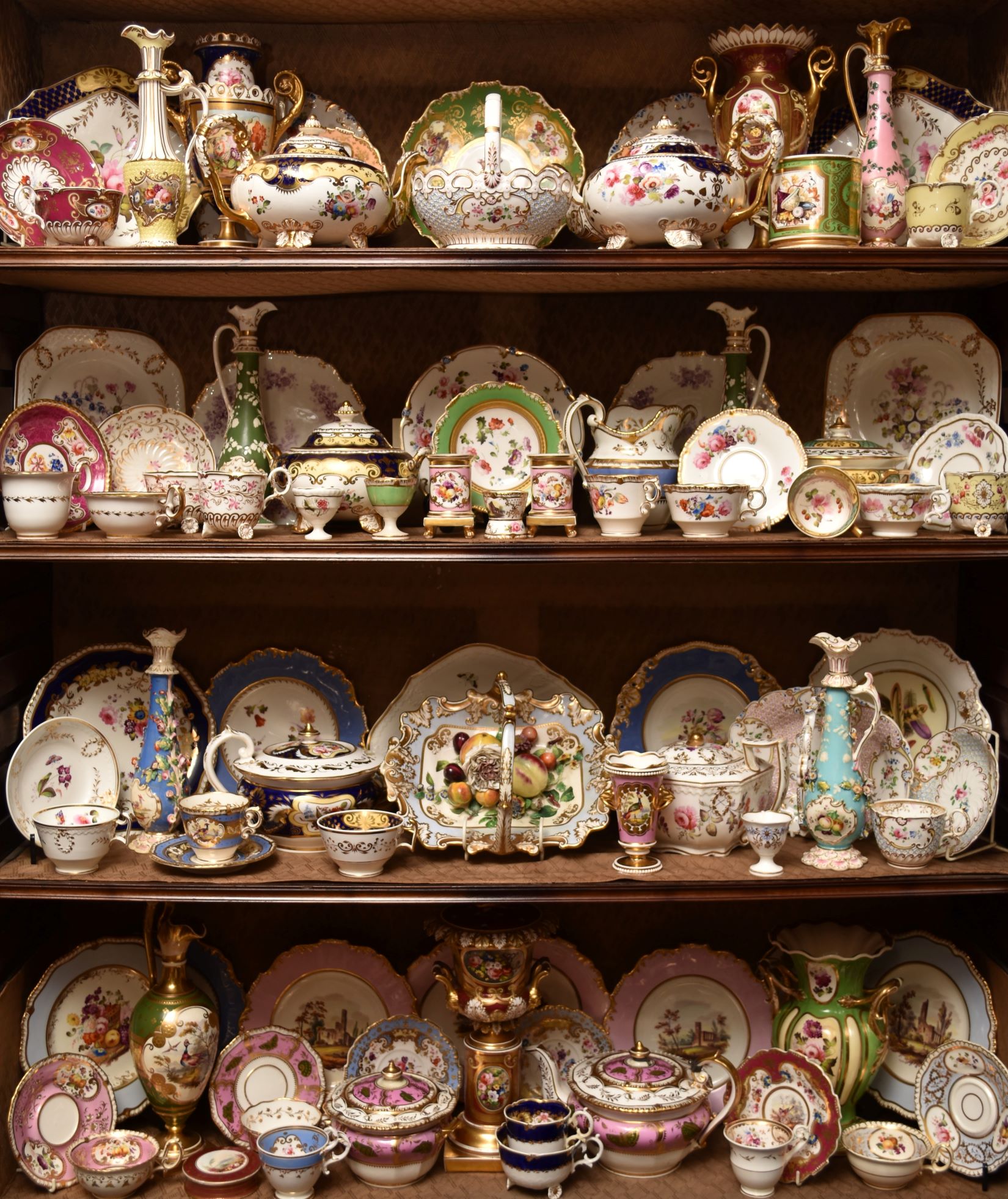 Part of Michael Berthoud's Collection displayed in his home.
Despite its relatively short lifespan of just twenty-four years, the H&R Daniel manufactory produced some of the most exquisite porcelain of the era. Their painted wares are considered to be of a higher quality than even their contemporaries, Minton and Spode. Henry Daniel, who had previously worked as an enameller at Spode, started his venture in 1822 before entering into a partnership with his son Richard in 1824. Their business quickly grew, and by 1827, they had received a substantial order from the Earl of Shrewsbury for a service to be used in Alton Towers following its refurbishment.
Some examples in the sale:
Lot 48 - H&R Daniel - A trio of a teacup, a coffee cup and a saucer


circa 1827, pattern 4413
Estimate: £300 - £500

 
Lot 91 - H&R Daniel - A rare pair of pastille burners, lacking covers,


circa 1824, 8.5cm high
Estimate: £300 - £500

 

Lot 96 - H&R Daniel - A pair of pot pourri vases,
circa 1822-25, 26.5cm high
Estimate: £500 - £700
The auction will include over 300 pieces contained within around 90 different lots, ranging from porcelain items from notable services to the lesser-studied scarce earthenware. A large number of the pieces in this collection were illustrated in Michael's important book on the factory, which was published in 1980.
The online catalogue will go online on Friday 8th September and hard bound, printed catalogues are available on request by contacting Caroline Dennard on 01743 450 700 or carolined@hallsgb.com
We are open for public viewing of this collection and the rest of the sale on Sunday 17th September 11am - 2pm, Monday 18th September 10am - 4pm and Tuesday 19th September 10am - 4pm at our Shrewsbury Salerooms, Battlefield, SY3 6DR.
---
Click here to view the collection
on our website.