Nestled into the rafters of an old dance hall building in the beautiful historic village of Ceri, North Wales is the studio of late artist Denby Sweeting (1936-2020). The studio just as he left it, his wooden chair with its worn indented cushion still pulled up to the easel surrounded by the usual scatter of brushes, paint tubes and artist detritus that mark an artist both passionate and absorbed by their work. Denby had a prolific output, his workshop still full of half-finished works anticipating completion, stacks of final paintings in frames longing for new homes and stacks of empty frames waiting to embellish and cradle their partnered work.


Denby Sweeting's studio, built into the rafters of Ceri's old dance hall

Denby's chair and work station
Halls Fine Art are delighted to have been charged with auctioning the paintings and studio contents of Denby Sweeting, following his sad passing earlier in the year. Fans of his artwork should look out for his paintings in our upcoming sales, with five of his larger works on offer in the Christmas Auction on the 9th December, including a beautiful Still Life of Orientale Poppies estimated at £700-£1,000 and an Oxford Sandy and Black Pig in a Stable estimated at £500-£700. Bidders had an initial taste of the collection in the recent Modern and Contemporary Art sale, with the majority of the paintings to be auctioned in the New Year.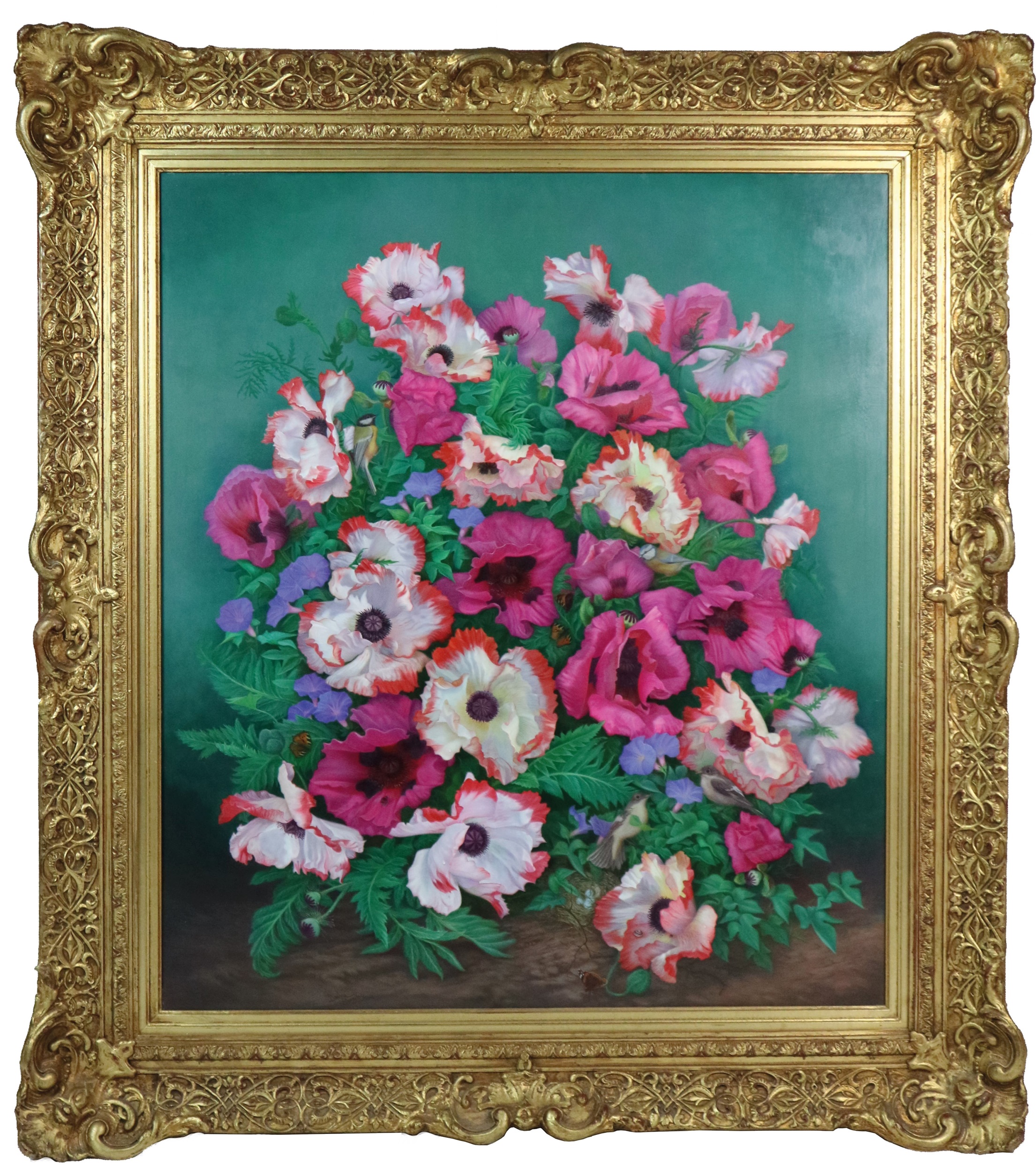 Lot 206: Christmas Auction 9th December, Denby Sweeting, Orientale Poppies,
Estimate £700-£1,000
'I love Denby's use of striking colour in this painting which really contrasts with the frame, a real eye-catching piece that will brighten up any room. One thing that I do love about this artist's work is his attention to detail, you can also see in this piece that he has included a range of beautifully painted butterflies and insects amongst the leaves and petals of the poppies, and he names each breed and in a handwritten note attached to the back of the painting.'
Paintings Specialist - Abigail Molenaar
---
Denby showed artistic promise from a young age and continued to paint during his years growing up in the care system before forging a career for himself as a painting restorer, becoming a member of the International Institute for the Conservation of Historic Works of Art. As an artist Denby worked in a more traditional vein, having a very classic realist style and proved highly versatile with subjects ranging from still life arrangements, animals, landscapes and historical genre scenes.
He exhibited regularly with the Royal Birmingham Society of Artists, Royal Cambrian Academy and Society of Botanic Artists, with his works being sold across the UK, Europe and America. Denby and his family relocated to mid-Wales in 1975, having fallen in love with the landscape and were active members of the Ceri community. Denby continued to paint and exhibit until the end of his life, watching the Welsh sunsets and observing the views over the valley from his attic studio.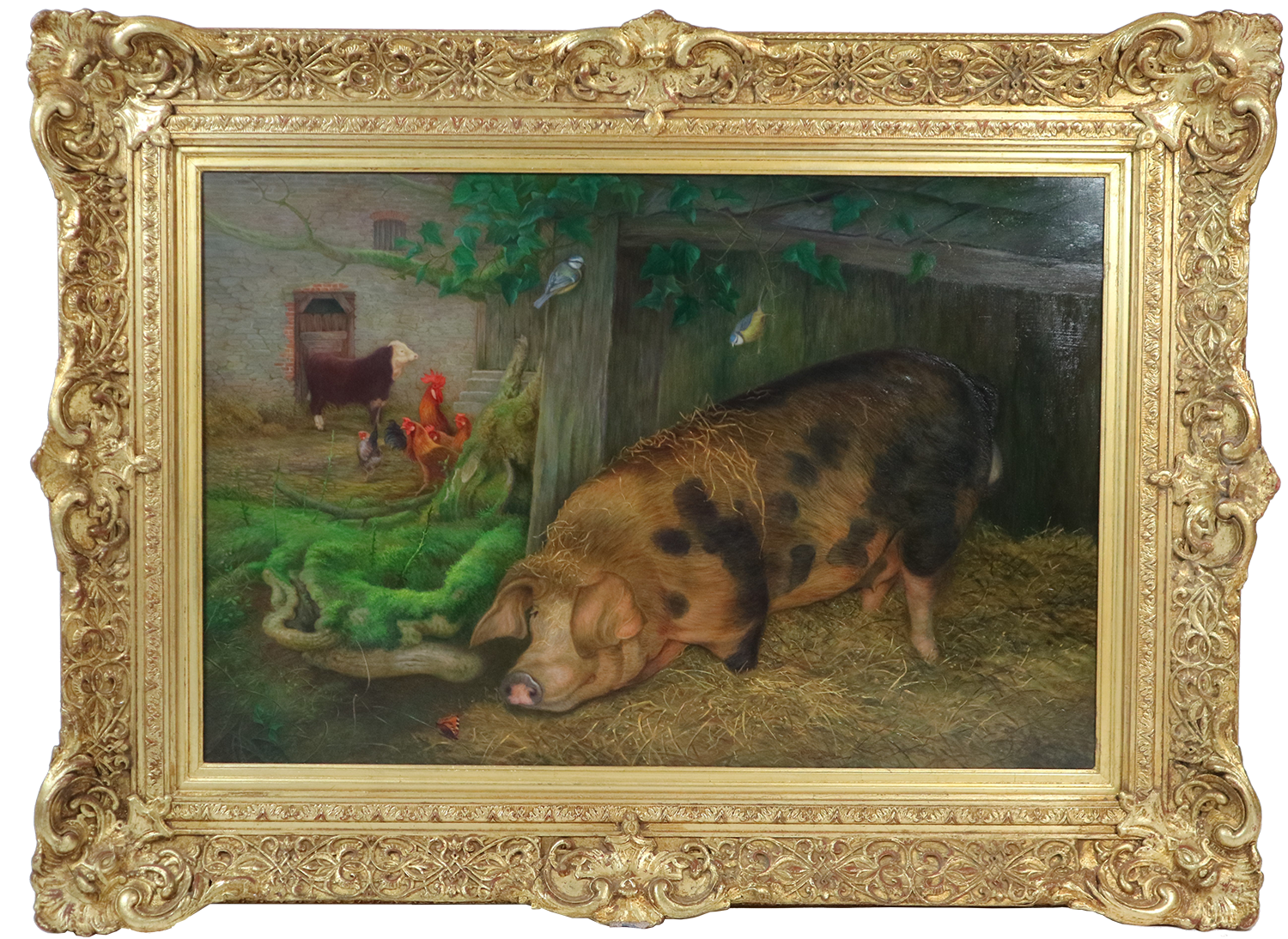 Lot 213: Christmas Auction 9th December, Denby Sweeting, Oxford Sandy and Black Pig in Farmyard, Estimate £500-£700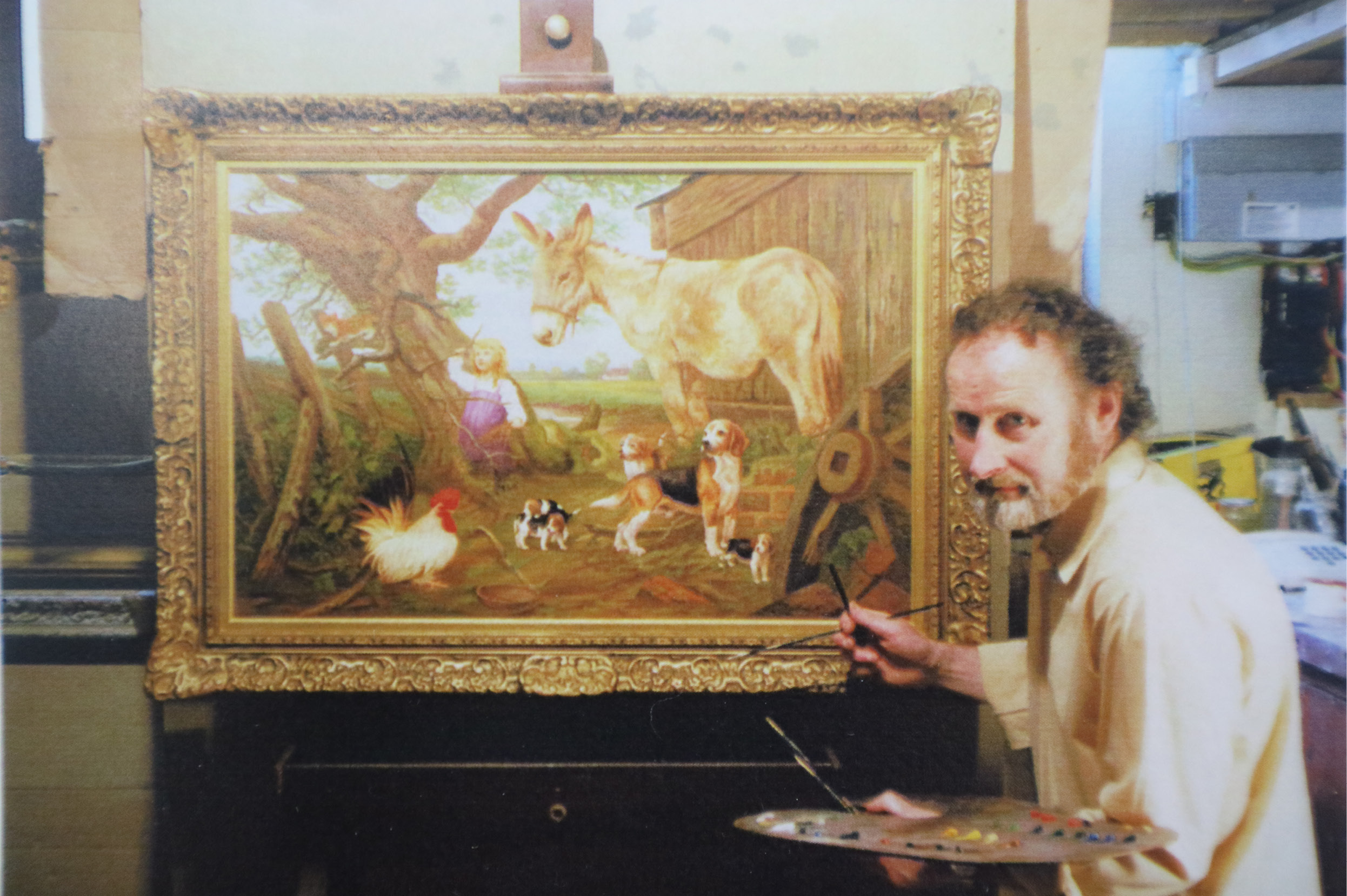 Denby Sweeting 1936-2020, Photograph courtesy of the Sweeting Family.
Halls Fine Art are privileged to have been asked to offer Denby's paintings for auction, with the collection to be dispersed over a series of auctions 2020-2021. For any further information about any of the upcoming Denby Sweeting works please get in contact with paintings specialist Abigail Molenaar.
---
  If you are looking for a unique and meaningful Christmas gift this year be sure to take a look at our Christmas Auction catalogue and give the gift of history this Christmas.


The Christmas Auction
Wednesday 9th December 2020 10:00
Viewing by appointment:
Sunday 6th December 2pm - 4pm
Monday 7th December 9.30am - 4.30pm
Tuesday 8th December 9.30am - 4.30pm

For further information about this auction please phone 01743 450 700 or email adminfineart@hallsgb.com