Cooper, Hunt & de Breanski Paintings Consigned For Sale
The highlights of an upcoming fine art auction at Halls of Shrewsbury includes a super example by British painter Thomas Sidney Cooper R.A. who was a prominent landscape painter of the Victorian era. He was known for his masterful depictions of the English countryside, particularly its pastoral scenes and livestock.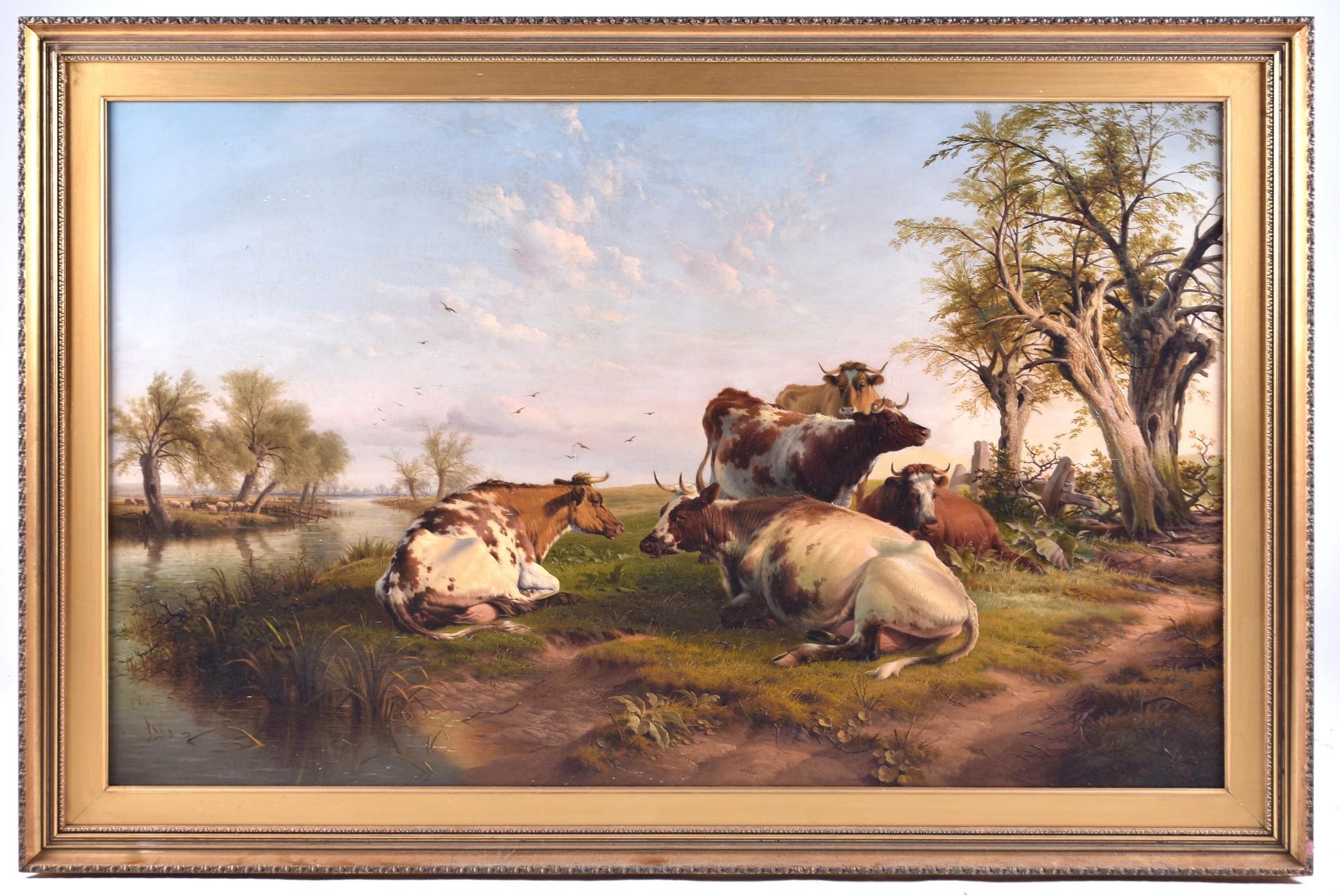 This is typical of the artist's output in the 19th century, which was principally cattle and sheep in pastoral settings and was produced by the demand generated by its popularity. So, he lived up to his soubriquet 'Cow Cooper'. T.S.Cooper was made a Royal Academician in 1867 and Canterbury City Council, The Tate and The British Museum all exhibit his work.
This painting is one of two Coopers and 28 other paintings and watercolours in the Fine Paintings and Antiques and Jewellery sale on the 22nd of March. Two other works from the same collection, include a genre scene by Frederick Daniel Hardy (1826-1911), 'Tourist Sketches', which depicts an interior scene with an artist and his assistant showing a family his portfolio, which is estimated at £4,000-6,000 and a painting by Charles Hunt (1829-1900). This snowball fight scene in a courtyard is expected to make between £3,000 and £5,000. They are part of a West Midlands collection formed by the vendor's great grandfather from the 19th century onwards.
The second collection includes a gargantuan oil painting by Walter Hunt (1861-1941), measuring 102 x 153cm it shows a pack of otter hounds tearing across a waterway.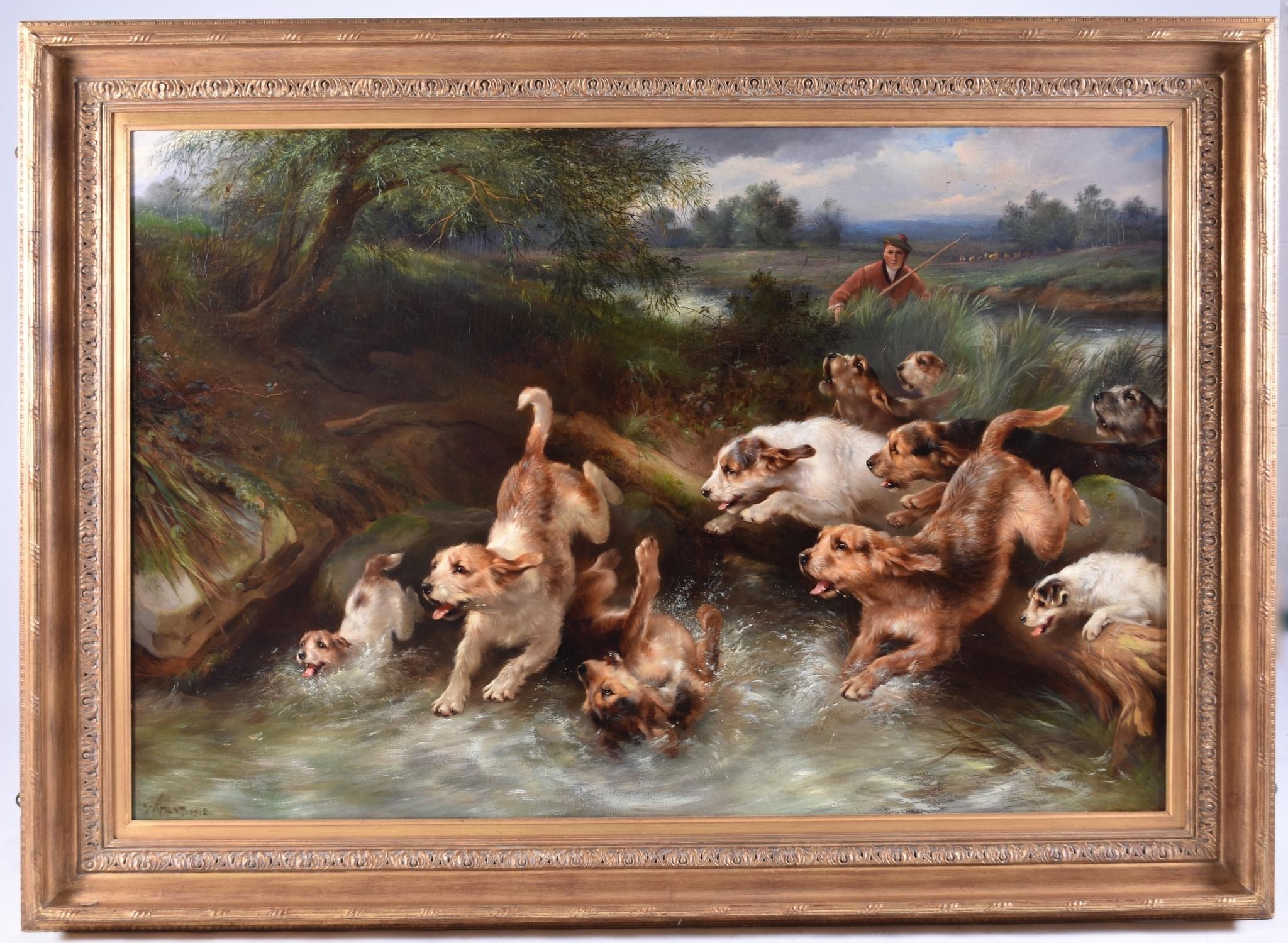 This work was bought at the Sotheby's Gleneagles sale on the 28th of March, 2002. It is expected to fetch between £12,000 and £18,000.
Walter Hunt was the brother of Edgar Hunt, who was also a professional artist and specialised in farmyard scenes. Walter Hunt did do many similar examples, but also specialised in interior barn scenes with calves and donkeys. He exhibited at the RA from 1881, including works titled 'Best of Friends' and 'Twins'.
Walter did cover other subjects, dogs in art being one such, evidenced by this example. Edgar's and Walter's father, Charles Hunt, also exhibited at the RA, but was famous for playful genre and historical subjects, which illustrates how common it is that many members of the same family flourished in the art world.
Another star lot from the same collection is a typical example by Alfred de Breanski (1852-1928), of a loch scene.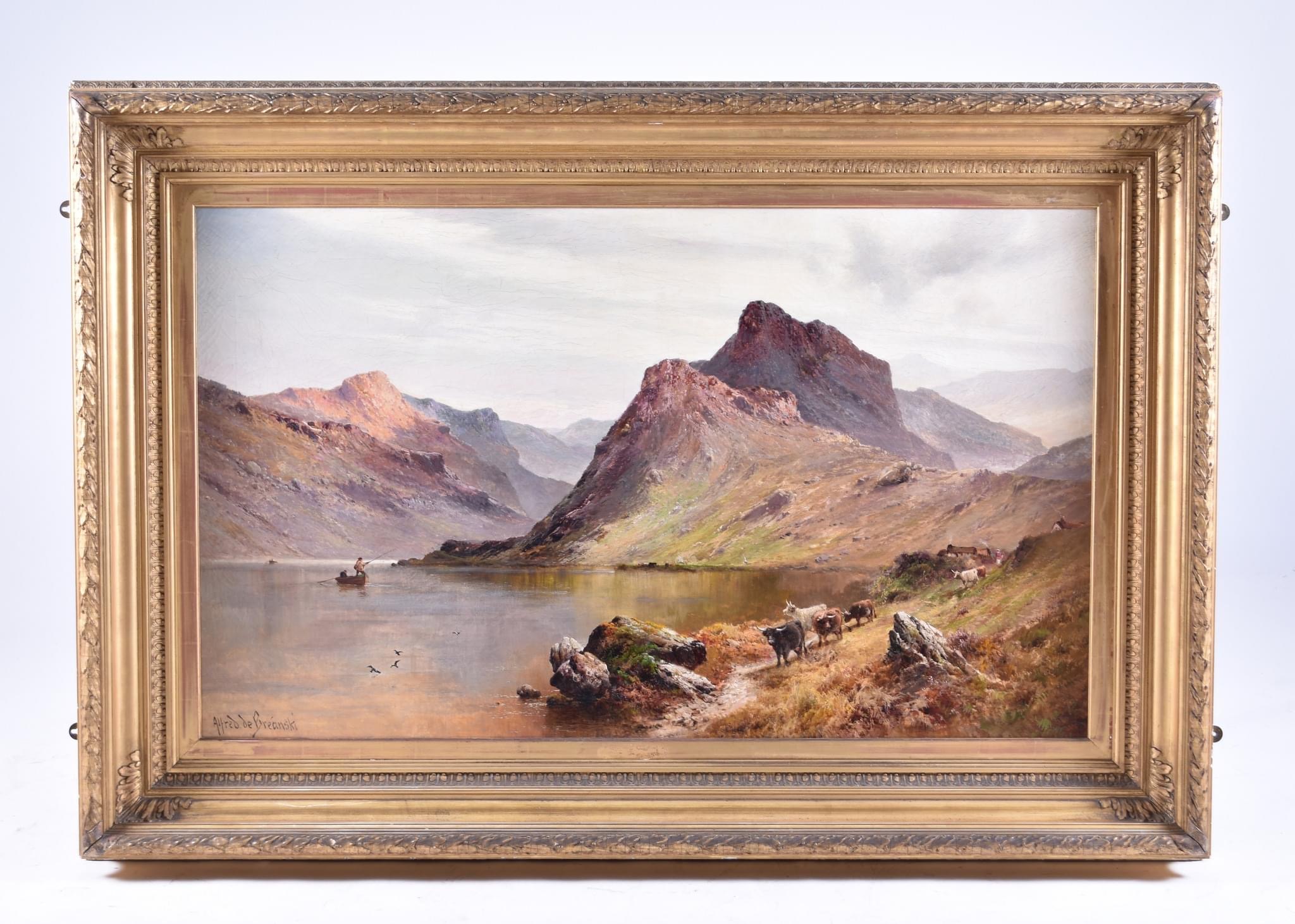 Breanski (like his son who followed in his father's footsteps) specialised in highland scenes and exhibited at the RA from 1872-1890. In addition to being a fine example, this work has the added allure of depicting the birthplace, 'Stronachlacher', of Rob Roy. It too is imposing, measuring 77 x 127cm and is estimated at £6,000-8,000.
There are also a number of equestrian works, including one by David George Steell (1856-1930) and another of a runaway hunter by Thomas Woodward (1801-1852) which was bought at the same sale as above and is estimated at £1,500-2,500. Steell studied at the RSA and specialised in animal and sporting subjects. True to form this picture depicts two saddled horses in a yard (£2,500-3,500).
This is a good opportunity for anyone with an interest in animals in art to acquire an example by a well-respected artist. For more information or to book a Victorian landscape painting valuation please contact Gerry Berwyn-Jones on 01743 450 700 or email gerry@hallsgb.com