Over the centuries, this simple statement of cobalt oxide on pure white porcelain has been admired and celebrated throughout the world.  It has been endlessly copied since the first examples of Chinese ceramics emerged in the West, reproduced in tin-glazed earthenware, known as Delft, and later, when its secrets were finally unlocked in Europe, in porcelain.  The market for all Chinese art has been particularly strong for the last twelve years or so and while certain periods, styles and materials have waxed and waned a little, blue and white has remained among the most sought after and prices have definitely grown.
Back in early May 2020, while most of us were still in lockdown, an important milestone was passed.  A Chinese blue and white vase sold for £3,000,000 in a timed online auction.  It was a house record for the auctioneer in Singapore and the highest price achieved in a timed online sale.  This signalled two things, firstly that the Chinese art market was in no way dimmed by the pandemic and secondly that multi-million pound sales could be achieved in a timed auction format.  No auctioneer, no gavel, no room full of bidders with paddles waving.  Just the click of a mouse button.
We've had our share of successes with blue and white at Halls, not least of which was the fabulous Yongzheng marked bottle vase which realised £150,000 in 2017 despite being damaged.  Then there was the beautiful 'flower and wave' censer and cover from 2018 which made £32,400 and, much more recently, a large and impressive figure of the goddess Guanyin which sold for £9,600 earlier this year.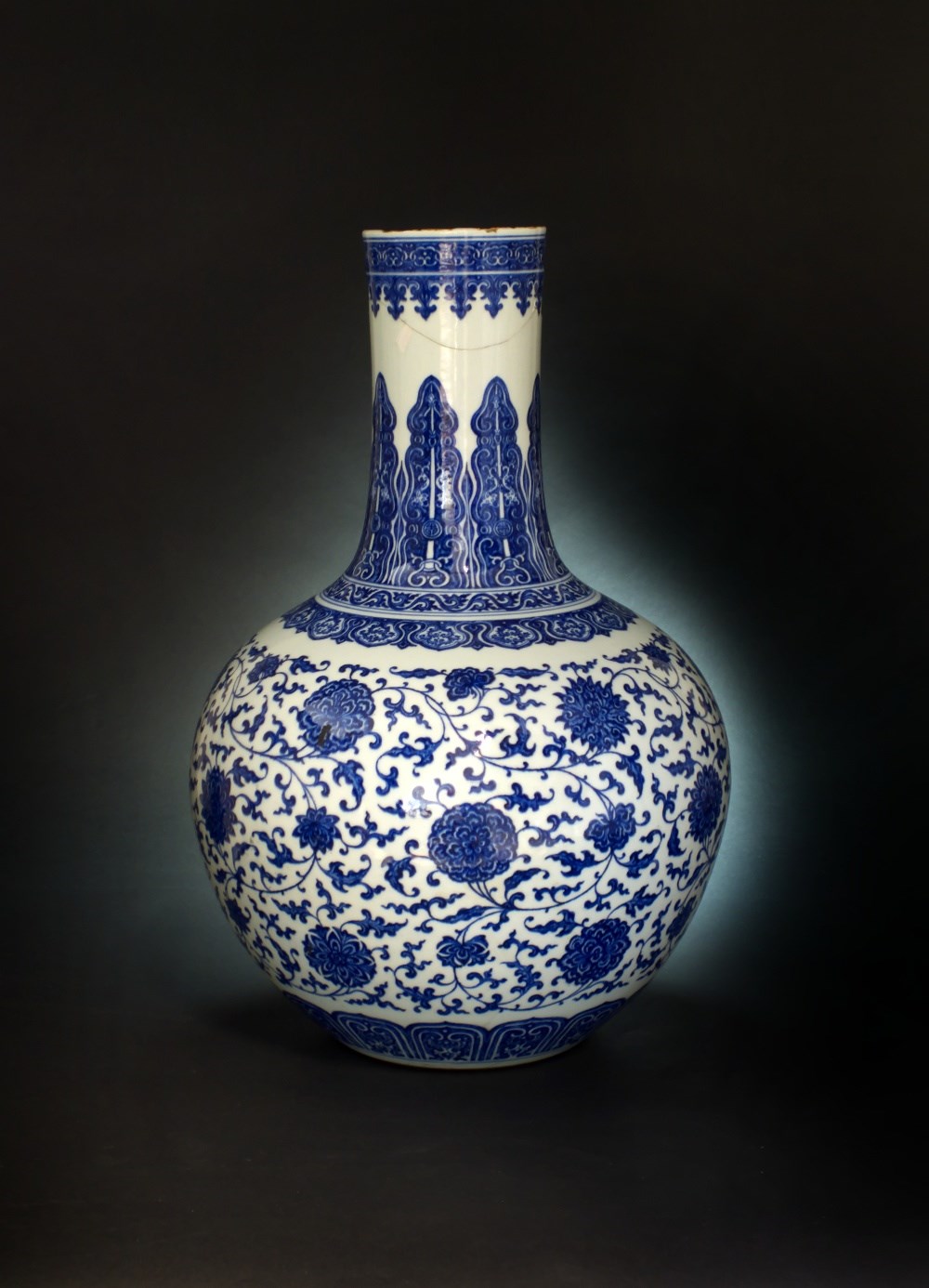 A large and impressive Chinese blue and white bottle vase,
tianqiuping,Yongzheng seal mark and possibly of the period,
well potted and of elegant proportions, decorated with a band of lappets under a main body of interwoven lotus, peony, camellia and other flowers finely painted with scrolling tendrils under a delicately shaded ruyi-head collar and and trailing leafy band beneath the tapered cylindrical neck rendered with stylised upright banana leaves under a ruyi and dart border at the rim, the six-character mark in seal script on the recessed base, 55cm (21 5/8 inches ) high (repair and losses to the rim)

Footnote: Tianqiuping vases from this period and of this size are rare and recorded examples include those in the National Palace Museums, Beijing and Taipei. A very similar example was sold at Bonhams New Bond Street rooms, 10 Dec 2012, lot 5255, and for further comparison see also Sotheby's, London, 11 May 2011, lot 71 decorated with dragons. The use of 'heaping and piling' of the cobalt is of particular merit in the present lot, a method adopted in the Qing Dynasty to imitate the dark inky patches found in Ming blue and white decoration. The flowers chosen carry their own significance in Chinese culture. The peony is known as the 'King of Flowers' but also represents honour and wealth. Camellias are considered lucky, particularly around the Chinese New Year when the flower is in bloom. The lotus is the most important, symbolising the throne of Buddha as well as purity as its flowers rise out of the mud.
Sold for £150,000
A rare Chinese blue and white 'Flower and Wave' censer and cover for the Islamic market
Xuande six-character mark, probably Ming Dynasty
Of globe form, raised on a spreading foot, the cover surmounted with a garlic-head finial, pierced with six trefoil vents, mirrored by six further larger vents at the shoulder above a broad band of complex foliate piercing, decorated with flower sprays and bands of flowers and foliage between ruyi-head borders in typical 'heaped and piled' cobalt, the base with flowers and scrolling foliage above a lappet border, the foot with later silver replacement, decorated with further flower and leaf band above a broad border of waves.
37cm high
PROVENANCE:
Private UK collection, the property of a gentleman.
FOOTNOTE:
This piece clearly follows Islamic market influences and tastes, both in the shape and decoration. The precedent for pierced domed incense burners in the region now occupied by Iran, Syria, Iraq and Turkey, can be found in bronze and brass examples from the 10th to 14th Centuries. Persian metallurgy was highly advanced by this time with layering of contrasting metals for decorative effect as well as elaborate surface embossing, chasing, incising and piercing. A typical period example can be found in the Victoria & Albert Museum collection, London, ref.M.1:2-2002, made in Iran circa 1400. Here we see the surface chased with dense flowers and foliage following the pierced design, as with the present lot. The footed domed form of the present lot seems also to have influenced later incense burners, or mamluk, of the Turkish Ottoman empire from the middle Ming period to the 19th Century. The shape would have been difficult to fire successfully with the weight of the vessel base resting on its stem, while the cover also weakened by the intricate piercing would have been prone to warping and fracturing in the intense heat. Consequently it is likely not many were made, hence its comparative rarity. Originally with a porcelain foot, decorated with flowers and a broad border of waves, this has been replaced with embossed silver, carefully imitating the original pattern, presumed to have been carried out in China before finding its way to the West.
For comparison, a near identical censer and cover was sold at Poly Auction, Beijing, 5 December 2012, lot 5566.
Sold for £27,000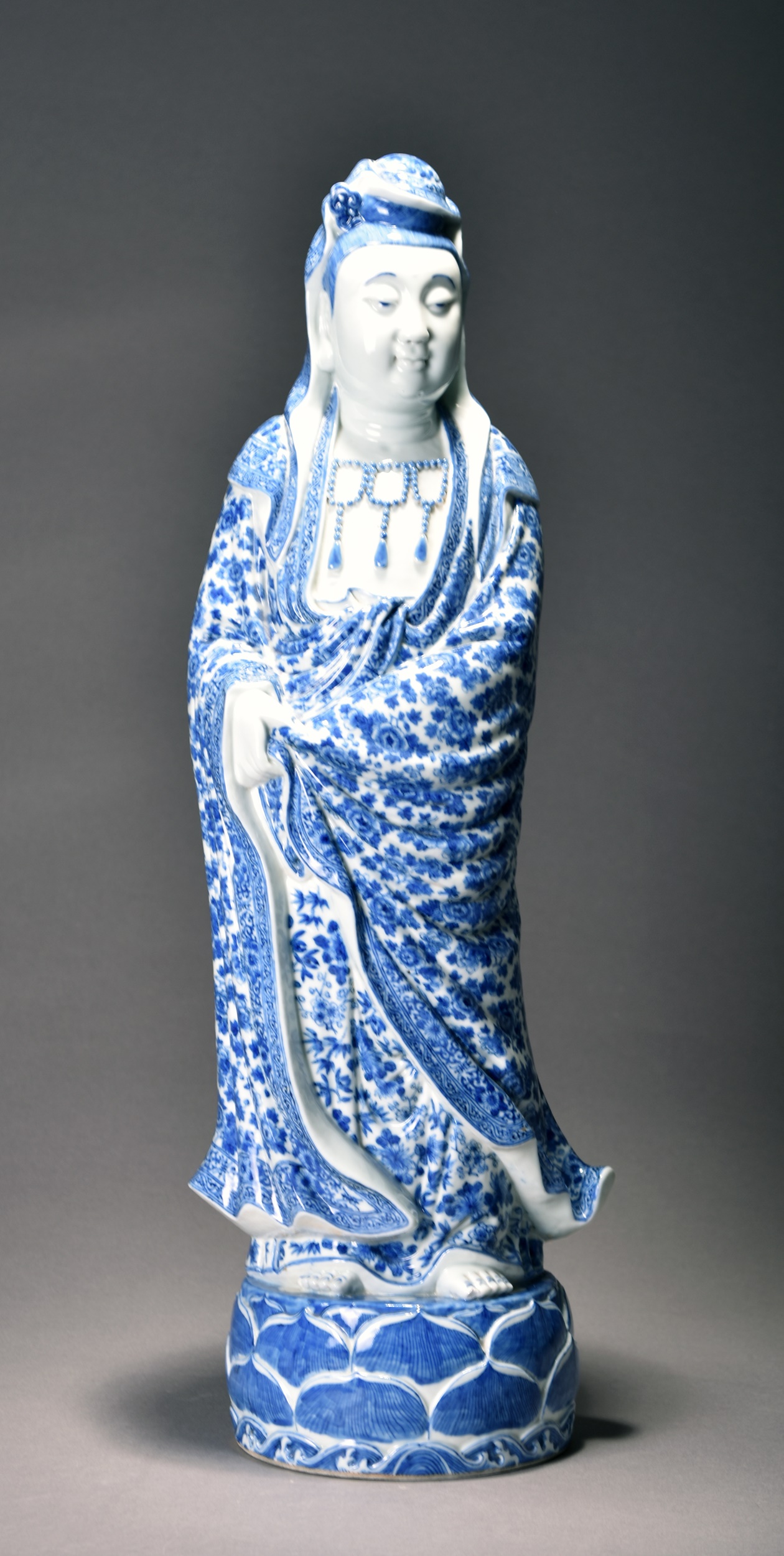 A large Chinese blue and white figure of Guanyin, Qing Dynasty
A large Chinese blue and white figure Guanyin, Qing Dynasty, 19th century
Modelled standing in long flowing robes atop a lotus base, she wears a bead necklace and her face with serene expression, decorated with a dense profusion of flowers and foliage.
50.5cm high
Sold for £8,000
And so with our timed and live online sales, even without an audience, there have been very strong prices and a growing appetite for fine art and antiques.  Asian art is still among the most dynamic specialisms and it's an exciting time for the Halls team and our clients who have consigned with us.  Somewhere in Shropshire, perhaps within the walls of Shrewsbury Town itself, there is another piece of blue and white waiting to be discovered, worth a life-changing sum of money.  My mission, as Asian Art Specialist, is to find it and bring it to the world market.
---
Find Our the Value of Your Asian Art Collection 

To book your no obligation, free appraisal of your Asian art,
contact Alexander Clement on 01743 450700 or email alexander@hallsgb.com