Those collectors on the look out for a great story and a tantalising slice of history were well served by the book section which included a meticulously written account of the Peninsular War by the hand of Major-General Sir George Ridout Bingham (1777-1833) who served in the conflict between 1809 and 1814.  Bingham would later accompany Napoleon Bonaparte to his confinement on the island of St. Helena.  Bound in red calf boards, the pages have survived remarkably well and offer an unrivalled insight into the experiences of serving officers during the Napoleonic Wars over 200 years ago.  An appropriately lively bidding battle saw the manuscript fly past its £3000-5000 estimate to sell for £7000 (+fees).



PENINSULAR WAR MANUSCRIPT.
A detailed and important account of the Napoleonic War in the Iberian Peninsular between April 1809 and March 1810.
4to, 163 pages running to about 32,000 words. 
Sold for £7,000
A mere three years after Napoleon's death, construction began on a four-mile stretch of canal in Sussex and this was the subject of the Baybridge Canal Archive, 1825-1875, including accounts, invoices, letters and broadside posters.  This fascinating collection more than doubled its bottom estimate to achieve £2500 (+fees).
BAYBRIDGE CANAL ARCHIVE, 1825 - 1875.
A fascinating archive of material concerning the building and closure of the Baybridge canal.
Sold for £2,500

The canals were still a busy working waterway in Britain when William Sydney Cooper (1854-1927) painted a delightful scene of sheep in a gorsy Kentish landscape in 1902.  This sizeable oil on canvas, 51x76cm, complemented by an ornate giltwood and gesso frame, was a clear winner for the picture buyers.  It soared past its £400-600 estimate, the eventual buyer fending off competition from telephone and room bidders to finish at £1550.  But the picture department wasn't finished supplying top prices on the day, serving up another four-figure lot in the form of Les Matthews' tryptich view of St. Pauls in London as seen from the balcony of the Tate Modern.  With excellent provenance, this stylish statement piece sold for £1050 (+fees).
William Sidney Cooper (1854-1927)
Near Fordwick, Kent,
signed lower right, dated 1902,
oil on canvas, measurements 51 x 76cm, frame 84 x 111cm
Sold for £1,550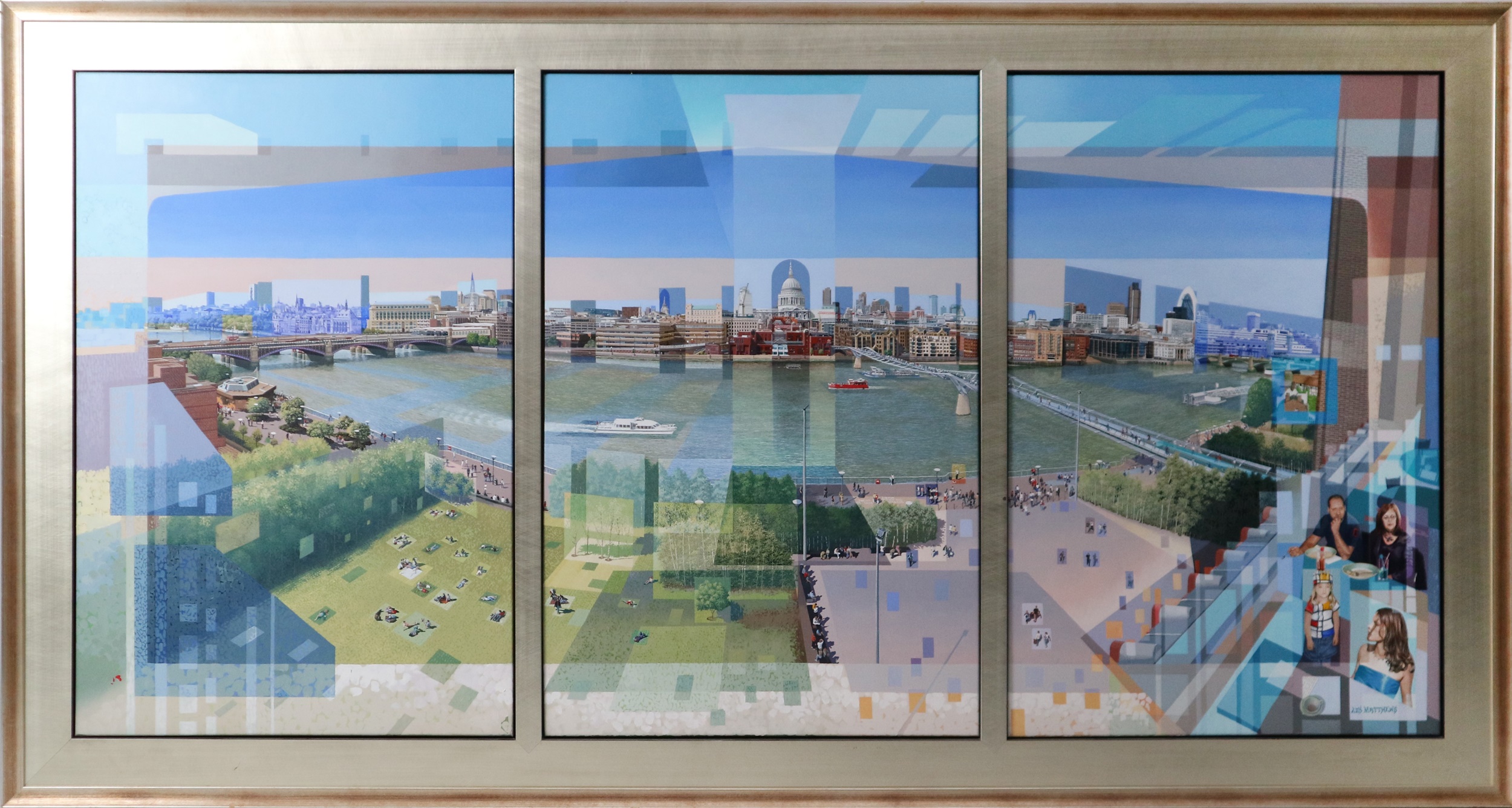 Les Matthews (British b. 1946) St Pauls from the Tate Modern Balcony,
triptych oil on canvas, signed bottom right,
measurements 61 x 91 cm each canvas (x3), frame 111 x 211 cm.
Sold together with a copy of the exhibition catalogue
Provenance: private local collector, purchased from Matthews' exhibition at the Clifton Gallery, Bristol.
Sold for £1,050
What better to accompany your contemporary art than some retail chic, and Halls had just the ticket with a pair of beech haberdashery cabinets.  With forty drawers between them, these units offer plenty of useful storage as well as appealing to that industrial aesthetic that simply can't be replicated.  As a result they were a popular attraction, garnering a wealth of online bids taking them all the way up to their top estimate of £1200 (+fees).  Useful storage was clearly in demand this January with a delightful 19th century oak bakery shelf selling for £900 (+fees) against a £500-700 estimate and a large oak and mahogany housekeeper's cupboard of earlier vintage racing away to sell for £1300 (+fees), more than triple its estimate, in spite of much work needed to recommission it.
The world of antiques supplies so many great stories, glimpses of the past and glorious objects to collect, admire and invest in – all this and more could be found in Shrewsbury this January at Halls Fine Art.