1. What's so special about Asian Art?
The main attraction to Asian art for me is the sheer breadth and diversity of what it encompasses even within each element of Asian art, so with Chinese, Japanese or Indian art, within those spheres there is huge breadth and variety of materials, of decorative techniques and of course of history because it goes back to the Neolithic period.  You can find things that are thousands of years old but nevertheless are objects of beauty.
Some incredibly valuable, some not so, so you have this intensely active and creative time even just looking at China specifically, together with a huge amount of other materials and decorative techniques that span that period.
2. What are the highlights of your latest auction?
The timed online Asian Art Auction which runs until the 30th May includes a huge variety of Chinese, Japanese, South East Asian and Islamic antiques, covering many disciplines including pottery, porcelain, lacquer, cloisonné, wood carving, bronze, silver and paintings.  Many objects come with terrific provenance from private collectors and significant estates, and all have an interesting story to tell.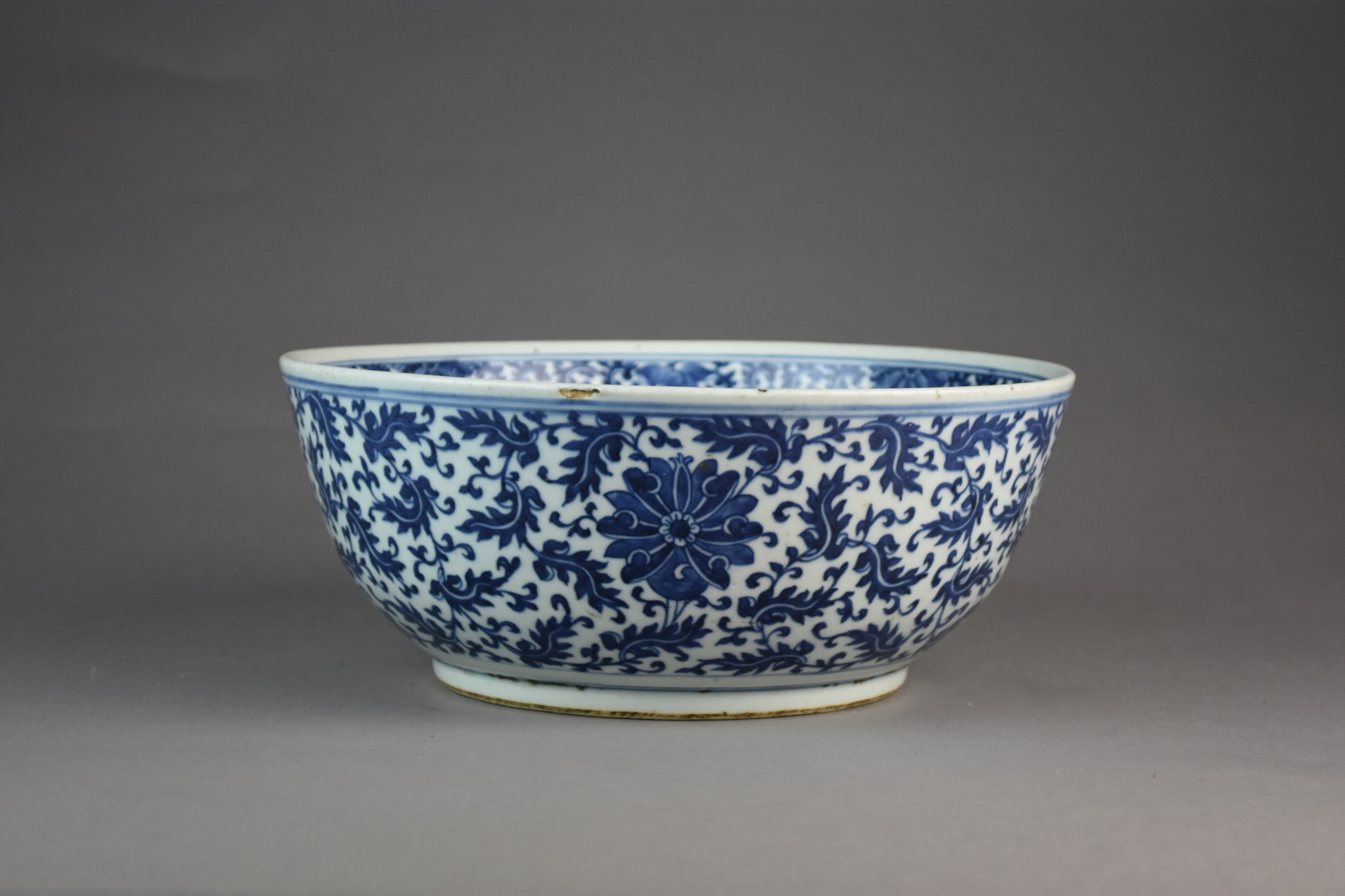 Lot 65: A Chinese blue and white punch bowl, probably Qianlong
Of rounded form and decorated in the Ming style with lotus and other blooms amid scrolling foliage, 27.5cm dia.
Estimate: £700 - £1,000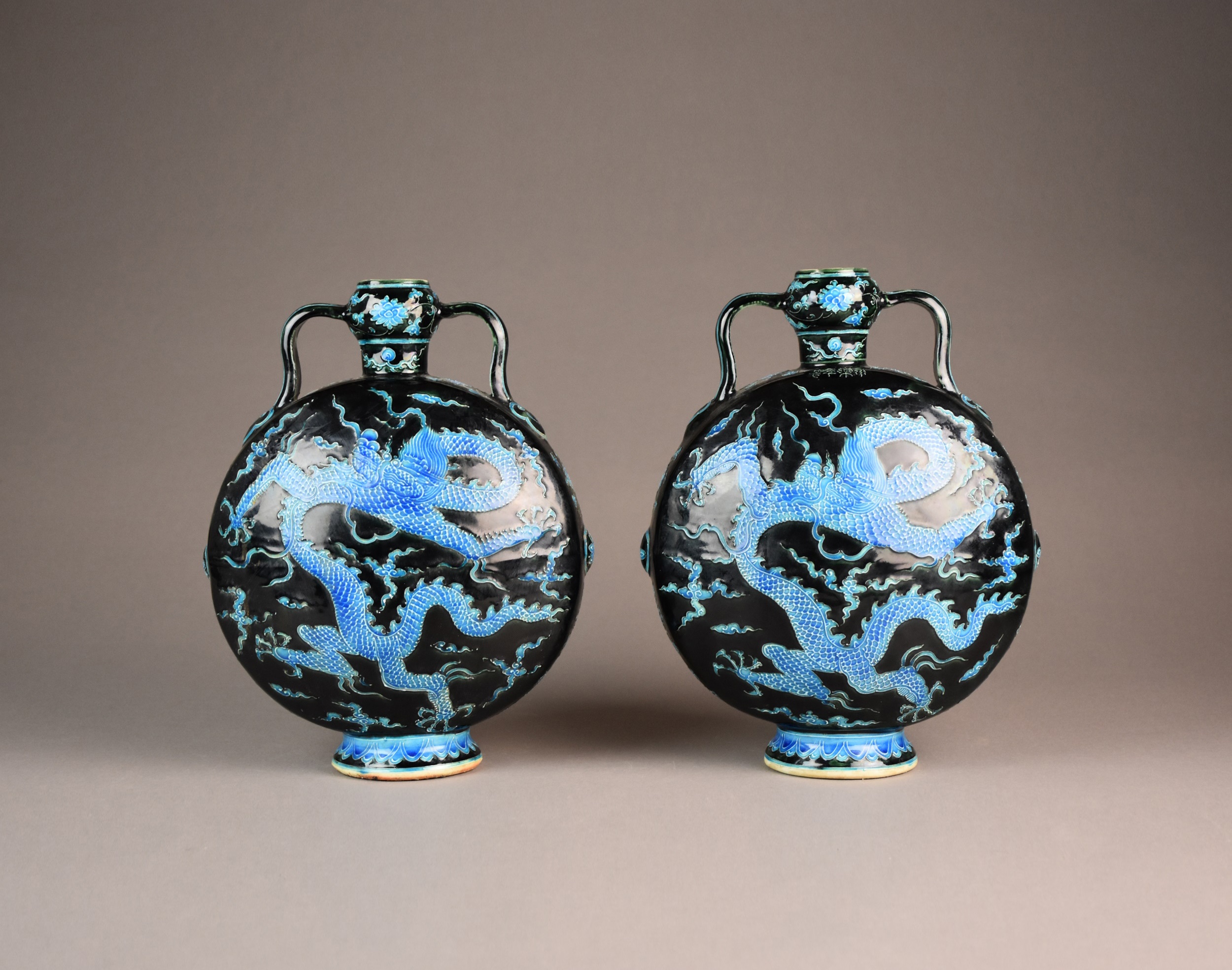 Lot 4 - A pair of Chinese Fahua moon vases, Yongle archaic script marks but probably later
Of circular shape with garlic head rims and twin loop handles,
decorated with five-clawed dragons amid clouds, picked out in turquoise against a near black ground, 27cm high. (2)
Estimate: £1,200 - £1,500
Lot 33 - A pair of Chinese famille rose vases, Republic period, 
38.5cm high. (2)
Estimate: £1,000 - £1,500
'The Chinese at their best produced the best works of art, the best applied arts that have ever been made, in my view!'
3. What's your most favourite item ever sold?
I think it would have to be the brush pot.  It came in as a result of routine valuations, the owner didn't know what it was but it was immediately recognisable to me as something of merit and importance and as we discovered ultimately, it was imperial quality.  It was just an extraordinarily beautiful and beautifully made object with a terrific history and lovely provenance.  A fantastic result for the vendor was achieved as well as a terrific result for the buyer who was utterly delighted with it because he specifically collected brush pots, and as brush pots go I would like to think it's a jewel in his collection because it's a unicorn, it's almost an unattainable object and so that has to be my favourite!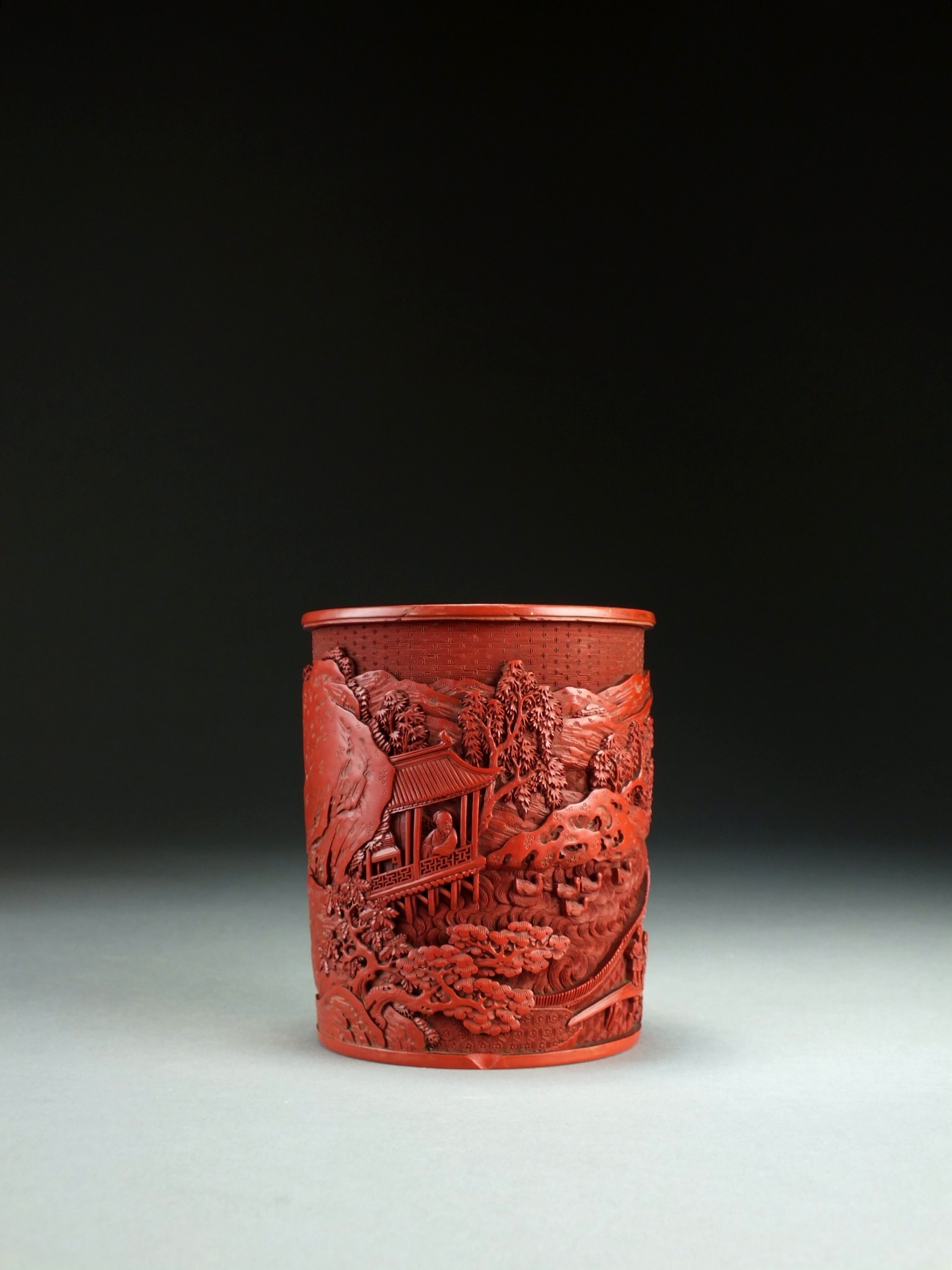 Lot 155 - An exceptional Chinese cinnabar lacquer 'Wang Xizhi and Geese' brush pot,
bitong, Qianlong/Jiaqing, of cylindrical form and finely carved with a continuous scene of Wang Xizhi contemplating geese in a pond from his veranda beside a village in a rocky landscape with figures crossing a bridge, the inside and base painted dark brown, 12.4cm high.
Sold for £155,000
(Asian Art Auction - 9th November 2016)
4. What is the most surprising result you've ever had on the rostrum?

I think the most surprising result that I've have had is a really super quality, but nevertheless sadly damaged, blue and white Chinese vase.  It was a shape known as Tianqiuping, which means 'Orb of the heavens', and is a very particular shape which is popular among collectors.  It was quite a large sized one, beautifully decorated, covered in auspicious flowers bearing a Yongzheng reign mark but was it Yongzheng period?  We were undecided about whether it really was Yongzheng period, he reined from 1723 – 1736, so quite a brief reign compared with his predecessor and his successor who had much longer reigns.  So anything that's Yongzheng period is going to be potentially very rare.  In addition to this, it was very badly damaged.  It was missing a chunk out of the top and the part of the top that was present was fragmented and had to be reconstructed for the sale.  We cautiously estimated it as £7,000 – £10,000 and it got a huge amount of presale interest and ultimately sold to a telephone bidder in mainland China for £150,000 which was a fantastic result and vastly more than we were hoping for.  I was hoping for a few times the estimate.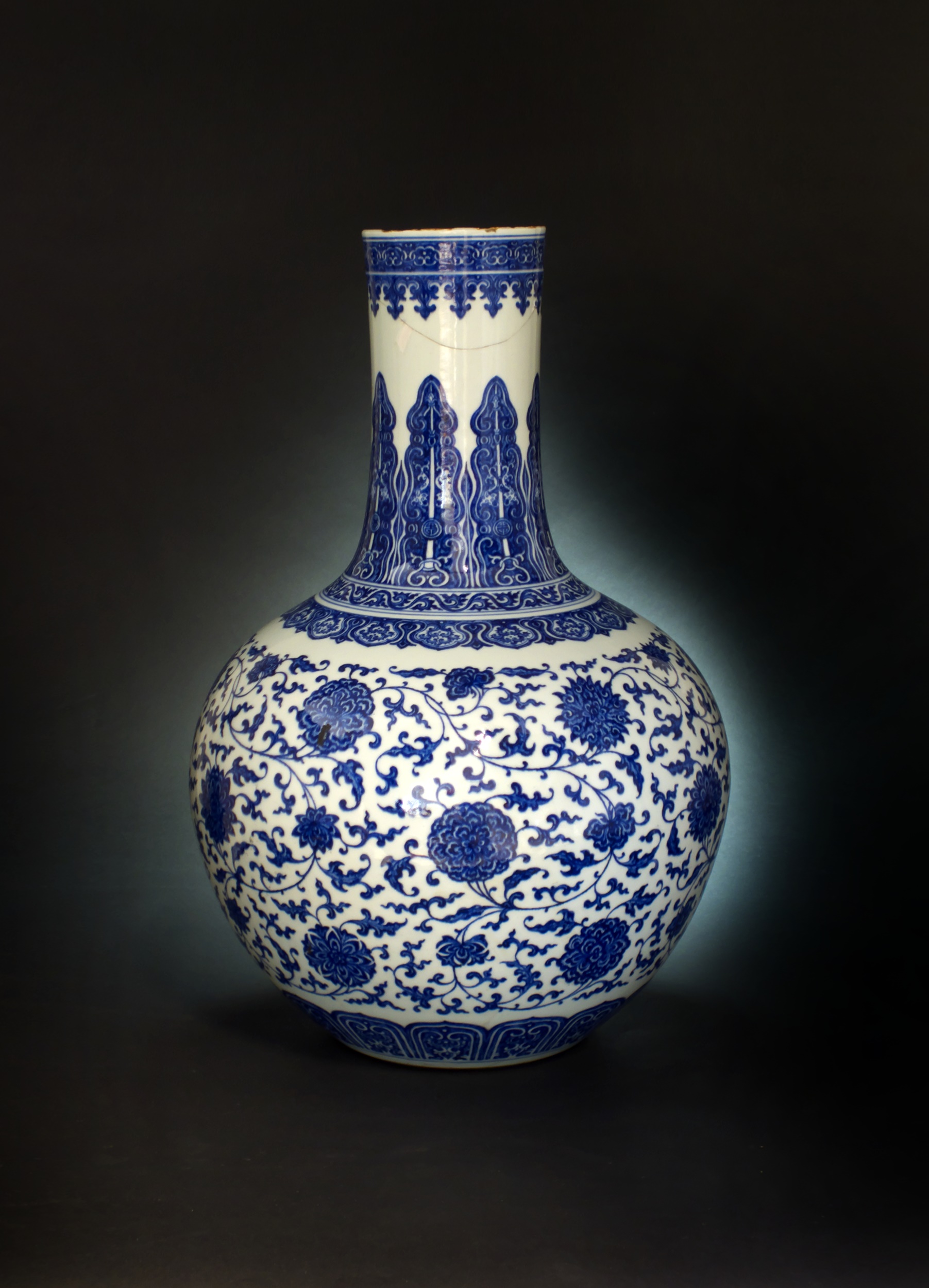 Lot 117 - A large and impressive Chinese blue and white bottle vase,
tianqiuping,Yongzheng seal mark and possibly of the period,
well potted and of elegant proportions, decorated with a band of lappets under a main body of interwoven lotus, peony, camellia and other flowers finely painted with scrolling tendrils under a delicately shaded ruyi-head collar and and trailing leafy band beneath the tapered cylindrical neck rendered with stylised upright banana leaves under a ruyi and dart border at the rim, the six-character mark in seal script on the recessed base, 55cm (21 5/8 inches ) high (repair and losses to the rim)
Sold for £150,000
(Country House Auction - 19th July 2017)
5. If anyone has an object of Asian Art, is there anything that they can look out for that will identify a potentially valuable item?
Sometimes that can be quite difficult and sometimes it can be incredibly easy.  The easy ones are really just the quality, never mind condition.  The condition can always be overcome, particularly with Asian Art but quality is something that you can't really replicate.  They can get close to it but the very best of say the Qing dynasty which was a massive period for very high quality imperial works of art.  The quality of the objects being produced at that time, particularly during the reign of Qianlong (1736–1795), was of such mind blowing quality that when you look at it you can really tell, especially when you compare it with something else that's maybe later or is a poor facsimile of it.  The detail really is very, very fine, in every brush stroke, in any work of art and is of extraordinary quality.
The difficult ones are items that are incredibly rare but you wouldn't necessarily know just to look at it.  For example Ru ware which is to the trained eye an object of incredible beauty but also an object of great simplicity and it's beauty is in the simplicity.  Ru ware was a technique of layering a crackle glaze so it's got amazing depth.  If you saw a small brush washer at a car boot sale or have one sitting on a shelf that's been in the family for years you wouldn't necessarily know that it's of any merit.  A really good period piece of Ru ware is going to be many many millions of pounds and it just looks like a little green pot.
I guess most people can see the quality in it but that's the difficult end of the spectrum, the easy end is the good decorative wares of the 18th and 19th century and it really comes down to the quality of the decoration and detail.
---
View Alexander's latest sale, The Timed Asian Art Auction, which runs until Monday 30th May 1pm GMT
 View this auction at our Shrewsbury Salerooms next week -

Monday 23rd May 10am - 4pm
Tuesday 24th May 10am - 4pm
Halls Holdings House, Bowmen Way, Battlefield, Shrewsbury, SY4 3DR