Anyone local to Shrewsbury will appreciate the special significance of Charles Darwin to the town, but his Origin of Species is a text of global interest.  In this auction we were fortunate enough to have a second edition of the work from 1860 in fair condition.  With the first edition reaching many tens of thousands of pounds at auction and out of reach for all but the wealthiest of collectors, this second edition represented a terrific opportunity.  Attractively estimated at £1000-1500, fierce bidding on the phones brought the hammer price to £2,900 (£3,480 including premium).

DARWIN, Charles, On the Origin of the Species, 2nd edn, 5th thousand, 1860.
Adverts at end dated January 1860. Original dark green cloth gilt. Freeman 376 variant a. Bookplate of Charles Jenner on front pastedown, with his pencil ownership inscription at the head of the title page.
Charles Jenner (1810-1893) was the founder of Jenners, the world-famous department store on Princes Street, Edinburgh.
Sold for £2,900
Another world famous book, Kenneth Grahame's The Wind in the Willows, had been given the magical touch of E.H.Sheppard, famous for his Winnie the Pooh illustrations, in a special limited edition of 200 in 1971. Consigned during a valuation day, the example offered in this auction was in splendid condition with its original slip case.  The estimate of £300-500 was quickly exceeded in the saleroom, taking the auctioneer all the way up to £1,200 (£1,440 including premium).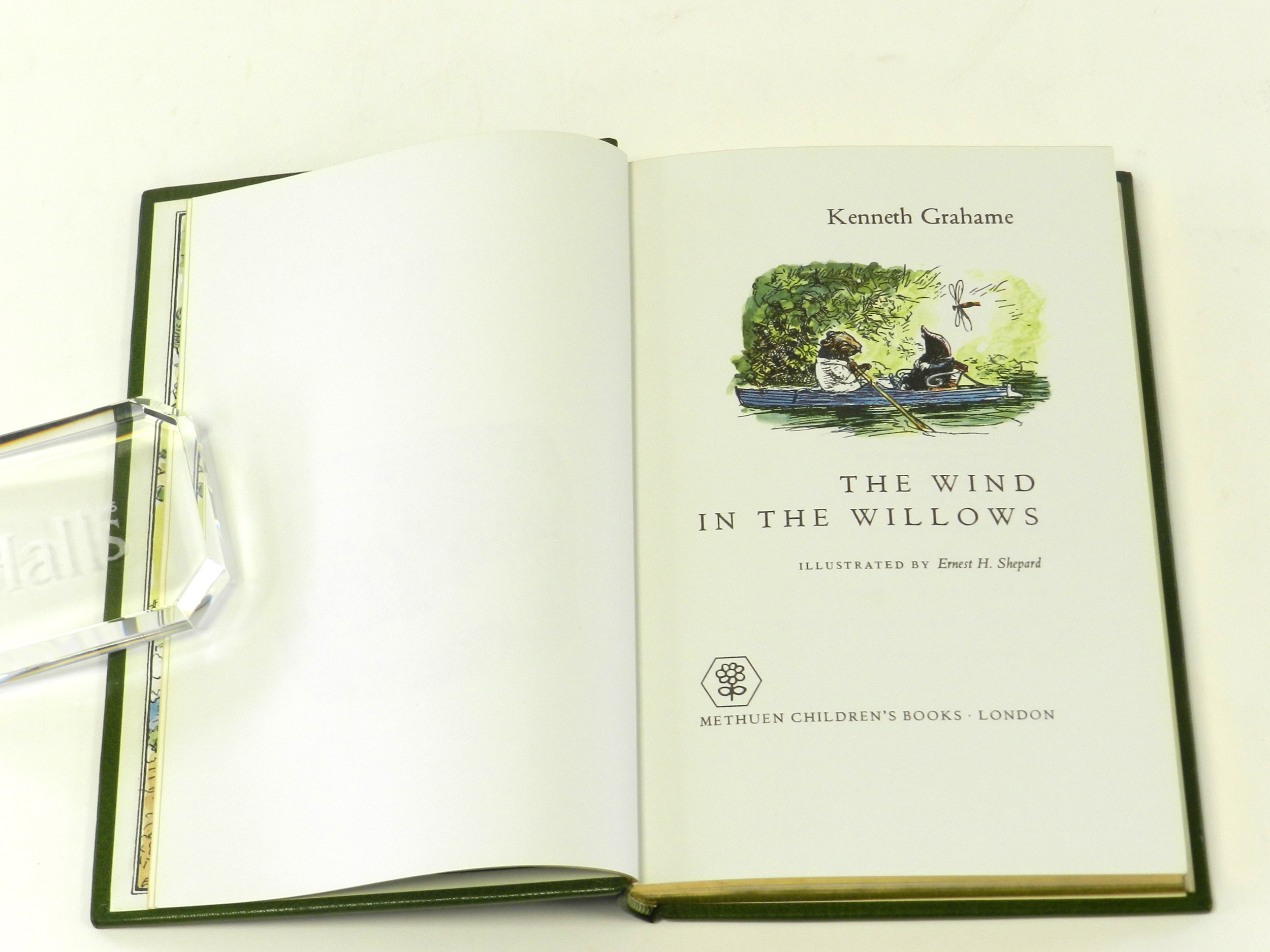 GRAHAME, Kenneth, The Wind in the Willows. Coloured Illustrations by E H Shepard. 1st edn, 1971.
One of 250 copies signed by Ernest H Shepard. Full green crushed morocco gilt, all edges gilt, in slip case.
Sold for £1,200
Among other highlights in the book section were a first edition of John Wyndham's The Day of the Triffids which achieved £500 against a £200-300 estimate and two folio volumes from 1815 by Robert Bowyer, chronicling events in the annals of Europe which made just over top estimate at £1,100.

When the owner of Castell Gyrn near Ruthin in North Wales approached Halls with a view to selling its contents, specialist Alexander Clement could see a unique opportunity.  Here was a collection of handmade, bespoke and luxury furnishings, works of art and curiosities all under one rather significant roof.  Built in 1977 by architect John Taylor, Castell Gyrn is an imposing structure and had been lovingly refurbished by Halls' vendor and fitted out with furnishings by Clive Christian, Charles Barr and Andrew John Lloyd among other designers.

Highlights included a Clive Christian four-poster bed at £3,800 (estimate £1,000-1,500), a stunning brocade Knole sofa which achieved £1,550 against a £300-500 estimate and a Charles Barr burr walnut sideboard which smashed its £200-300 estimate to sell for £1,400.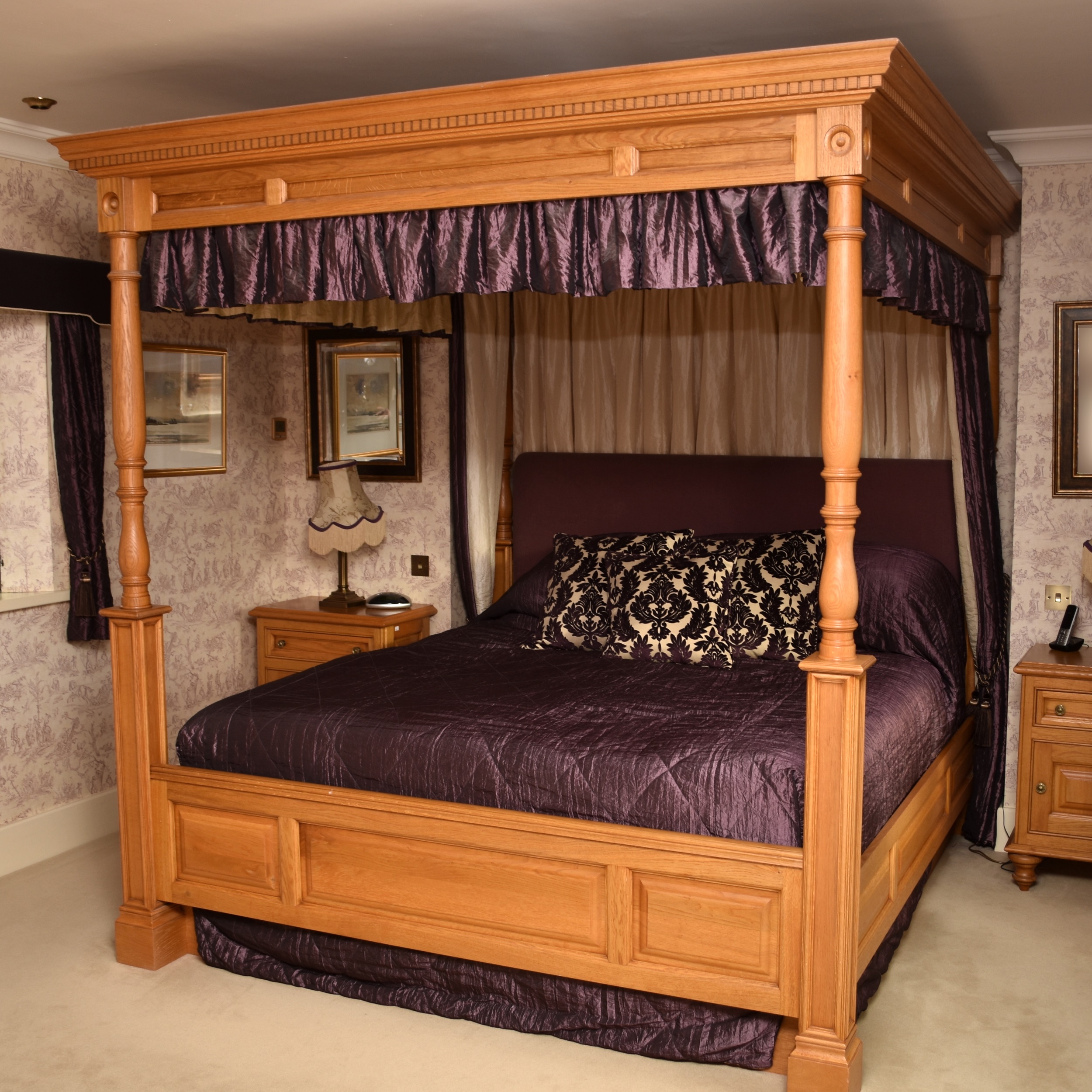 A recent and impressive Clive Christian light oak 'four-poster' bed, in the 18th century style,
the dentilled cornice raised on turned supports, a padded headboard over panelled side rails and footboard, the canopy with sunburst satin pleated satin and curtains in cream and dark purple.
210cm wide, 220cm long, 226 high (matress recess 195cm x 215cm approx.)
Provenance: The Contents of Castell Gyrn, Ruthin, North Wales.
Sold for £3,800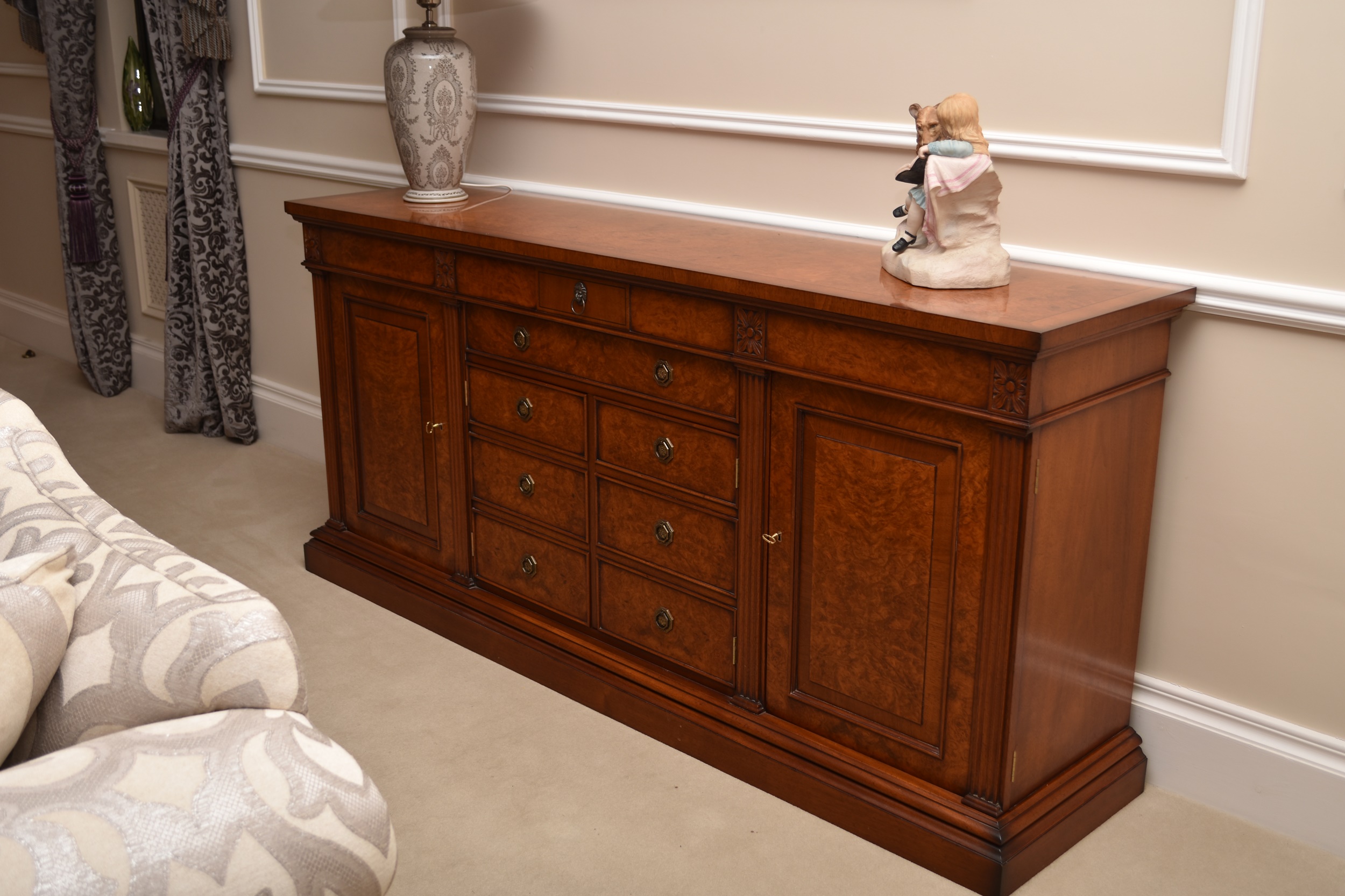 A Charles Barr burr walnut and mahogany veneered credenza-form sideboard,
the frieze with central slide above one long drawer over a pair of cupboard doors with faux short drawers fronts, flanked by fielded panel cupboard doors, raised on a plinth base.
193cm wide, 45.5cm deep, 88cm high
Provenance: The Contents of Castell Gyrn, Ruthin, North Wales.
Sold for £1,400

The most viewed and talked about item from the whole collection, though, was a Simon Winter carved stone near life-size figure of a recumbent ram.  With no auction precedent the artist was untested on the market and estimated accordingly at £200-400 but intense online and telephone bidding brought the price up to £2,100 (£2,600 including premium).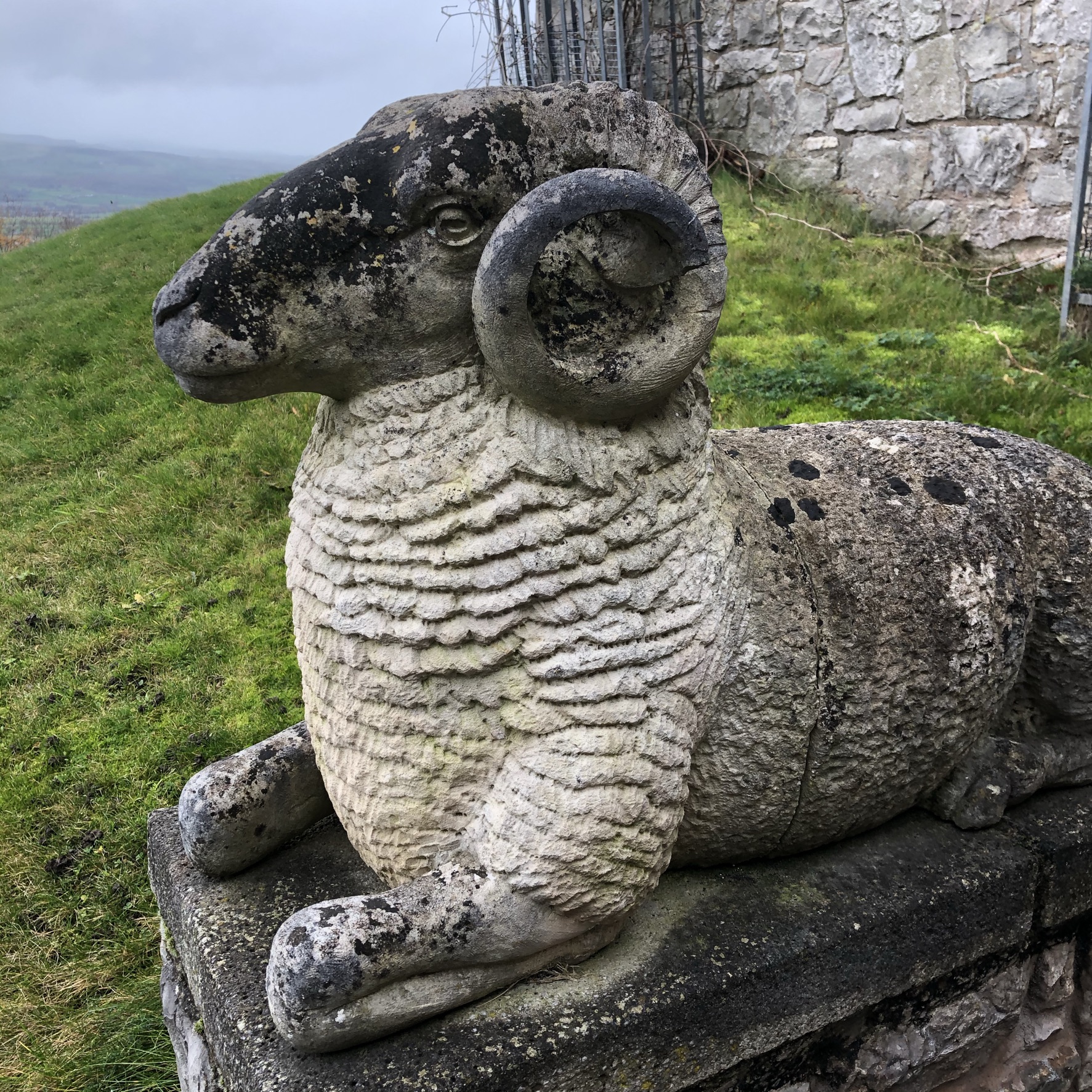 A Simon Winter carved stone figure of a recumbent ram,
near life size and naturalistically carved, 92cm long, 56cm high.
Provenance: The Contents of Castell Gyrn, Ruthin, North Wales.
Sold for £2,100
There were excellent prices in other sections of the auction including a large bronze figure of an owl after Jules Moigniez which sold for £1,200 against a £200-300 estimate.  In the picture section, a drypoint etching from the hand of William Wyllie depicting RMS Lusitania leaving Liverpool which sold for £650 (estimate £200-300) and an oil on canvas harbour scene by James Power more than doubled its top estimate, also achieving £650, demonstrating the continued strength in 20th century British art.  A rare Staffordshire figure of Madame Maria Malibran from 1836 was a top lot in the ceramics section, defying its restored condition to sell for £320 against a £60-80 estimate.  And diamonds were the gem of choice with a single stone ring achieving a double-estimate £650 and the top spot for the jewellery department.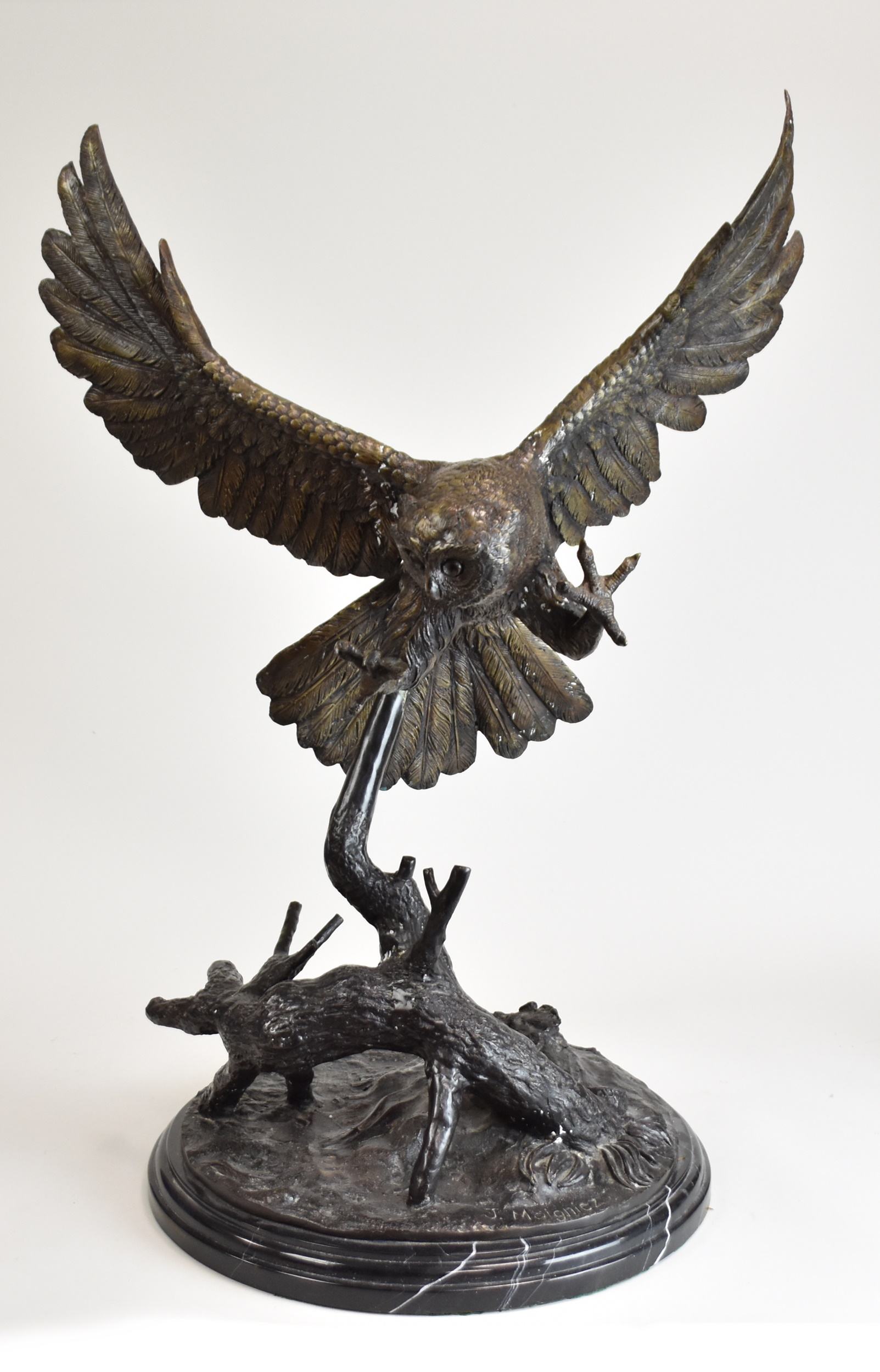 After Jules Moigniez, Great Horned Owl, first half 20th century,
A very large bronze figure of an owl perched on a branch, 84cm high.
Sold for £1,200
In the current climate we were understandably nervous about how the auction without room bidders was going to go but we were equally confident that the high volume of good quality lots in the auction would attract a wide range of buyers and some exciting bidding! We weren't wrong!

The Castell Gyrn collection made £48,000 with £116,000 being the total of the day.
---
View Auction Results
February Antiques, Interiors & Books Auction
including the Contents of Castell Gyrn
Wednesday 3rd February 2021 10:00

---
Realise the Value of your Items


Get in touch with our team of specialists today if you require a valuation for auction, probate or insurance purposes, or would like advice on your collection.
Tel: 01743 450 700 / Email fineart@hallsgb.com or use our online valuation form below
---