Halls Fine Art are celebrating yet another very successful Modern and Contemporary Art auction which finished on the 9th May.

Bidding was supposed to be ending from 5pm but bidders were fiercely battling it out over contested lots to keep the auction going well into the evening. Eager collectors were joining the sale from across the world including Australia, India, the USA, Singapore, Europe and across the UK.

The top lot of the sale was Lot 17, a rare lithograph created by David Hockney in 1971 to raise funds to support three British journalists who were brought to trial for conspiracy to corrupt public morality, depicting them naked in order to convey their innocence. The Oz Obscenity Trial lithograph has only been seen at auction a few times and bidders were keen to secure it, the final hammer price reaching £8,000.



David Hockney (British b.1937)
Richard, Jim and Felix, for the Oz Obscenity Fund,
offset lithograph, 1971, signed bottom right,
numbered 19/30, measurements 70 x 93 cm (SH), frame 94 x 115 cm
Provenance: private local collection, purchased at the Goldmark Gallery
Sold for £8,000


David Hockney proved a huge draw for bidders with Halls having a large single-owner collection of his etchings up for grabs with rare editions and artist proof etchings from his illustrations for Grimms Fairy Tales, his Erotic Arts series as well as the homo-erotic poems of C.P. Cavafy. A portrait of Cavafy himself was hotly contested and sold for £2,700.


David Hockney (British b.1937)
C.P. Cavafy in Alexandria,
etching, artist proof XXII / XXV,
signed in pencil and dated 1966 bottom right,
measurements 35 x 22.5 cm, frame 68.5 x 54 cm

Provenance: private, local collector, purchased from the Goldmark Gallery

Hockney found inspiration as a teenager in the writings of Greek-Egyptian poet Constantine Cavafy (1863-1933) and created a suite of thirteen very intimate etchings reflecting Cavafy's powerful reflections on homosexual desire.
Sold for £2,700


Other highlights include the dispersal of a large corporate collection containing an impressive collection of Scottish contemporary artists including names such as John Houston, Will Maclean and Gary Anderson- whose painting of a chicken in a garden sold for an impressive £1,550. Northern artists were also well represented with sculptures by Stephen Broadbent, pieces by L.S. Lowry and a stunning oil by Geoffrey Key all performing strongly.
Gary Anderson (Scottish b.1960),
Of the Farmers Garden,
1995, mixed media on paper, signed and dated bottom right,
measurements 48 x 44 cm, frame 82 x 75 cm.
Label verso: Ewan Mundy Fine Art
Please note this lot is subject to VAT on the hammer price
Sold for £1,550
Geoffrey Key (British b.1941)
Jazz,
oil on canvas, signed and dated '01 bottom right,
titled and signed verso,
measurements 51 x 41 cm, frame 69 x 59 cm
Provenance: purchase note from Farmilo Fiumano, London verso dated 2-10-02
Sold for £3,800


One of the most surprising results from the sale came from a charming painting of yellow poppies by British post-war artist Carolyn Sergeant (1937-2018). Sergeant specialised in floral studies and clearly this lovely, bright piece captured collector's attention with the winning bid securing for £2,300 against an estimate of £150-£250.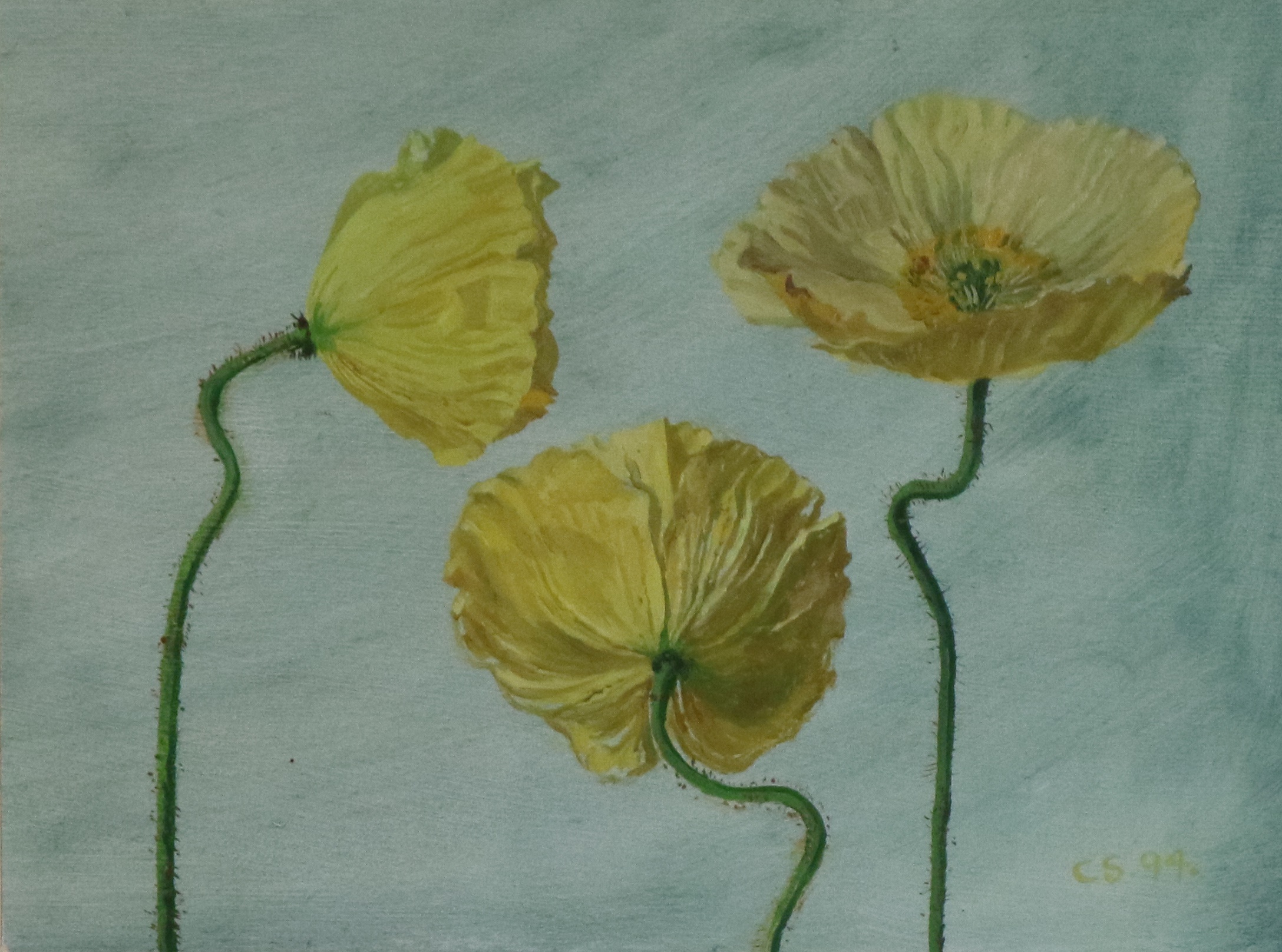 Carolyn Sergeant (British 1937-2018)
Yellow poppies,
initialled and dated lower right 'C.S. '94', oil on card,
15cm x 20cm, frame 33 x 38 cm
Provenance: consigned from a Herefordshire Country House Estate
Sold for £2,300

The Modern and Contemporary Art auction has been gaining momentum since its establishment in 2019 and Halls have put themselves on the map for contemporary art sales, regularly handling works from world famous artists such as Pablo Picasso, Andy Warhol, David Hockney, Barbara Hepworth, Terry Frost, Jacob Epstein, Blek le Rat. We are already taking in consignments for the October auction so please get in touch with specialist Abigail Molenaar for a valuation or further information fineart@hallsgb.com


For those who cannot wait until October, our next major Modern and Contemporary event will take place in July, comprising the exciting single-owner collection sale of original David Bowie artworks by artist Edward Bell who worked with Bowie during the 1980s and 1990s.


---
To Consign to Our Next
Modern and Contemporary Art Sale




Contact Specialist Abigail Molenaar
Telephone 01743 450 700 or email abigailm@hallsgb.com