It is time for the Modern and Contemporary Art Auction at Halls Fine Art!

Our specialist Abigail Molenaar has been busy curating a catalogue bursting with exciting pieces by celebrated names in the art world as well as working together with contemporary working artists to showcase their work at auction. With over 240 lots in the sale ranging from life-sized standing sculptures, works on paper, oils, watercolours, bronzes and contemporary ceramics, there is something for every taste and every budget.


Our specialist's highlight of the sale is a stunning floral composition by renowned British Artist John Bratby (1908-1992). Bratby is considered to be the founder of the Kitchen Sink Realism art movement which arose in the 1950s, which sought to use everyday objects as inspiration and the main subject of artistic work. Stylistically characterised by liberally applied thickly laid paint and a bright colour palette. Bratby in particular was known for his dazzling use of colour and exuberant, energetic brushstrokes which are so beautifully represented in this large-scale depiction of Sunflowers consigned to our Modern and Contemporary Art auction.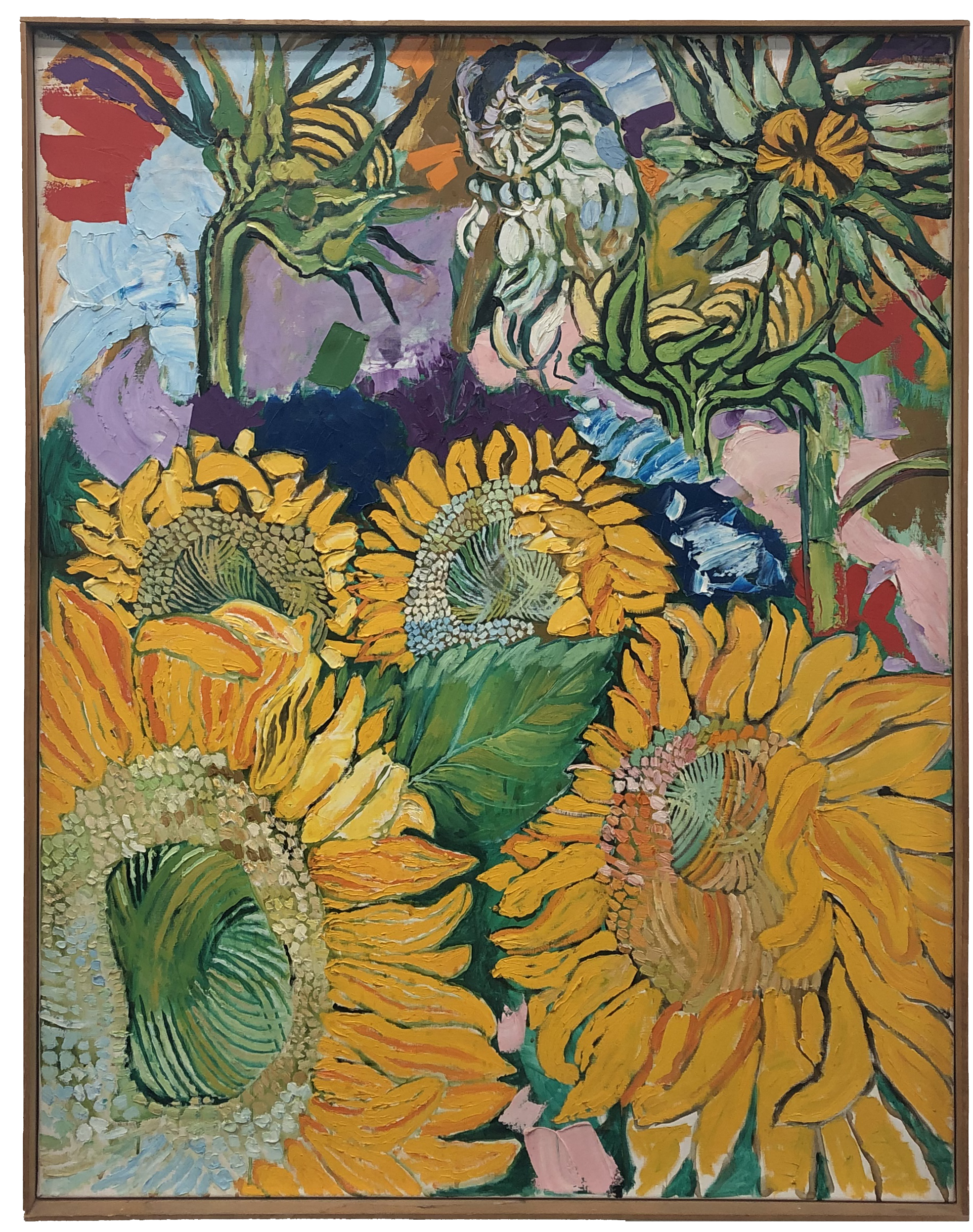 Lot 6: John Bratby (1908-1992)
Sunflowers
Estimate: £5,000-£7,000
This painting is bursting with vibrant colour and one cannot help but feel cheerful when looking at this garden scene. Sunflowers are surely the happiest plants on earth! Measuring 122cm in height this is a real statement piece and Bratby's skilful use of colour and line really absorb the viewer, the more you look the more detail you notice. I particularly love the figure of the owl which is almost hiding in plain sight at the top. Bratby's Still Life and Floral compositions have continued to perform strongly on the market and he appears to have been particularly enamoured with Sunflowers as he returned to paint them again and again. It has been a delight to bring this painting to auction and it is my personal highlight of the sale.


When working in an auction house, you never quite know what will walk in through the door and you have to be ready for anything. We have always been prepared to embrace the weird and the wonderful here at Halls and are excited to bring to the market two unusual life-sized fibreglass male sculptures. The standing figure measuring a respectable 5 foot 7 stares off into the distance whilst the more surreal of the two is comfortably seated upon a padded chair wearing shredded garments and a face hauntingly crafted from a metal contained that gives the impression of a gas mask. Certainly to be described as talking-points for the quirky collector, do come and meet them during the public viewing days on the 19th and 20th April.

Lot 70 and 71: Modern British School,
Mixed Media Sculptures
Estimate: £1,500-£2,000
Many of the pieces in the sale have such interesting back-stories, for example a figurative painting of a procession walking through a street towards Swinton Church by Charles M Jones (1923-2008), one of the boys represented actually features the artist himself, see if you can pick him out of the crowd. You have heard of an 'attic find' but how about a cellar? A piece of family history was uncovered in a local house cellar, when a painting by John Anthony Park was discovered. Believed to have been purchased by a relative when on her St Ives honeymoon in 1939, it is a wonderful example of St Ives Harbour, a favoured location that Park frequently painted in all weathers and seasons. It has survived in exceptionally good condition and is estimated at £2,000-£4,000 (+bp)
Lot 25: John Anthony Park (1880-1962)
St Ives Harbour, oil on board
Estimate: £2,000-£4,000
For fans of Modern British artists, we have a number of exciting prints and originals by celebrated names such as Sir Peter Blake, Sir David Hockney, John Piper (1902-1992), Alan Lowndes (1921-1978) and Sir Anish Kapoor to name but a few. The auction will open for bidding on the 14th April and close on the 2nd May, please contact our specialist Abigail Molenaar at Halls Fine Art fineart@hallsgb.com for further information.
---
Catalogue Coming Soon
The Timed Modern & Contemporary Art Auction
Starts: 14th April 10am | Ends: 2nd May 5pm