The appeal of David Bowie is stronger than ever, this rock and pop chameleon's music transcends the generations and the auction drew bidding from all over the globe, with music fans and pop memorabilia collectors keen to get their hands on a piece of pop history. Bowie is undisputedly one of the most influential artists of the 20th century and since his death in 2016, demand for items related to the pop icon has soared with no sign of abating.
With the added attraction of a single-owner collection of undisputed provenance, all the items having come from the personal collection of Edward Bell, the artist who worked with David Bowie to create the artwork for both the Scary Monsters (and Super Creeps) and Tin Machine II albums, this really was a unique auction. For collectors the earlier periods of Bowie's career including Scary Monsters era are the most desirable and valuable. This was proved by the fierce competition to secure the artist proof concepts for the Scary Monsters album and Fashion single covers which sold for a combined total of £24,180 (inc. fees).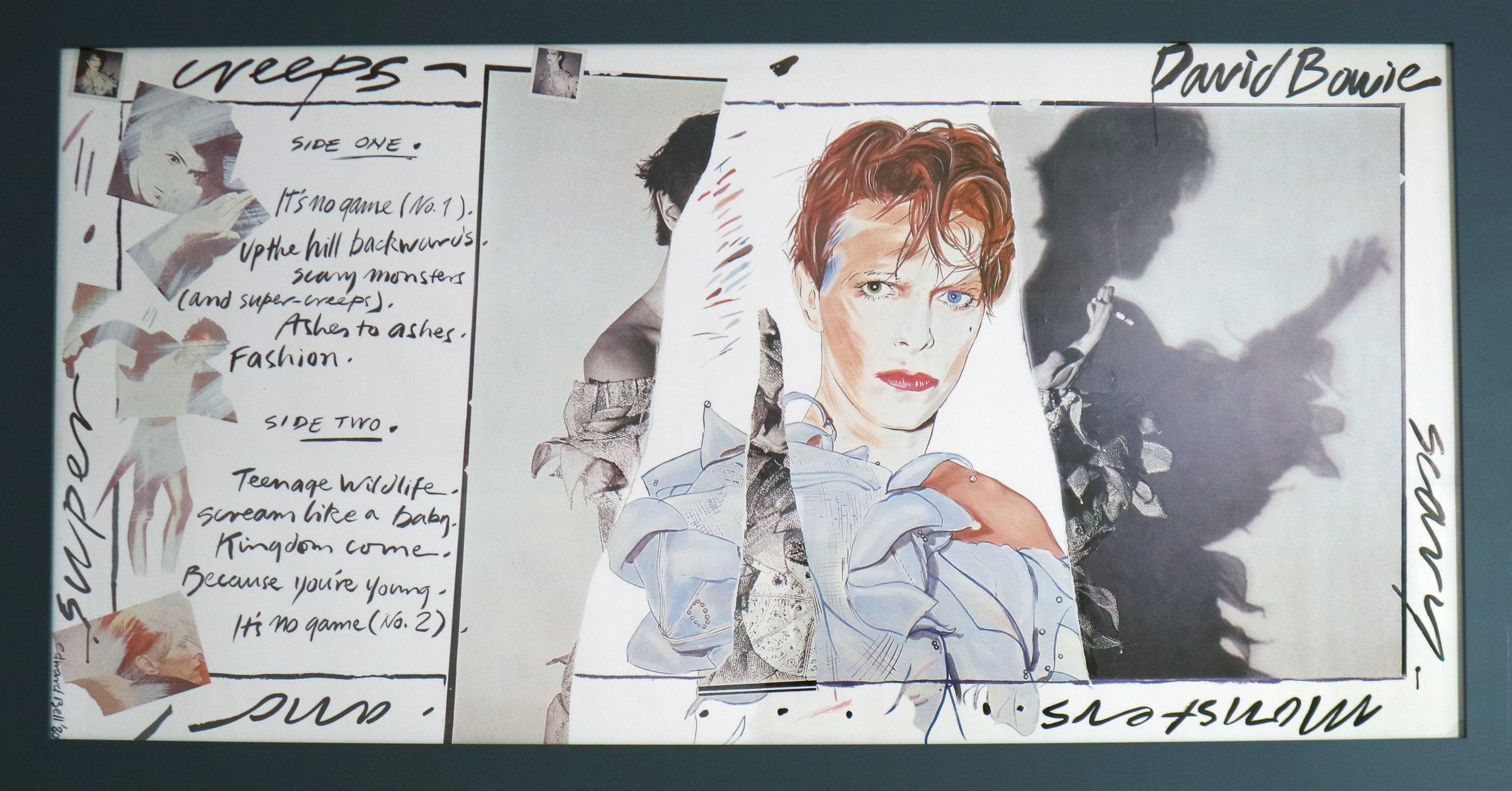 Edward Bell (British Contemporary)
David Bowie Scary Monsters (and Super Creeps) album cover design,
printers proof, signed bottom right, inscribed 'colour too intense',
measurements 34.5 x 64 cm (SH), frame 45 x 74 cm
Sold for £6,000
Further highlights from the auction included some of Edward Bells original paintings and montages of David Bowie, reflecting on the various personas of Bowie's stage characters and his career highlights. One of the most striking of Bell's pieces was the Scary Monsters portrait from his Bowie icon series, which sold for £5,200 and the associated Scary Monsters silver sketch which sold for £1,365 (inc. fees).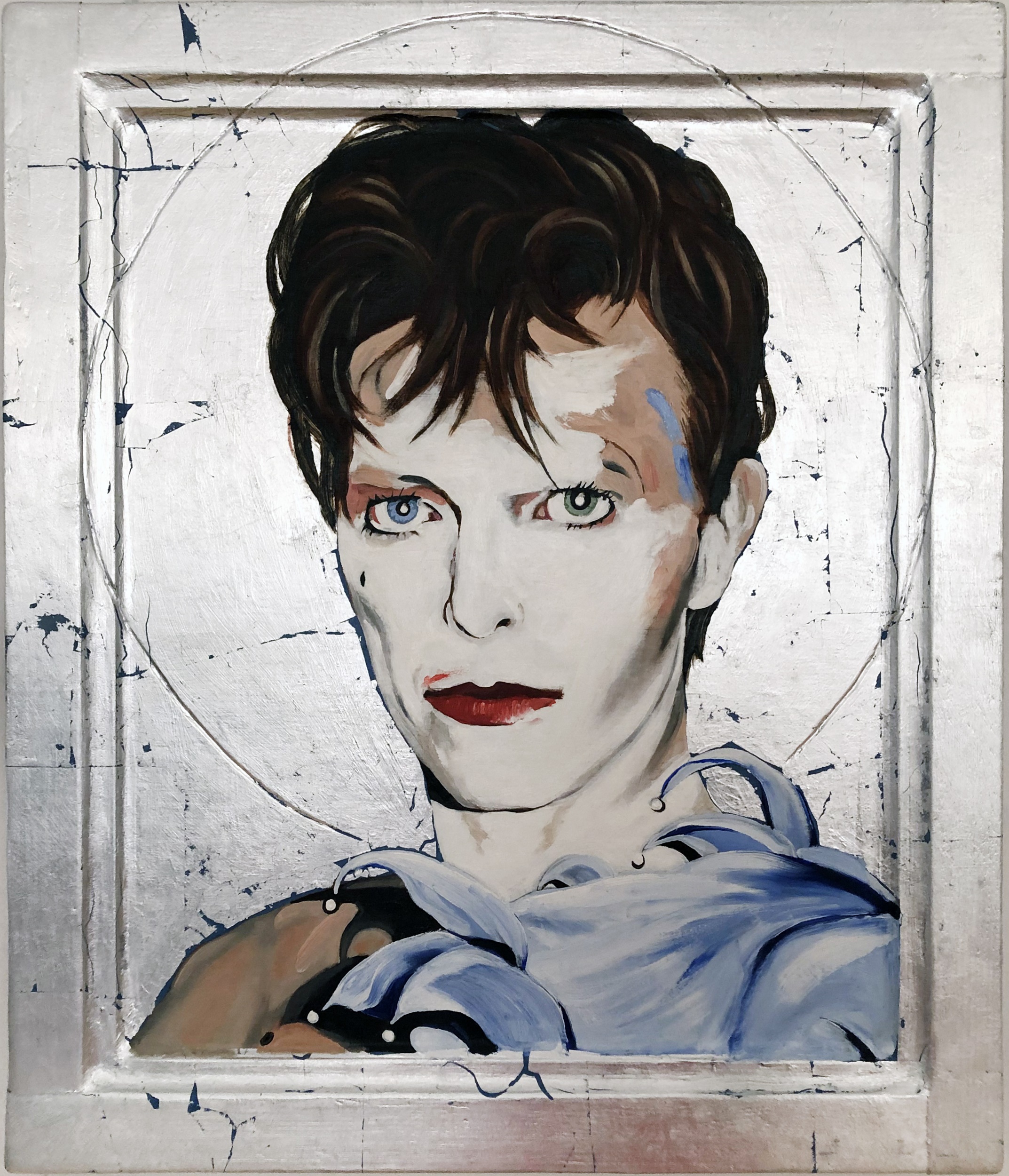 Edward Bell (British Contemporary)
Scary Monsters Era Icon,
David Bowie icon series, for the Unmade Up...publication as illustrated and page 94,
signed and dated 2016 verso, oil on panel, measurements 70 x 61 cm,
from the personal collection of Edward Bell
Sold for £4,000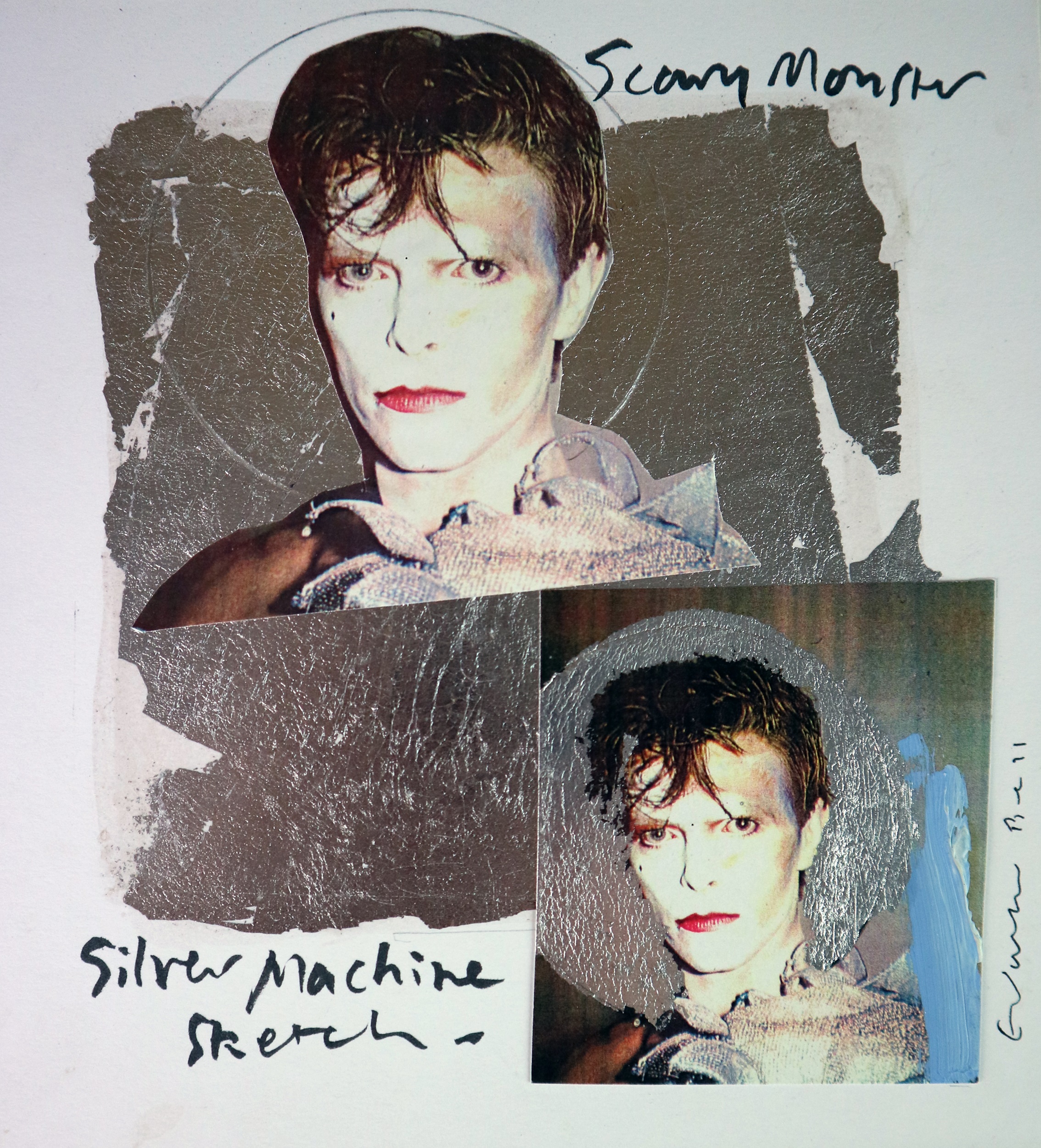 Edward Bell (British Contemporary)
Scary Monster Silver Machine Sketch,
mixed media on card, colour montage for the Unmade Up... publication, as seen on the front cover, and for Bells' Bowie Icon paintings series,
signed black pen right margin, measurements 21.5 x 19.5 cm (SH)
from the personal collection of Edward Bell
Sold for £1,050
The auction was combined with an exhibition at The Dory Gallery in Llangollen which is an abstract and contemporary art gallery and where Edward Bell is a resident artist. The opening day saw eager and excited fans queuing up outside the doors wearing their Bowie t-shirts clamouring to get inside. "I think one of the most wonderful things about putting this auction together was the opportunity to talk with such passionate Bowie fans, I received calls on a daily basis from all over the world from individuals who could not contain their excitement about the sale. It was a privilege to be able to work with Edward Bell directly, to hear his stories behind each artwork and collaborate together on bringing this auction to life. It was a fantastic experiment to also carry out an exhibition which was held at The Dory Gallery in Llangollen, the auction world is changing and this an area that we will be exploring further in the future" Abigail Molenaar
We are actively consigning for our next upcoming Modern and Contemporary Art and Pop Memorabilia auctions in October, please do get in touch at fineart@hallsgb.com for advice.
---
Get in touch with our Modern and Contemporary Art Specialist
Abigail Molenaar