Whether you already have an assortment of ceramics at home or are hoping to start a collection, online bidding website the-saleroom.com have chosen their favourite pieces from our Autumn Auction...
---
Antique ceramics can make wonderful decorative items, often suiting the kitchen, dining room and living room equally well.

Satsuma vase
This 19th century satsuma vase (above) from Japan bears a gilded seal mark for Sozan for kinkozan. It is painted and gilded with a garden and a landscape behind. It is offered with an estimate of £3000-4000. Later satsuma porcelain, such as this piece, is characterised by elaborate decoration, which was adapted to suit Western tastes.
View and bid for this Satsuma vase here.
---
Delft drug jars

Among the first lots in the auction is this pair of large 18th century delft dry drug jars with copper covers. Though once functional they are highly decorative pieces today, they feature foliate grounds and are marked for Pieter van Marksveld de Grieksche. They are offered with an estimate of £300-500.
View and bid for this pair of delft dry drug jars here.
---
Caughley pounce pot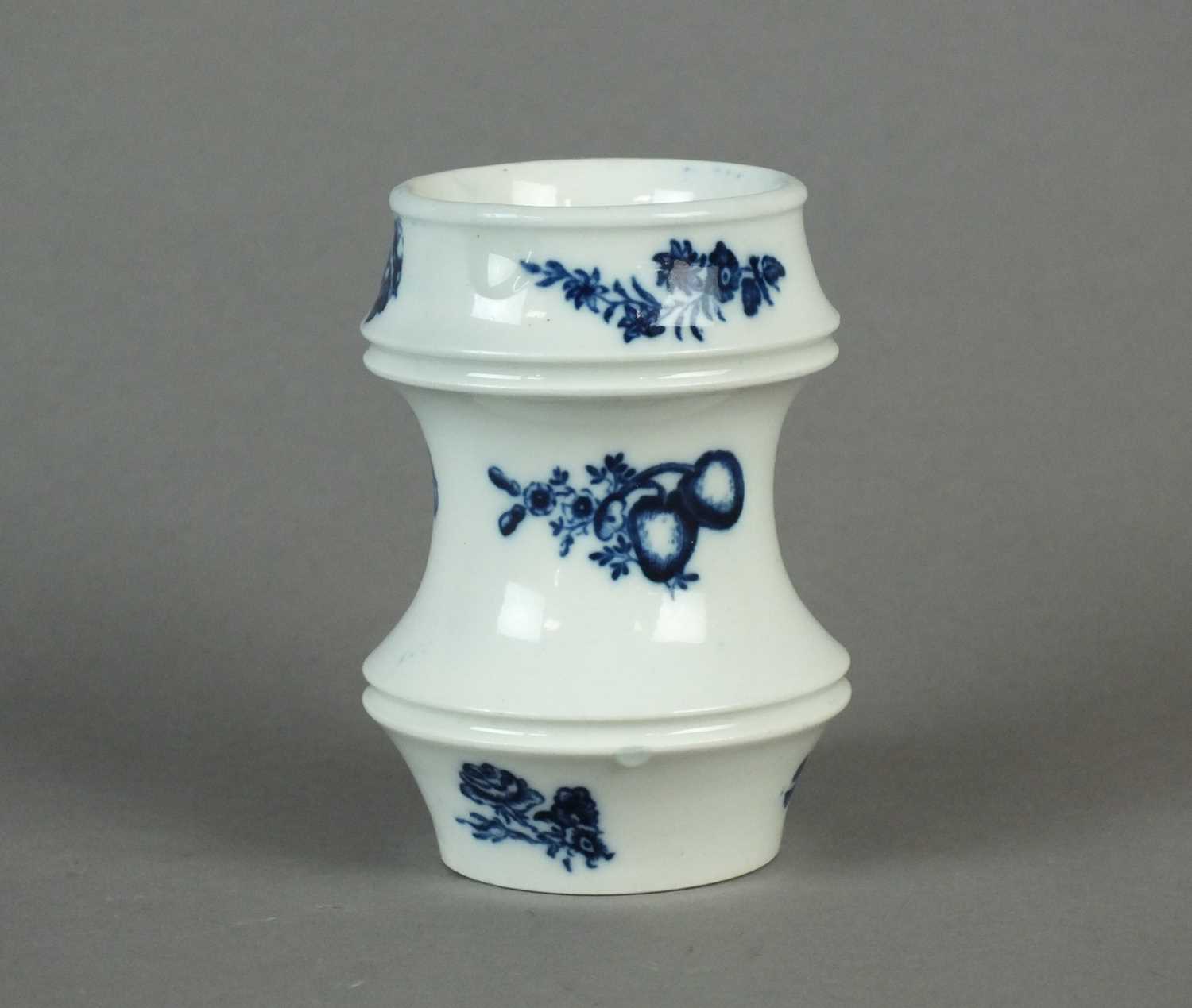 There is a wide selection of Caughley porcelain on offer at the sale, as well as examples from other factories such as Bow and Lowestoft. Caughley is an early example of British porcelain made from c.1775-99 near Broseley, Shropshire. Usually it is highly decorated in blue underglaze, it is highly sought-after today.
If you are already a fan of Caughley porcelain, you could go for one of the higher value lots from the collection on offer at the at the sale, such as a rare pounce pot c.1777-88. The pot is transfer-printed in underglaze blue with damsons, flowers and a butterfly. The foot and rim are printed with a fruit and wreath border. Included in the Caughley Bicentenary Exhibition, it is now offered with an estimate of £1500-2000.
Pounce pots held powder used to clean or smooth paper before writing on it.
View and bid for this Caughley pounce pot here.
---
Caughley cream jug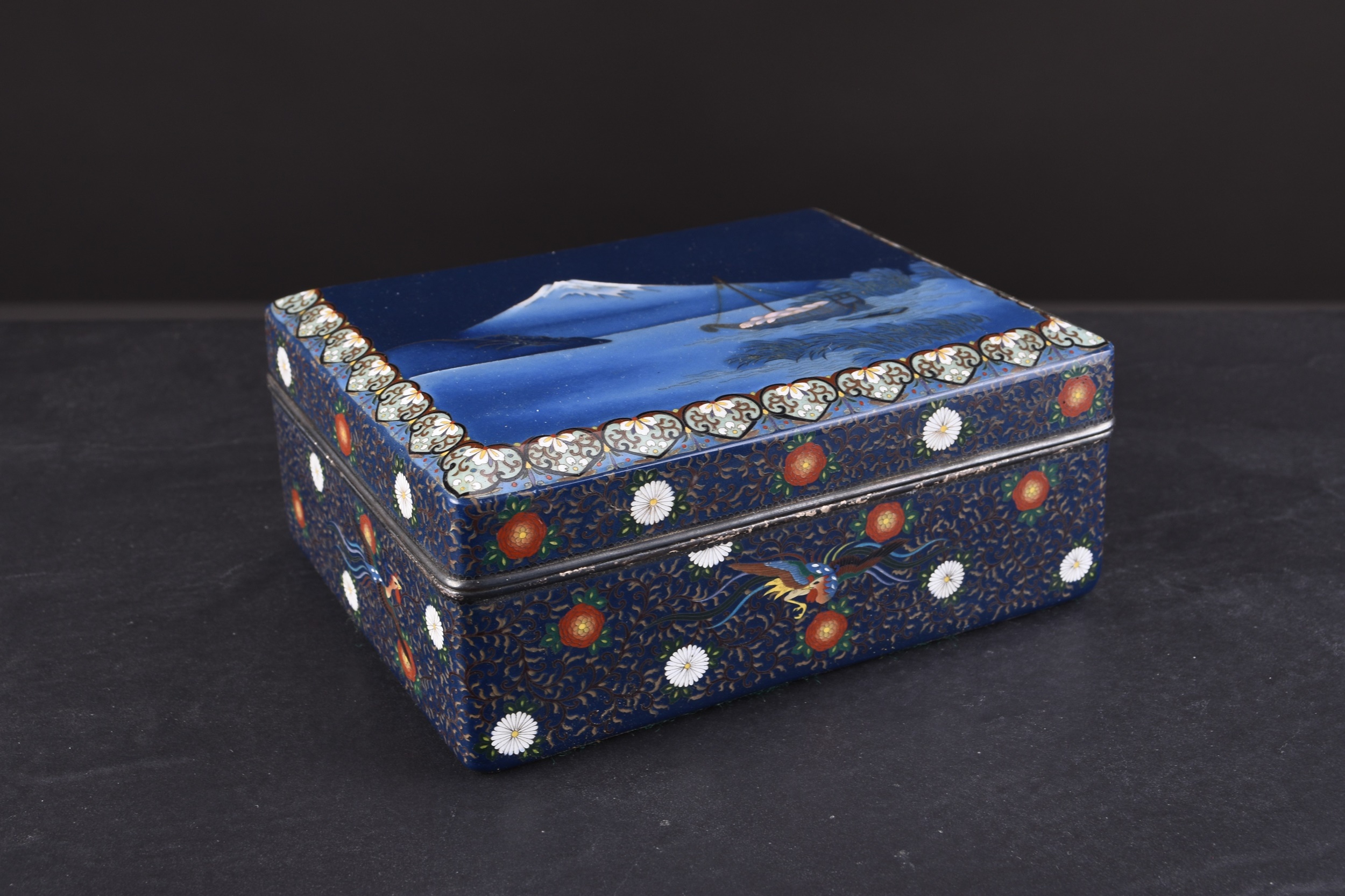 At the other end of the Caughley spectrum is this monochrome jug, which is still an attractive piece. The rare black basalt cream jug was made c.1780-90 and is of helmet form with pleated detail to the body and acanthus moulding to the handle. It bears the impression 'SALOPIAN', making it one of only five or six known pieces of Salopian black basalt, yet is available with an estimate of just £50-70.
View and bid for this Caughley cream jug here.
---
Chinese footed cup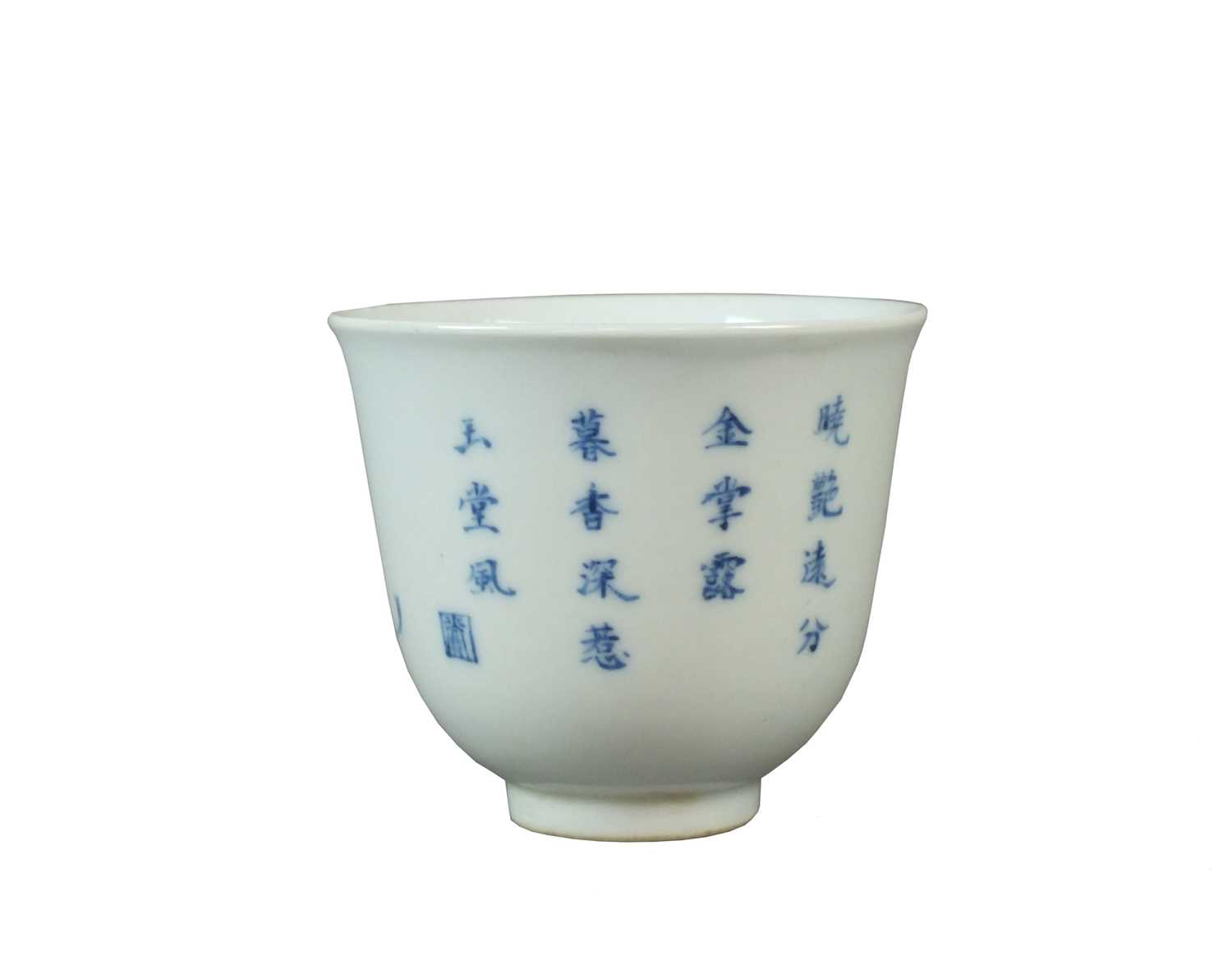 Similarly satisfying in its simplicity is this blue and white Chinese porcelain footed cup. It is decorated in underglaze blue with a panel of script and flora with a six-character mark to the underside. It has an estimate of £200-400.
View and bid for this Chinese porcelain footed cup here.
---
Japan leaf teapot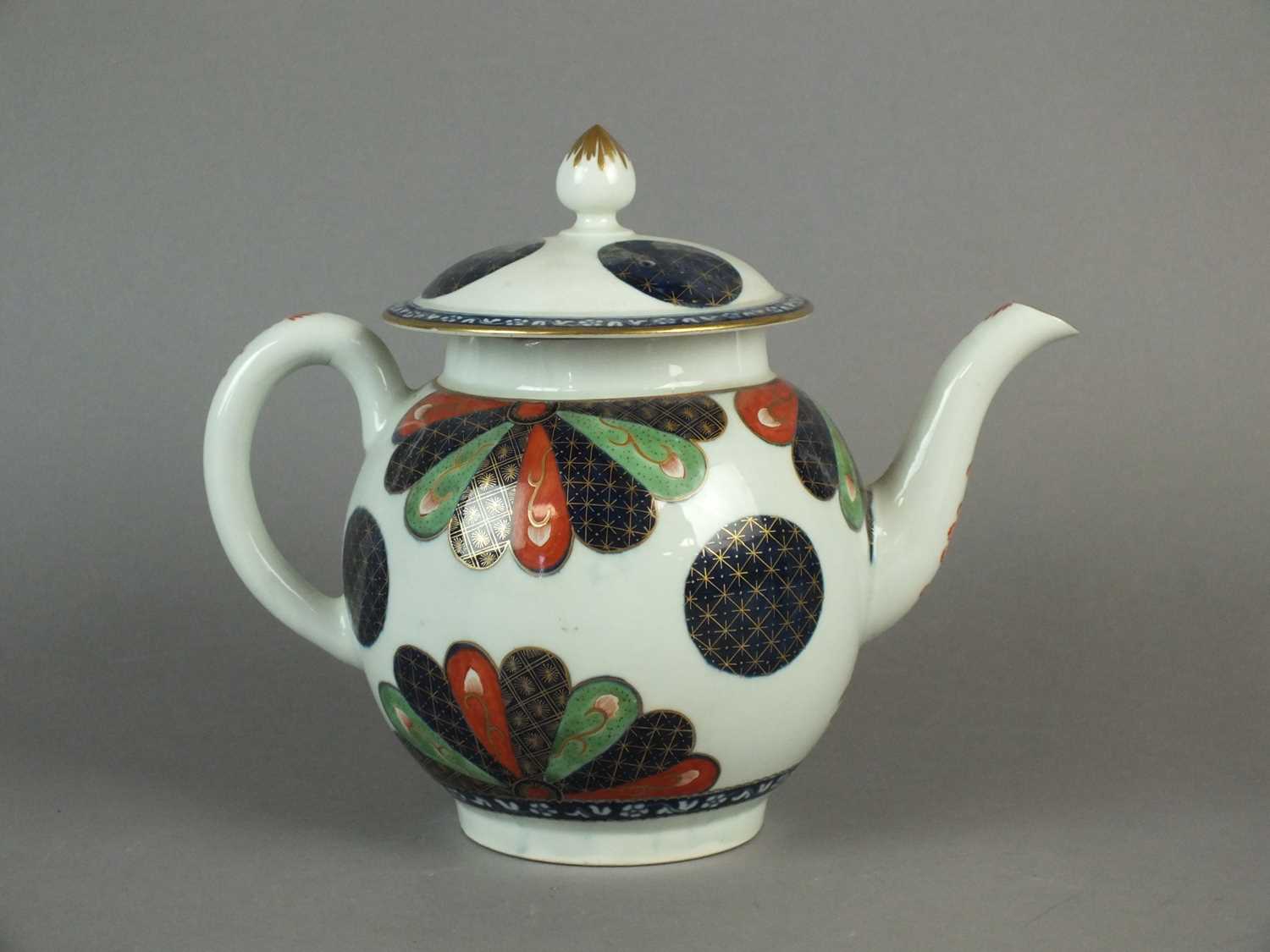 Among the other early English examples going under the hammer at Halls is this Worcester 'Old Japan Fan' pattern teapot which is offered a similar cover, thoug it does not match the piece. Made c.1770, it features a pseudo-Chinese four-character mark to the base and a small red fox at the bottom of the spout. It is offered for £100-150.
View and bid for this Worcester Old Japanese Fan teapot here.
---
Puzzle jug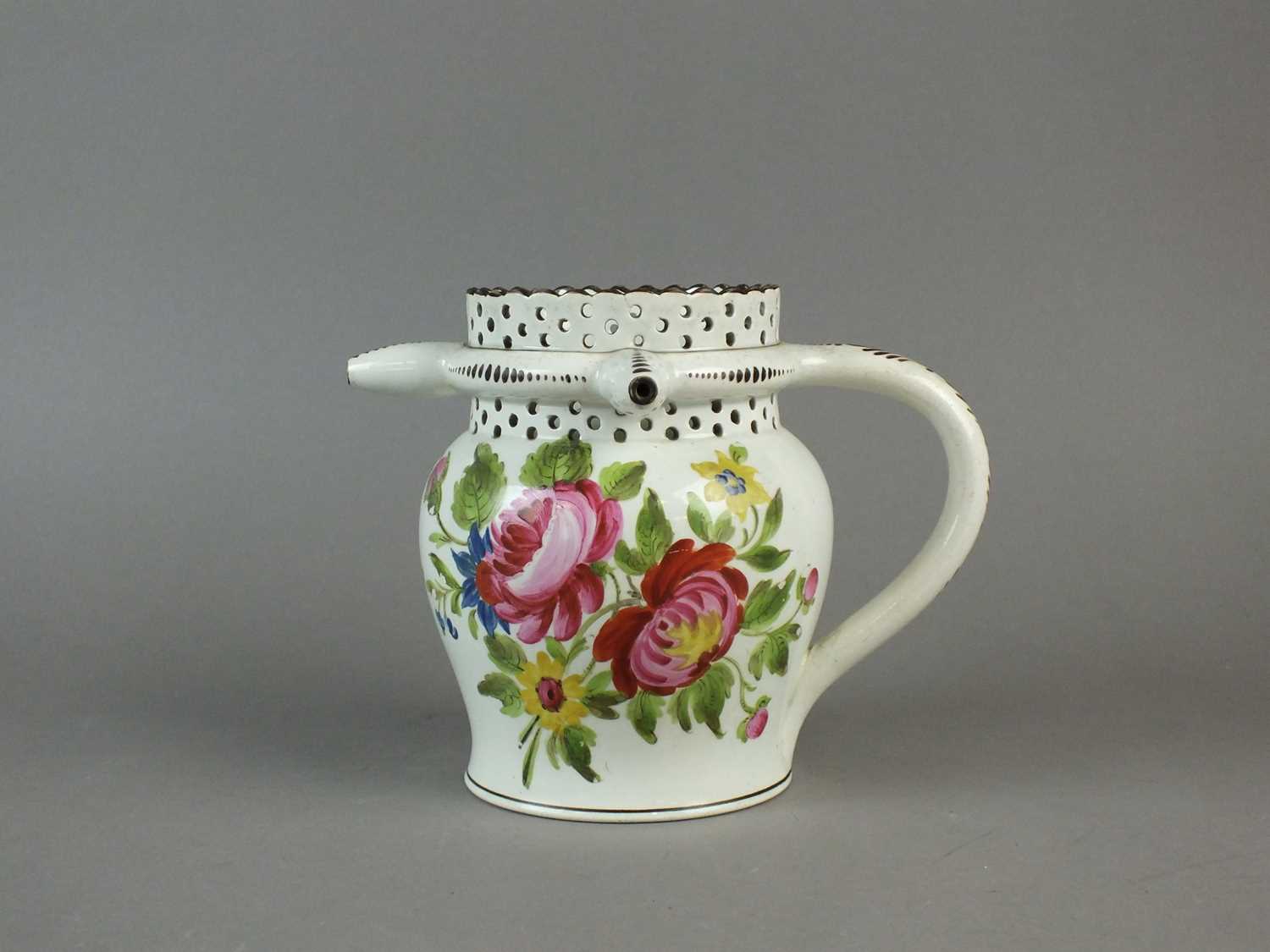 One of the quirkier pieces on offer is this early 19th century pearlware puzzle jug. Though quite common, these jugs offer lovely playful pieces of history, the joke behind them being that they are completely functionless given the decoration to the rim (though you could challenge a friend to pour a drink from one for a little mild amusement). Possibly a Bristol example, this puzzle jug is offered with an estimate of £100-150.
View and bid for this early 19th century puzzle jug here.