Halls Fine Art are delighted to have consigned a rare two-sided terracotta medallion titled 'Anima' / 'Mania' by the unconventional and controversial expressionist Oskar Kokoschka
---
Oskar Kokoschka Medallion Features In Halls Online Auction
Halls Fine Art are thrilled to be offering two fascinating items, with impeccable provenance, by Austrian expressionist of world-renowned fame, Oskar Kokoschka CBE at their Modern and Contemporary Art auction which runs from 21st April till the 7th of May.
Oskar Kokoschka was a leading figure of the expressionist movement in Europe. He was considered a controversial figure during his lifetime, often criticised for his unconventional style and approach to art. At one of his first exhibitions at the First Viennese Kunstschau in 1908, his artworks caused much public outrage and backlash due to their erotic content and it resulted in his expulsion from the Vienna Academy of Arts and Crafts.
He was forced to flee the Nazis who had denounced him as a 'degenerate' artist, seizing 417 of his paintings and artworks, 16 of which were shown at the infamous 1937 Degenerate Art Exhibition which displayed works considered to "insult German feeling".
Throughout his career Kokoschka often met with hostility and criticism for breaking tradition and conventional artist style, but he is now recognised as one of the most important artists of the 20th Century and celebrated for the lasting impact that he has had in Modern Art and the Expressionist movements.
The artist was self-taught and best known for his individual style using distorted forms, with bold, powerful brushstrokes. His portraiture is particularly highly prized for his ability to convey complex inner emotion and turmoil through the sitter. He primarily explored themes of love and relationships and the concept of human struggle and angst coping with the modern world.
Halls Fine Art are delighted to have consigned a rare two-sided terracotta medallion titled 'Anima' / 'Mania'. Anima seemingly depicts an artist at work on a portrait, and on the verso is the contrasting Mania scene showing two figures in an intimate embrace. The two contrasting scenes reflecting upon two very different juxtaposing emotional states and activities.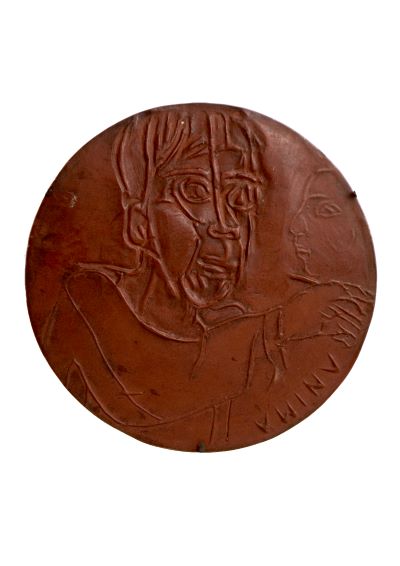 Oskar Kokoschka (1886-1980) Anima / Mania,
terracotta medallion, £800-£1,200 (+fees)
The medallion is all the more interesting as it was presented by Kokoschka to Sir Michael Tippett (1905-1998), composer of A Child of our Time, in 1945 on the occasion of a benefit in aid of the Children of Warsaw at the Royal Albert Hall where Tippett's oratorio was performed. Artists Augustus John (1878-1961) and Oskar Kokoschka both donated drawings which were sold to raise money for the cause. Medallions by Kokoschka are known, but rarely come up for sale on the open market, this is an exciting opportunity to acquire a special piece by a significant name. Anima / Mania carries an estimate of £800-£1,200 (+fees)
The same collection has yielded an artist proof lithograph Steigendes Pferd which Kokoschka signed and inscribed for his ex-mistress Anna Kallin, affectionately known as 'Niouta'. She bequeathed the print to Sir Michael Tippett upon her death in 1984 and both items were later given by Tippett to his long-serving secretary who settled down in Shropshire.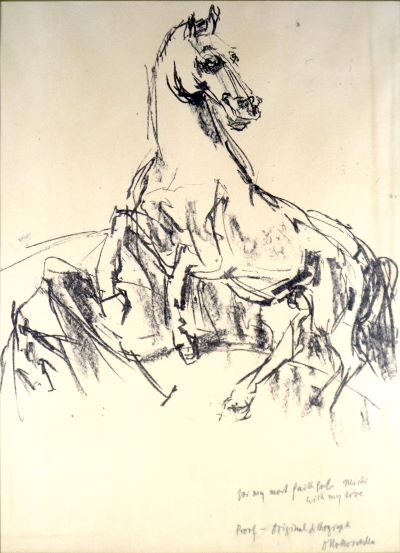 Oskar Kokoschka Steigendes Pferd,
lithograph, £300-£500 (+fees)
Both pieces will be going under the hammer in Halls Fine Art's forthcoming Modern and Contemporary Art auction taking place online from 21st April – 7th May. For a free valuation contact fineart@hallsgb.com, all items will be on public view 24th-25th April.