Sculpture, paintings and sketches from the collection are for sale in 18 separate lots during the forthcoming timed online Modern and Contemporary Art auction which runs between 21st April – 7th May.
---
Collection of Manchester Artist Arthur Cyril Hilton (1897-1960) 
Halls Fine Art are delighted to have consigned for sale a collection of sculpture, paintings and sketches by Manchester artist Arthur Cyril Hilton (1897-1960).
Hilton was born and lived in the Manchester area and turned to art and painting during his convalescence, having been wounded on the Somme during World War One. His abstract-surrealist style was highly distinctive and he experimented with many mediums, including his elegant hand-carved sculptures in teak, mahogany and sycamore wood.
In fact, Hilton rarely painted on canvas, preferring to use wooden panel or board for his artworks. Arthur Cyril Hilton was well-known in the Manchester art circle having been a member of the Manchester Society of Modern Painters from the 1930s, serving as its chairman during the 1950s. He exhibited regularly including solo shows at the Salford Art Gallery, Crane Kalman Gallery and exhibitions at the Manchester City Art Gallery.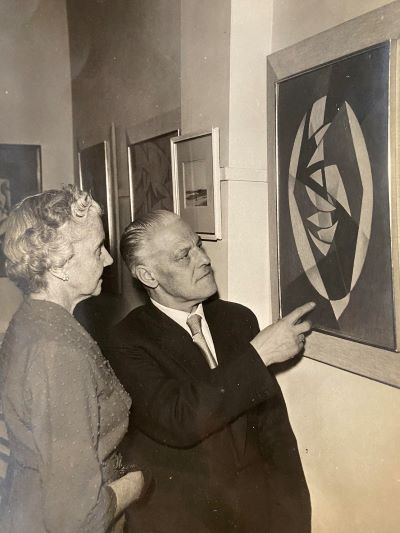 Arthur Cyril Hilton with his wife viewing his painting 'Floral Motif'
at his Crane Kalman solo exhibition. Estimate £100-£200.  
Halls Modern and Contemporary Art Specialist Abigail Molenaar has consigned a large collection of Hilton's artworks for auction, showcasing examples of his sculpture, oil painting, watercolour and drawing that demonstrate Hilton's incredible artistic range.
The items have all come from the private collection of Hilton's family, and excitingly also includes the artist's personal notebooks with handwritten letters, exhibition notes, journal entries and photographs of the artist at his exhibitions in the 1940s and 1950s.
Abigail Molenaar writes "My particular favourite is Plant Form, a stunning hand-carved teak abstract sculpture which Arthur exhibited in the 1950s. Its simplistic form has both strength and elegance to it which I find so engaging, it almost invites the viewer to touch it. Amazingly we have one of the artist's photographs from one of his exhibitions showing Plant Form on display which is an remarkable piece of provenance".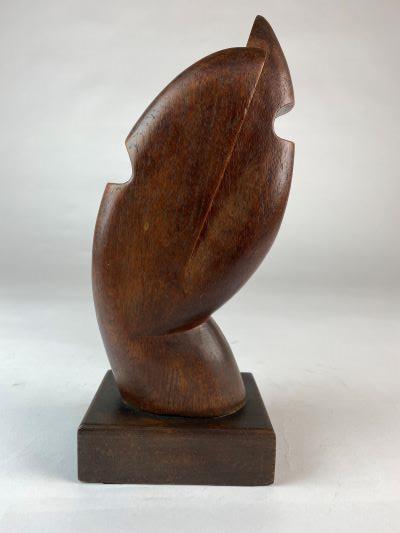 Arthur Cyril Hilton Plant Form,
Teak Sculpture, Estimate £150-£250 
 "I love the fact that we are able to offer up Arthur's exhibition diaries and notebooks for sale, I have found myself very drawn to him as an artist reading through his handwritten notes and flicking through all the little clippings he saved and annotated over the years. Amazingly the archive spans the full length of his artistic career, from the outset in 1919 right up until his death in 1960. It is not often you can really get such a personal insight into the artists' thoughts and process, especially once they are long-gone, these scrapbooks and photographs are a true touchstone into the personality and artist process behind the artwork".
The collection will be sold in 18 separate lots during the forthcoming Modern and Contemporary Art auction at Halls Fine Art. The timed online auction runs between 21st April – 7th May.
Please get in touch with Abigail Molenaar for further information fineart@hallsgb.com