An Irish buyer edged out rivals bidder to secure the 14 letters which soon eclipsed their presale estimate of up to £1,200 at Halls Fine Art's successful books, stamps and coins auction at the company's Battlefield saleroom in Shrewsbury.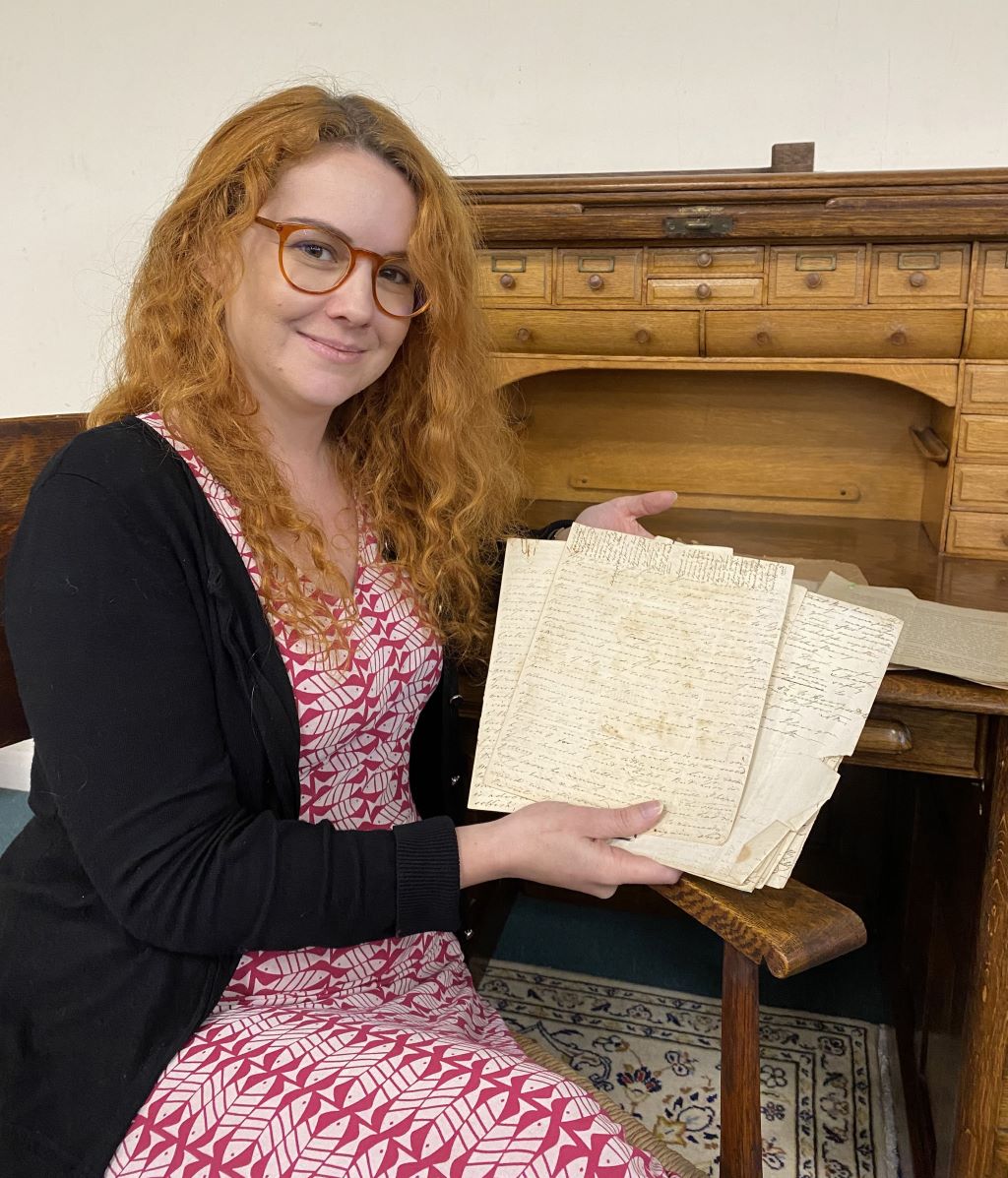 Auctioneer Abigail Molenaar from Halls Fine Art with some of the letters signed by Maria Edgeworth which she sold for £8,000.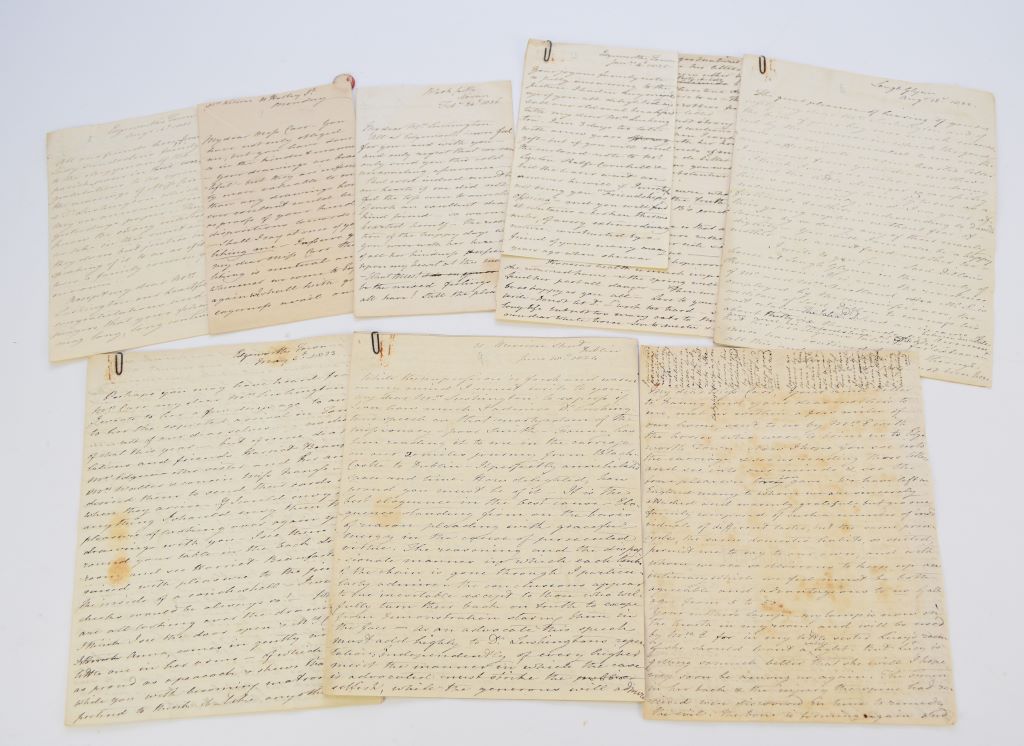 EDGEWORTH, Maria (1768-1849) Anglo-Irish novelist.
A small archive of circa 14 autograph letters signed, covering approximately 67 sides. 8vo, 4to and 12mo. 1818-1831.
Mostly to Mr Lushington and a few to Miss Carr (Frognall, Hampstead).
Letters are written from Edgeworthtown, Lough Glynn, 31 Merrion Street, Dublin, and Abbotsford.
With a typescript. Some letters may have been published (quantity).
Sold for £8,000

Edgeworth (1768-1849) was an educationist and prolific novelist of adults' and children's literature and is credited with making significant contributions to the evolution of the novel in Europe. She was one of the first realist writers in children's literature.
Her most popular work on childhood education is Practical Education, which she wrote in collaboration with her father, Richard Lovell Edgeworth, who contributed to many of her other works.
Her many correspondents across Britain and Europe included Jane Austen, Sir Walter Scott and Rachel Mordecai Lazarus, a Jewish-American educator. Edgeworth travelled across Europe with her family while writing and spent the rest of her life living in the Edgeworthtown estate in County Longford, Ireland.
The letters included in the auction were written between 1818-'31, mostly to Mr Lushington and a few to Miss Carr of Frognall, Hampstead. The letters were written from Edgeworthtown, the town named after the family and Lough Glynn, 31, Merrion Street, Dublin and Abbotsford, home of Sir Walter Scott.
Chris Moore, Halls Fine Art's books and manuscripts specialist, said: "The letters attracted huge pre-sale interest from across the UK and Ireland because Maria Edgeworth was a celebrated novelist of her time.
"She is not really a household name today, yet in the period 1800-'14 she was the most famous and successful novelist in England, male or female. Her best known novel is probably 'Castle Rackrent', published in 1800.
"The letters were mostly to Stephen Lushington (1782-1873), judge, MP and fervent anti-slavery campaigner. Some of them  were to Miss Sarah Carr, who married Lushington in 1821.
"Sir Walter Scott was a great admirer of Maria Edgeworth, and one letter of particular interest was written from Abbotsford, his magnificent home on the banks of the River Tweed, where she was staying as his guest.
"Dated 28 July, 1823 and addressed to Mrs Lushington, in a very long letter Maria describes her impressions of her host's wonderful castle and of outings and visits they had enjoyed.
"In recent years, there has been increasing interest in female writers and this is reflected in the price this lot sold for."
A Maria Edgeworth Centre in Edgeworthtown pays homage to the novelist and tells the story of her life and works. A literary festival is also dedicated to her.
Opened in 2019, the centre states that Maria was considered "a lioness by literary giants including, William Wordsworth, Sir Walter Scott, Lord Byron and Jane Austen".
Other leading prices were £2,100 each for 'A Picturesque Tour from Geneva to Milan. R Ackermann, 1820' by Frederick Schoberl and an early 18th century manuscript, 'Record of the British Chapel in Danzig begins 1706' and £1,000 for an archive of 39 Somerset deeds dating from 1591 to 1786.

A hand-coloured plate from 'A Picturesque Tour from Geneva to Milan. R Ackermann, 1820'
by Frederick Schoberl, which sold for £2,100.
'The Who', a fan club photograph signed by the four band members - Pete Townsend, Roger Daltrey, John Entwistle and Keith Moon - sold for £950, Joseph Zaehnsdorf's 'The Art of Bookbinding, 1880' made £700, Egyptologist Howard Carter's 1923 first volume of 'The Tomb of Tutankhamen' sold for £600, Louis Wain's large format 'In Cat and Dog Land' from around 1905 purred at £500.
THE WHO. Fan club photograph of the band,
signed to verso by Keith Moon, Pete Townsend, Roger Daltrey and John Entwistle.
Sold for £950
Other interesting lots included an autograph letter by William De Morgan  (1839-1917) which sold for £360 and a leaf from William Shakespeare's 'The Merry Wives of Windsor' from the Second Folio of 1632, which made £170.
For more information, please contact Halls Fine Art on 01743 450700 or Duncan Foulkes, public relations consultant, on 01686 650818.
---