The Spring Sale, a week before the first national quarantine and when visiting shops, galleries and auctions were all normal, every-day activities, yielded the highest priced picture of the year; a portrait of Princess Mary, as the goddess Diana, the huntress, by one of the Circle of Peter Lely, that sold for a hammer price of £22,000. In fact, pictures stole the limelight in this sale, as a typical Welsh landscape by Kyffin Williams made an above estimate £13,000. Musical instruments also struck a chord with buyers, with a 1920s Steinway boudoir grand exceeding the £6,000-8,000 estimate, taking a winning bid of £10,500 and a 19th century Panormo School cello sold for £3,000. Numismatists were also spoilt for choice and competed for a variety of coins that totalled £46,000. Of good local interest a collection of Caughley and Worcester coincidentally contributed a similar sum to the sale total, with a Caughley jug, transfer printed with a view of Ironbridge, dated 1790 and inscribed to 'Mr Berridge' taking a section topping bid of £5,300.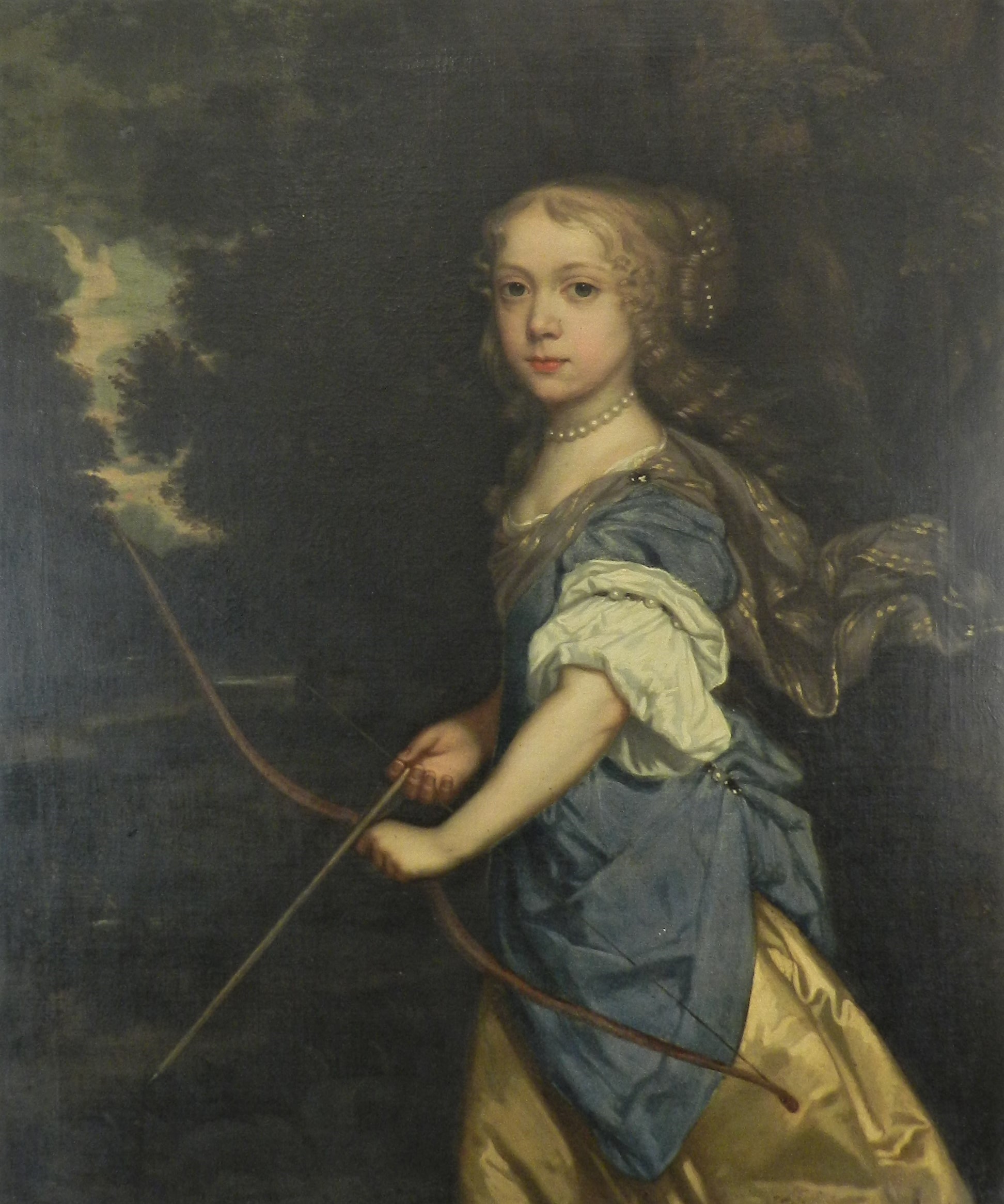 Lot 746: The Spring Auction, 18th March 2020
Circle of Sir Peter Lely (1618-1680),
Portrait of Princess Mary,
three quarter length,
when Mary of York, as Diana,
oil on canvas,
90 x 73cm
Sold for £22,000

Notes: There are a number of versions of this portrait with the two most notable held in the Hampton Court Collection of 'Beauties' and the National Trust house Lytes Cary Manor. The Windsor Beauties were the ladies of the court of Charles II and Princess Mary, his niece, was a prominent figure. The future Queen Mary II of England, Scotland and Ireland from 1662-1694 (co-reigning with her husband King William) she is depicted in this portrait as Diana, the Goddess of Hunting, whose celestial attributes were understood to be principally inaccessibility, virginity and purity.

VIEW LOT
Lot 649: The Spring Auction, 18th March 2020
A Steinway Model M boudoir grand piano, circa late 1926 / early 1927,
marked to the interior frame Reg. U.S PAT.OFF Steinway & Sons, New York, Hamburg, Patent Grand Construction, Oct.3. 1899, Tubulor Metallic Action Frame Pat, M 248248.
Reconditioned and recently tuned, 96 cm high, 145 x 175 cm. Sold alongside an associated (later) adjusting piano stool, with a twist action rising buttoned seat, 40 x 58 cm.
Provenance: Property of a Shropshire gentleman
Sold for £10,500

VIEW LOT

Lot 338: The Spring Auction, 18th March 2020
A Caughley maskhead cabbage-leaf moulded jug, dated 1790

named to 'Mr. Berridge', transfer-printed in underglaze blue with a view of the Iron Bridge,
S mark, 19cm high
Tentatively, 'Mr. Berridge' could be attributed to the famous evangelical revivalist preacher Rev. John Berridge. Commonly referred to 'Mr. Berridge' by friends and in contemporary literature, John was a close friend of the Hill family at Hawkstone who were known patrons of Caughley. Similar jugs of this shape and pattern are documented with inscriptions relating to the Hill family.
Sold for £5,300
Unsurprisingly, online sales have come to the fore and are definitely the auction's antidote to closure. Specialist Abigail Molenaar's most recent modern and contemporary timed online affair at the end of October did very well with two Picasso etchings selling for hammer prices of £7,500 and £4,800. If our buyers can't come to us, then we will visit them digitally.
 


Lot 12: Timed Modern and Contemporary Art Auction, October 2020
Pablo Picasso (Spanish 20th Century, 1881-1973), 

Taureau

 

aile

 C

ontemple

 par Q

uatre

 Enfants (Winged Bull Watched by Four Children),
Etching from the Vollard Suite, on laid paper with Vollard watermark,
signed Picasso bottom right, full margins, from 260 edition, French inventory number '377' in pencil bottom left, mounted and framed.
Measurements 23.5 x 29.5 cm (PL), frame 48 x 54 cm
Sold for £7,500
The Vollard Suite is the name given to a group of 100 etchings created by Pablo Picasso (1881-1973) during the years 1930-1937 for art dealer Ambroise Vollard (1866-1939). Picasso worked on the series during the years where fascism was spreading through Europe and Civil War errupting in Spain and many of the anxieties of this era are expressed in the Vollard Suite compositions. Many of the etchings feature Picasso's mistress Marie-Therese Walker, including the Female Bullfighter II. Due to Vollard's unexpected death in 1939 and the outbreak of World War Two, the Vollard Suite did not appear on the open market until the 1950s.

VIEW LOT

It is heartening then that after 'lockdown' there have been some more rays of sunshine, with the contents of a Shropshire house, in some cases literally, yielding some gems, including the 4-carat diamond ring, illustrated, that doubled its lower estimate to sell for £13,500, a 4-poster bed that sold for £3,600 and a pair of restored landscape paintings with pointers, by Daniel Clowes, that achieved £5,500. The top lot in the autumn sale, however, was the 1970 Bentley T-series fixed head coupe illustrated, which sold for a hammer price of £15,000 and from another, titled estate a pair of 18th century Coade urns made £9,200. Another collection of Caughley produced a rare, dated and monogrammed mug that made £3,600 and a Satsuma vase by Sozan went for £2,800. Elsewhere, a timely £8,200 bid secured an Omega 'Speedmaster' watch.

Lot 73: The Autumn Auction, 16th September 2020
A single stone diamond ring,
the brilliant cut diamond within twelve claw setting, mounted in white metal to yellow metal shank,
stamped '18c', ring size R, the diamond weighs approx 4.10cts, colour estimated to be K/L, clarity estimated to be VS1-VS2, weight approx 8.1g
Sold for £13,500

VIEW LOT
Lot 486: The Autumn Auction, 16th September 2020
1970 Bentley T Series mulliner park ward 2-door fixed head coupe,
Grey paintwork with red coach-lining, Magnolia seat leather, automatic transmission
Bentley Motors chassis CBH 8237, Rolls-Royce 6230cc V8 engine 8237, Matching numbers, driven only 85,285 miles by three owners
Original registration 'BLC 750H'
Sold for £15,000
The Christmas sale produced an array of good works with three of the top 10 lots being furniture. An 18th century Italian walnut veneered commode sold for £5,500, closely followed by the antithesis of this Rococo design, an Art Deco dining room suite, by Harry and Lou Epstein, ironically also veneered in figured walnut (£5,000)! In the Oriental section a good 15th century Tibetan, gilt copper alloy model of Buddha sold for £5,400. How appropriate that in this time of strife and uncertainty that this spiritual embodiment of calm and meditation should find a welcome home.

Lot 434 (The Christmas Auction, 9th December 2020)
An 18th century, Italian, figured walnut veneered, serpentine three drawer commode,
inlaid with shaped panels, boxwood stringing and crossbanded on the top, sides and drawers,
on dwarf cabriole legs, 149cm wide x 63cm deep x 94cm high
Sold for £5,500
Similarly, topical and appropriate was a signed Florence Nightingale 'Notes on Nursing' that sold for £2,300 in the book sale in the autumn. No doubt the buyer would pay homage to the unstinting and dedicated work of all the medical staff in the NHS, following in the footsteps of the mother of nursing herself.
Lot 71 (Antiques & Interiors Auction, 2nd September 2020)
NIGHTINGALE, Florence, Notes on Nursing.
New edition revised and enlarged, 1860.
With a fine inscription front the author 'Offered to John Croft Esq. with Florence Nightingale's sincerest joy at finding herself his fellow worker in the Nurse training business. London 1873'.
John Croft (1833-1905) was consulting surgeon at St. Thomas's Hospital, London.
Original cloth gilt, neatly rebacked, new eps. Wellcome Library withdrawn stamp to title verso
Sold for £2,300
All in all it has been a year of peaks and troughs, but let us all hope that spiritually, medically and economically that 2021 is a year of plain sailing.
---