Halls Sponsor Shrewsbury Secret Artist Sale - 20/08/2023
The Shrewsbury Secret Artist Sale is back and promises to be bigger and better than before. Last year's successful weekend, when customers queued overnight, raised almost £9,000 for charity and organisers hope to top £10,000 in 2023.
The unique sale, which is part of the Shrewsbury Arts Trail, will take place on August 20th at The Soden Collection in Wyle Cop and will feature over 100 original pieces of work from local, national and international artists.
One of the organisers, Jonathan Soden, explained why this was a 'secret' sale: "All of the work is A5 size, signed on the reverse, and available for purchase at a standard price of £50, with all proceeds going to five causes: Breast Cancer Now, Lingen Davies Cancer Appeal, Alzheimer's Society, Shropshire Wildlife Trust and Severn Hospice.

"The artist's identity remains unknown until the work is purchased, which means buyers have the opportunity to acquire outstanding artwork at a fraction of the usual cost."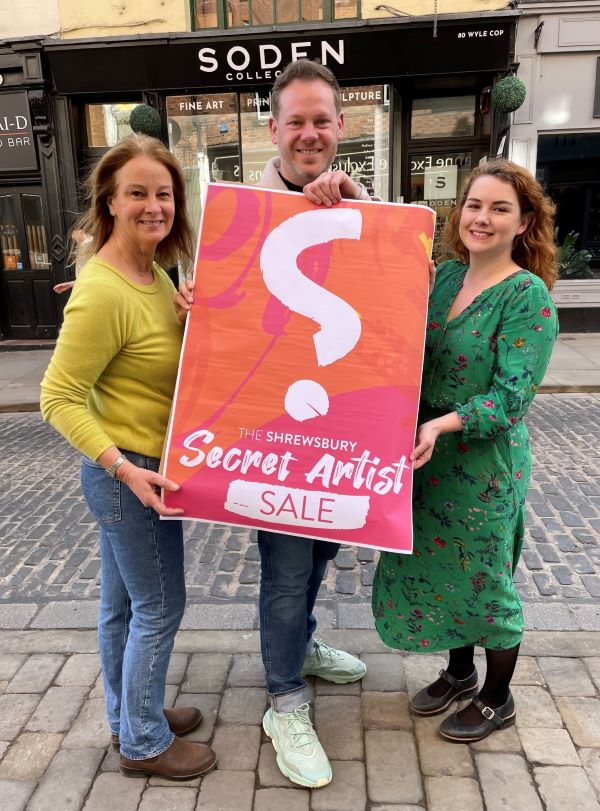 Jocelyne Fildes, Jonathan Soden and Abigail Molenaar
of Halls Fine Art sponsoring the event this year
Jonathan announced that Halls, tShropshire's leading Fine Art Valuers & Auctionerers had agreed to sponsor the event. "We are delighted to have Halls on board – this means we can promote the event to a wider audience and hopefully raise even more money for charity, especially as we will be including new features this year which will add to its appeal," he said. 
Allen Gittens from Halls commented: ""As the County's leading Fine Art Auctioneers, Halls are always keen to support the Local Arts community wherever possible. This innovative event provides a valuable opportunity for Shropshire artists and those from further afield to showcase their work to potential buyers and collectors and has the added bonus of raising much needed funds for very worthwhile local and national charities. We are sure that after last year's hugely successful launch, the event will be even bigger and better this year."
Jonathan added that some of the county's best-known artists were taking part this year and that a national celebrity had also promised a donation. "However, we are still looking for other well-known people to contribute a piece of work so if anyone locally has a famous friend who would support us then we would love to hear from them!" 
For further information please contact Jocelyne Fildes on 07739 503304 or Halls Fine Art on 01743 450 700