Donald McIntyre Oil Paintings For Sale At Halls
2023 marks a centenary since the birth of eminent landscape artist Donald McIntyre, who was born in 1923 to Scottish parents in Leeds. He spent much of his childhood on the West Coast of Scotland where he developed a deep-rooted and life-long love of the coast, particularly the island of Iona where he returned again and again to paint throughout his career.
Interestingly McIntyre almost missed his artistic calling, having initially trained and qualified as a dentist, settling for taking evening classes at the nearby Glasgow School of Art across the road from the Dentist college. It was only when he settled in North Wales during the 1950s that he began to pursue painting as a full-time vocation, encouraged by the Howard Roberts Gallery who helped to launch so many Welsh artists' careers.
He spent the rest of his life in Wales, painting en plein air, in all weathers, often joining Kyffin Williams for sketching jaunts across their beloved Anglesey.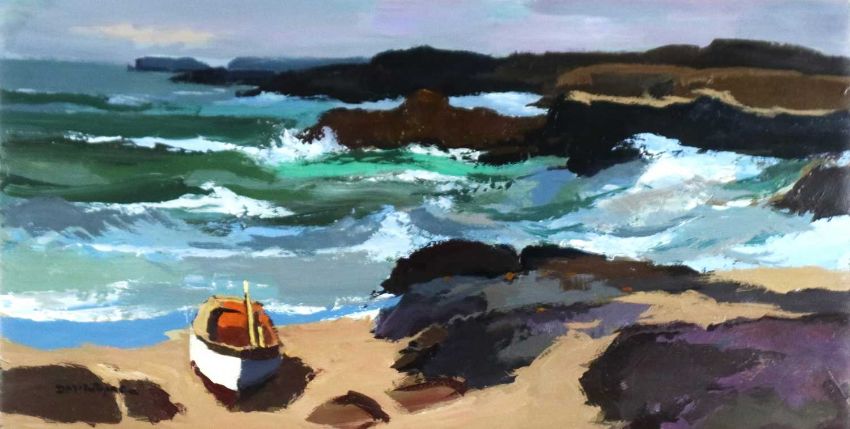 Donald McIntyre, Rocky Coast, oil on board, £3,000-£5,000
Donald McIntyre's work quickly became highly collectible during his own lifetime and since his death in 2009 prices have risen considerably on the art market. His spontaneous, energetic brushstrokes and vivid, intense use of colour in the tradition of the Scottish colourists create a unique combination that is both unique and timeless.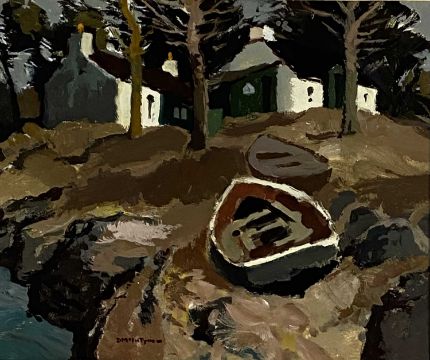 Donald McIntyre, Port en Caple, oil on board, £1,500-£2,500
Halls Fine Art currently have three McIntyre oil paintings up for auction in the Modern and Contemporary Art sale which closes on the 7th May. All three works were purchased around thirty years ago from Anglesey and formed part of a larger private collection featuring many Welsh artists who were contemporaries of McIntyre.
The paintings showcase McIntyre's incredible range, from the more earthy palette of 'Port en Caple' which has an almost haunting quality, to the vivid, energetic waves of 'Rocky Coast' that transports the viewer to the waters' edge; one can almost feel the wind whipping off the sea and hear the waves crashing down onto the rocks.  
With starting prices ranging between £1,500 - £3,000 this is a fantastic opportunity to invest in a piece from one of the most sought-after British coastal painters of the last century.