One
All British silver produced today requires a hallmark. This practice has been in place for over 600 years and was introduced to ensure that any silver being traded met a certain standard of purity. To qualify for a hallmark the silver content of a piece must be a minimum of 92.5%.


Two
Hallmarks provide us with the amazing opportunity to find out not only if a piece of metal is actually silver but also who made it, when it was made and where. A maker's mark, composed of the manufacturer's initials, tells us who made a piece. A date letter is used to denote the year the piece was made and an Assay mark is used to show where in the country it was tested and hallmarked.




An Arts and Crafts Liberty & Co 'Cymric' silver, enamel and shagreen mounted box and cover,
Liberty & Co, Birmingham 1901, attributed to Archibald Knox,
designed as a rectangular shagreen box with silver edge and base mounts
with removable cover set with blue and green enamelled 'Cymric' style handle, the interior lined with fruitwood, 18.5cm wide
Sold for £10,500
Three
There are currently four Assay offices in the UK; London, Birmingham, Sheffield and Edinburgh but there used to be many more. Pieces hallmarked in Chester and Glasgow, that both closed in the 1960's are still common in the second hand market, however, pieces bearing historic Assay office marks from York and Norwich are extremely rare and thus command high prices at auction.


A silver hallmark produced in Chester,
the assay stamp is composed of three sheaves of wheat


Four
Each country has their own marking system for silver and precious metals. In Britain we use a stamp called the 'lion passant' to denote silver of 92.5% purity. Other examples include; a crescent moon and crown in Germany, the profile of the Roman goddess Minerva in France and a cat or lotus flower in Egypt to name but a few!



A full hallmark comprised of; the makers mark of 'Barker Ellis Silver Company',
the anchor Assay stamp for Birmingham, the lion passant and the date letter 'W' for 1971.


Five
During the 19th century the silver market in China was thriving. The country produced huge amounts of pieces in the Western style copying not only the objects but also the British hallmarks. These have since become known as 'pseudo-hallmarks' and although they look extremely similar to their British counterparts there are often tell tale signs of their Chinese origin.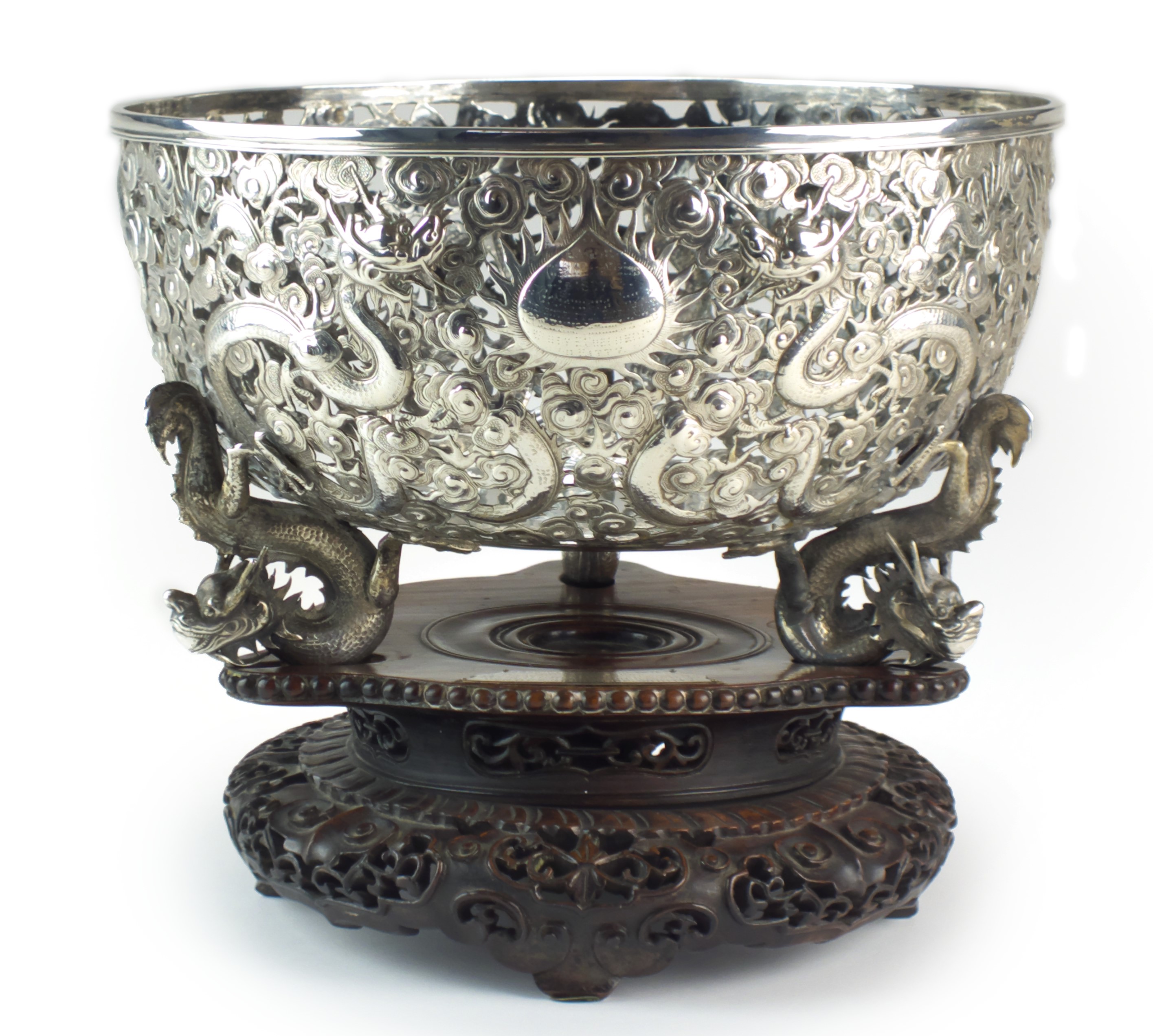 The Governor's Cup: A superb Chinese silver bowl by Wang Hing & Co, dated 1897,
of rounded form and raised on three wrythen dragon feet,
the openwork sides tooled and chased with multiple dragons in flight amid roiling clouds, a central flaming pearl cartouche inscribed 'Lagos (West Africa)

Races 1897 Governor's Cup, Presented by His Excellency Lt.Col. H.E.McCallum R.E. C.M.G., won by E.Shepherd on Kitty', set on a carved hardwood stand applied with a further silver plaque inscribed as above, stamped WH with three-character mark, total height 25cm (17cm excluding stand), 29cm dia., 54oz (1520g) of silver.

Provenance: Won by Egbert Shepherd (pictured standing far left) in 1897, thence by descent to the vendor
Footnote: This stunning bowl was presented as a racing trophy to Egbert Shepherd, grandfather of the current vendor. The inscriptions on the bowl and stand reference Lt.Col. Henry Edward McCallum (1852-1919) who was Governor of Lagos between 1897 and 1899, this lot, therefore, being commissioned in his inaugural year. Since then it has remained in the Shepherd family and is presented here at auction for the first time. Compare also a near identical bowl by the same maker, Sotheby's Arts of Europe, 12 May 2015, lot 158.
Sold £9,000

Six
Occasionally, pieces may also bear a commemorative limited edition mark. These are produced to observe a significant milestone. In 1934 an additional stamp was designed for George V's Jubilee, a Coronation mark was created for Elizabeth II in 1952 followed by further Jubilee stamps in 1977, 2002 and 2012. In addition to these there was also a special mark created in 1999 to celebrate the Millennium.



A hallmark including the 1934-5 Jubilee stamp

Seven
If an item of silver is altered with additional parts added to change its use, these new additions need hallmarking for the item to be legally sold. For example, silver mugs can be converted into lidded tankards or jugs. If the spout and lid do not bear a hallmark the piece cannot legally be traded.

A Victorian silver tankard with later spout that bears no hallmark
---
Find Out More About Your Silver

If you wish to find out more about your silver get in touch with Maryanne for a free appraisal.