Like the dispersal of all country house sales, the nature of the contents is disparate, with oil paintings and furniture to Welsh blankets and advertising memorabilia on offer. The stellar lot is the very large Regency dining table by David Morley (see below), but there is also a collection of garden statuary, including an impressive, 113cm wide 'Warwick vase' form urn, estimated at £2,000-3,000.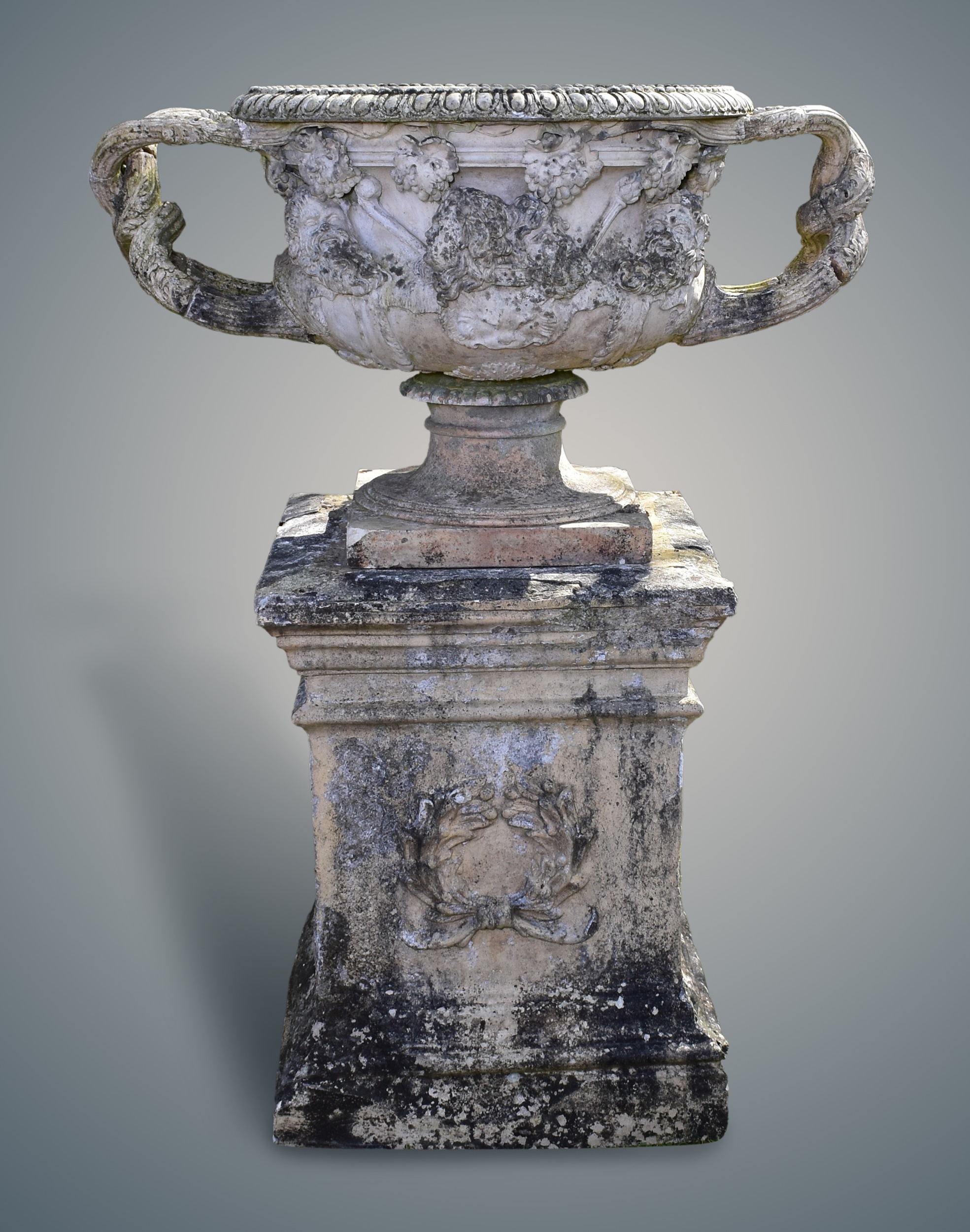 A large 19th century ceramic urn, modelled as the Warwick vase, on a pedestal,
the egg and dart moulded rim above a Bacchic head and fruiting vine relief moulded body, with intertwined vine branch handles, on a pedestal,
each side with a relief moulded wreath, damaged and some restorations, urn 113cm wide x 66cm high, pedestal 83cm high, overall approximately 150cm high (2)
Estimate: £2,000 - £3,000


Dutch School, late 19th/early 20th century
An impressionist style river landscape with a silver birch lined waterway with a windmill and buildings in the distance,
signed indistinctly lower right 'V.Alib?***', inscribed on the back frame top and bottom 'BOAG', oil,
frame with some damage, 65cm x 92cm
Estimate: £500 - £800
From the interiors there is a late 19th century, Impressionist style oil painting, a good, Victorian well-figured mahogany breakfront press and a 19th century brass inlaid open bookcase to site just a few examples. This is a unique opportunity to acquire something associated with this longstanding landmark. Bodfach Hall is steeped in history and, like the majority of historical properties, has a convoluted and varied background, a synopsis of which is below.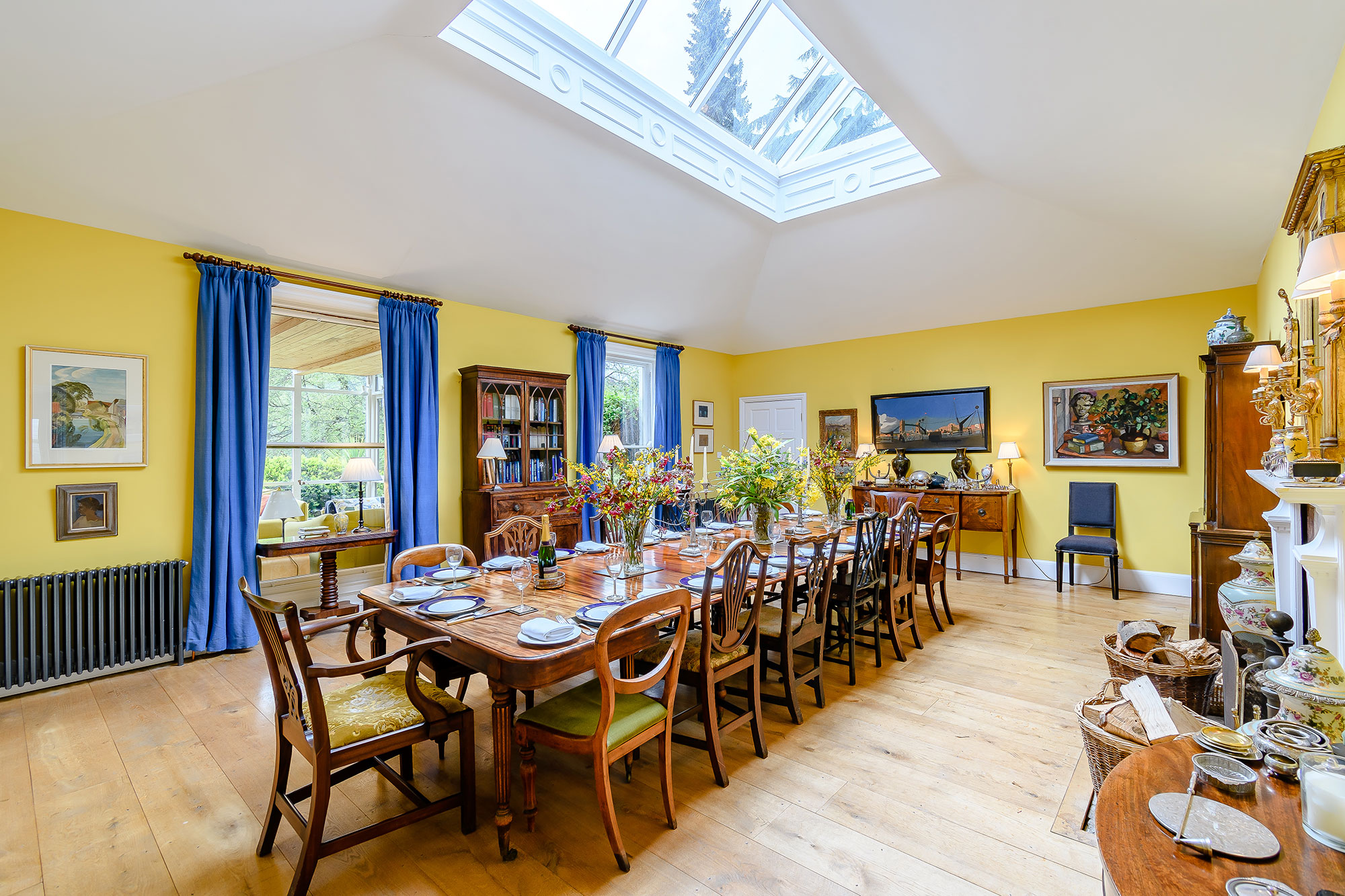 Bodfach Hall is a very well-known landmark in Montgomeryshire, being the home of many High Sheriffs from 1715, a well-known hotel from 1945 and the site of the Llanfyllin Show. Bodfach formed part of the estate owned by Madoc ap Meredydd, Prince of Powys, in the 1100s and after the motte and bailey castle on the hill above Bodfach was destroyed in 1256, it is likely that it was then that the first house was built at Bodfach, but no one knows.
William Kyffin, a descendant of Madoc ap Meredydd, owned Bodfach in the 1500/1600s and the estate was inherited by his son, Sion Kyffin, in 1655, who worked on the house, gaining praise from the farmer-poet Edward Morris 'A hall fit for generous Lud in this a palace of pure beauty, a jewel of a house'. When Sion Kyffin died in 1694 his granddaughter, Mary, inherited Bodfach. In the same year Mary married Adam Pryce, whose granddaughter, Anne, married Bell Lloyd, a squire, in 1758.
It was Bell Lloyd that carried out work on the house and coach house in the 1760s, borne out by Moses Griffiths's painting of the property in the same year. Owing to the cost involved in this project, footing the bill for a new road to Llanrhaeadr and paying for 170,000 trees to be planted he ended up in debtor's prison in 1793. His son Edward Pryce Lloyd sold the estate in the 1840s to Lt. Gen. Sir John Wilson, who in turn sold it to the cotton magnate, John Lomax, in 1854 for £52,000. Lomax and then his son, Thomas, made extensive changes to the property in the 1860s, giving Bodfach its present Italianate look, with its stucco façade and who were also responsible for the terracing and creating what are now considered to be one of the best rhododendron and azalea gardens in Wales.
His son and daughter lived at Bodfach, unmarried, all their lives and after their deaths the house (with 33 acres) was sold in 1945 to the Tunstills who turned Bodfach into a hotel. It continued to be run as a hotel under the next owners (Mr and Mrs Gray). The latter was High Sherriff, just as Adam Pryce had been, along with three generations of the Lomax family. The Grays sold it in 1999, after which it became a private residence once more and it has remained so since.
A rare Regency figured mahogany, telescopic dining table by David Morley of Carmarthen,
with good provenance, the rectangular top of solid mahogany and with rounded corners and an ovolo moulded edge, above a plain frieze, raised on reeded and turned legs,
terminating in brass caps and castors, with an unusual telescopic, scissor-type action, inset brass maker's plaque on the side of one bearer at one end 'Morley Upholsterer Carmarthen',
some caps stamped 'Patent', with 7 leaves, restorations, extended 532cm long x 139cm wide x 73cm high
Estimate: £10,000 - £15,000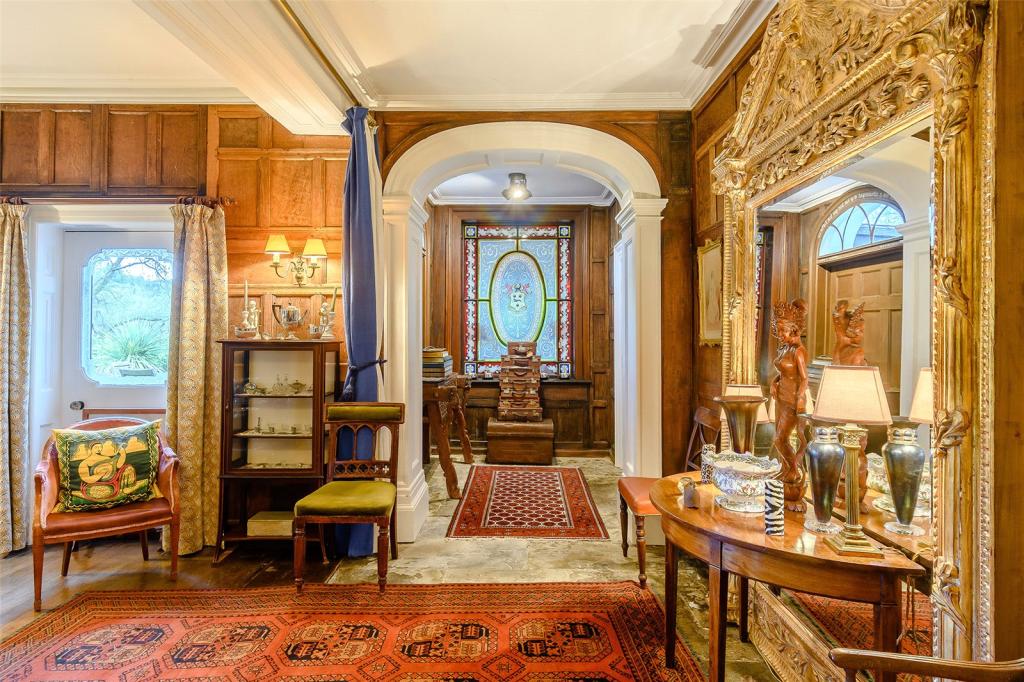 Before the sale of Bodfach Hall in March 2022, the then owners consigned the items included in this auction to Halls Fine Art in Shrewsbury, as they were downsizing from this large property. The highlight of the sale is the signed, 18 foot plus, Regency mahogany, extending dining table by David Morley (of Carmarthen), (illustrated), with an unusual telescopic action. With the maker's plaque (illustrated) and excellent provenance, it was well restored in 2008 when the current owners bought it from the family, whose forebear, John Lloyd, originally commissioned it from Morley himself in the 1820s.
In fact, it was bought for his new home, 'Dinas', Llanfaes, near Brecon (see illustration), which was built in the same decade. He was an accomplished poet, winning the poetry prize for ''Ode to Princess Victoria'' at the Cardiff Eisteddfod in 1834 and published several books. He was made High Sherriff of Breconshire in 1839. The Lloyds were an old Breconshire family, with Elystan Glodrudd being a forebear. John Lloyd named his new home, Dinas, after his original family home in a remote location, at Llanwrtyd.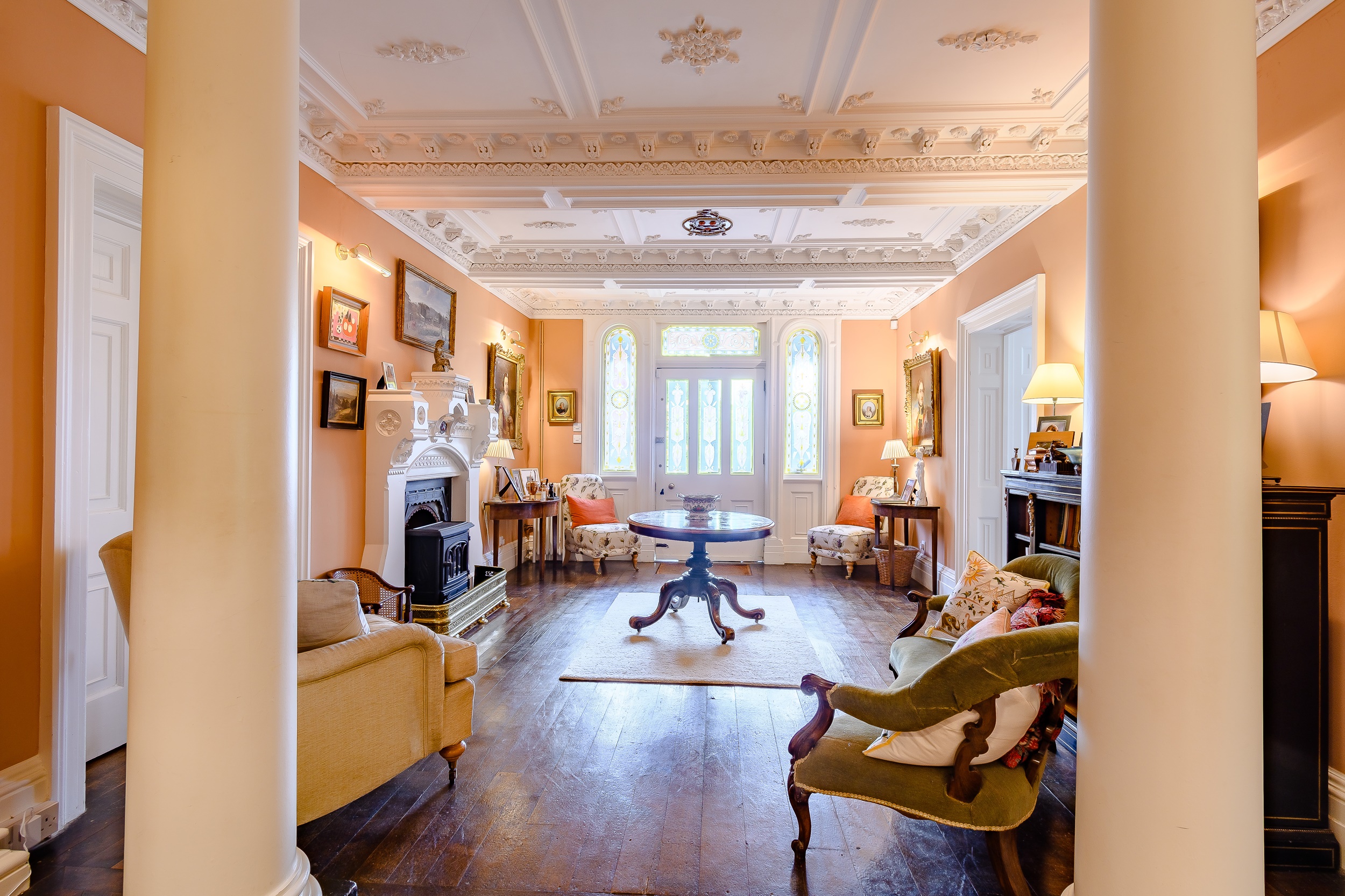 'Dinas', Llanfaes, near Brecon
David Morley.
David Morley (1760-1831) was one of the pre-eminent cabinet makers of his time in Carmarthen. In 1774 he started as an apprentice to John Owen in Manchester and returned to Carmarthen in 1780. In 1795 he was established in Lammas street and his premises included a house, workshop and warehouse. He was listed in The Universal, the first trade directory for the area, and most of the subsequent editions until his death. He became a prominent local figure, serving as a burgess and a church warden and was commissioned by many local, successful businessmen and members of the gentry, including John Vaughan of Golden Grove (£53 4s.2d. for chests, mirrors, curtains etc.), Thomas Mansel of Stradey (Llanelli) and the original owner of this table (see above). In fact, John Lloyd's table might have the same unusual mechanism of that mentioned in Richard Bebb's book, 'Welsh Furniture', (page 221). It could be the same example, save for the fact that it is larger and it bears an octagonal plaque and not a rectangular one as in the example in Welsh Furniture. The extending pedestal table illustrated on the same page also bears a brass plaque, with the same wording, but is also of rectangular form. The word 'upholsterer ' on the plaque is deliberate as it was a prestigious term, indicating the provision of fashionable carpets, wallpaper and fabrics and was used in Lloyd's advertising. In 1830 he supplied Carmarthen Guildhall with a large suite of furniture, comprising 38 chairs and a 20' by 5' pedestal table, costing £214 6s. Morley was influenced by the illustrious Regency designer, George Smith, whose designs can be seen in the furniture he produced at this time, including Morley's pedestal table, illustrated on page 227 of Welsh Furniture. Clearly, from the few examples cited he was known to have produced a number of variants of extending dining table. Morley would have been gratified that when the contents of Dolgwm Pencarreg was sold, the furniture made by Morley was described as 'Very superior modern furniture, among the last executed by the late Mr Morley, when in the very zenith of his professional aggrandizement'. A fitting epitaph.
Bebb, R, Welsh Furniture, published 2007, pages 220-228.
Millar, The Notebook of John Davies, Cabinet Maker, Carmarthen 1844-1855, Regional Furniture, published 1996.
Millar, A Nicholson Chair Pattern of 1826, FHS Newsletter, published August 2005.
---
Sign up to our email newsletter
to receive a link to the catalogue as soon as it 'goes live'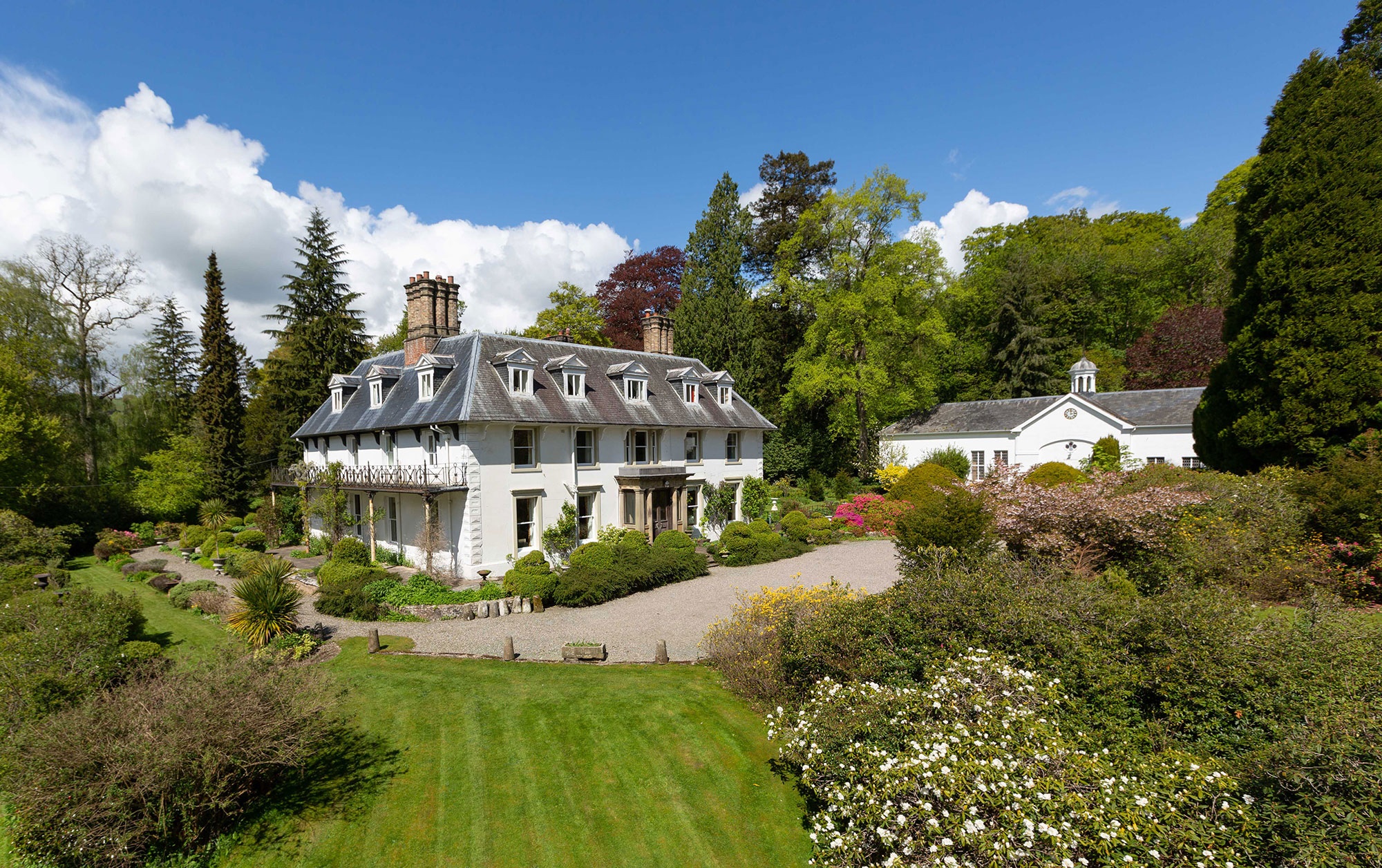 For all sale enquiries: Tel: 01743 450 700 / Email: fineart@hallsgb.com