Lot 174 is an interesting set of flags created as a messaging system for Liverpool's shipping industry.
---
These sixty-five flags were produced by Porter Brothers, Liverpool. First established in 1905 as a response to the demand for flags from Liverpool's busy shipping industry, the company went on to manufacture a significant number of British marine flags, including examples for the Royal Navy and even several Union Jacks for polar expeditions. Consigned directly by descent from Inspector General Cecil Millar OBE, this particular set of flags and bunting was manufactured as a special order in 1953 to be displayed at HM Waterguard in celebration of the Queen's Coronation in 1953.
The Waterguard, first formed in 1809 as "Preventative Waterguard", was a division of HM Customs and Excise responsible for control of all vessels entering and departing from the United Kingdom. Initially created to combat smuggling, the Waterguard was an independent arm of revenue enforcement that worked alongside riding officers who patrolled shores on horseback and offshore revenue vessels who patrolled the seas. Although the original purpose of the Preventative Water Guard had been to hinder smuggling it had also acquired other duties, such as responsibility for shipwrecks and assisting ships in distress. By 1923, their influence had extended into airports and all other points of entry to the UK, before eventually being reformed as the 'Preventative Service' in 1972 and ultimately superseded by the creation of the UK Border Force agency.
Lot 174: A set of International Code of Signal (ICS) maritime flags and pennants, 
the total of sixty-five flags comprising one large flag, 102cm wide; a 20-metre chain of thirty-two flags, individual flags measuring 41cm wide x 81cm high; ten large triangular flags, 55cm overall width and 2.1 metres long and twenty-two small triangular flags, 25cm overall width and 47cm long, including number signals, British Merchant, New Zealand, White Ensign and other maritime bunting flags
 Manufactured by Porter Brothers Liverpool to advertise the business at the time of the Queen's 1953 Coronation and later used by HM Waterguard. Owned by Cecil Millar Porter OBE, Inspector General of HM Waterguard, later Customs and Excise and thence by direct descent.
Estimate: £350 - £450
---
Timed Auction - Militaria including German Third Reich
and Military Surplus
Starts: Fri, 9th Jul 2021 10:00
Ends: Tue, 27th Jul 2021 19:00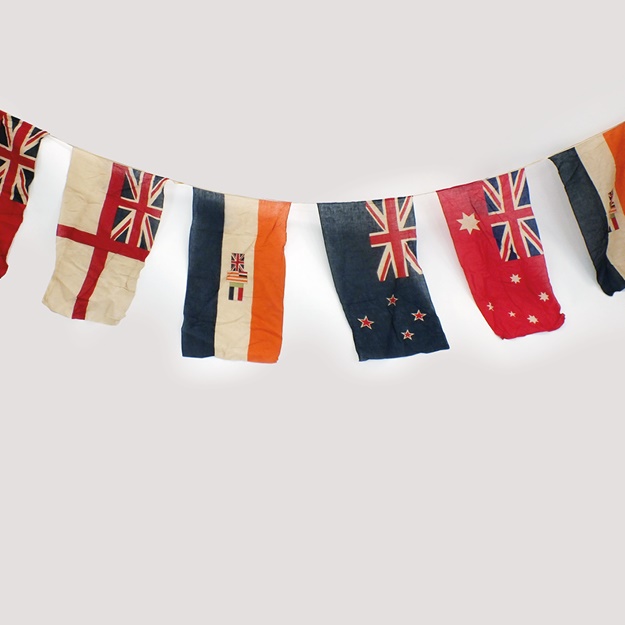 Contact Militaria Specialist Caroline Dennard