The year 2020 has inevitably changed the world, and for all businesses it has been a challenge, a year that has forced us to adapt and change, but also to be inventive and creative in the way we work. As more and more sales are being driven online, so too are auctioneers turning to the web in order to host and broadcast auctions, allowing customers to bid from the comfort and safety of their homes. Halls Fine Art have been diversifying their online auction offerings over the past two years, hosting regular online timed auctions which have become important fixtures in the yearly sales calendar and demonstrating the significance of the growing online market for art and antiques.
These timed auctions are more curated and focused sales and the first to take place since the easing of lockdown will be the Modern and Contemporary Art auction, which will be open for bidding 9th-25th October. This autumn's catalogue will feature a fantastic variety of narrative-changing and leading names in the art world.
An artist who needs no introduction is Pablo Picasso (1881-1973), Halls are delighted to offer in the Modern and Contemporary Art sale two etchings from his renowned Vollard Suite series from the 1930s. Taking their name from the illustrious art dealer who commissioned them, Ambroise Vollard, his untimely death in a car crash in 1939 and outbreak of war in Europe meant that the series were not published for many years following their completion.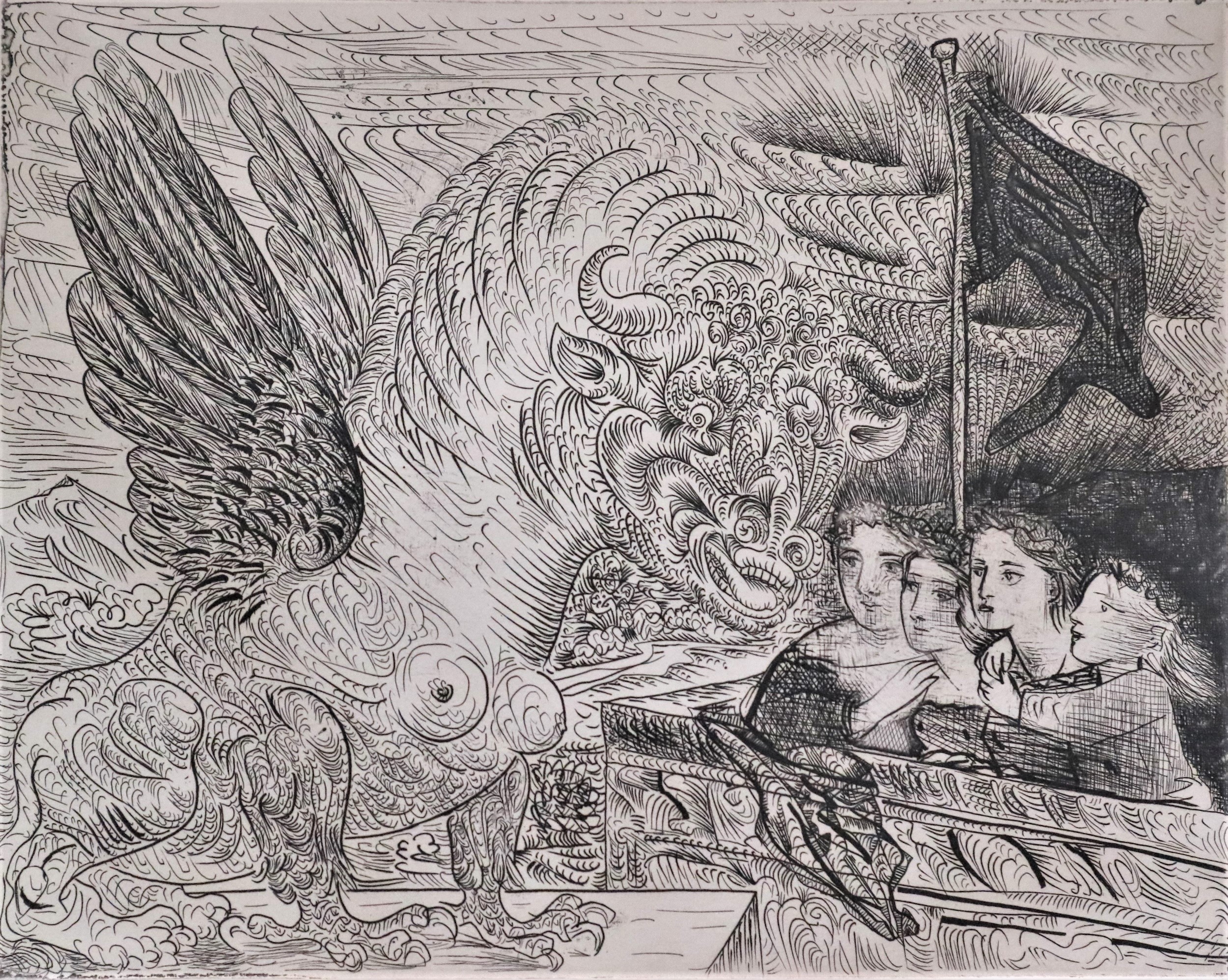 Lot 12, Pablo Picasso (1881-1973), Winged Bull Watched by Four Children, £2,000-£4,000 (+bp)
There are 100 different etchings in the series, and the images explore a seemingly darker and raw side of Picasso contrasting feelings of ecstasy, cruelty, sex and violence, heavily influenced by his tumultuous and passionate affair with mistress Marie-Thèrèse Walter. Picasso explores the turmoil both in his own life but also mirrors the politics of the day, with the rise of fascism in Germany, Italy and his native Spain, the images become steadily more nightmarish towards the end of the series.
Halls Fine Art have two etchings from the Vollard Suite up for auction in October, the Female Bullfighter II and the Winged Bull watched by Four Children, both dating to 1934. They will be offered as individual lots with an estimate of £2,000-£4,000 (+bp)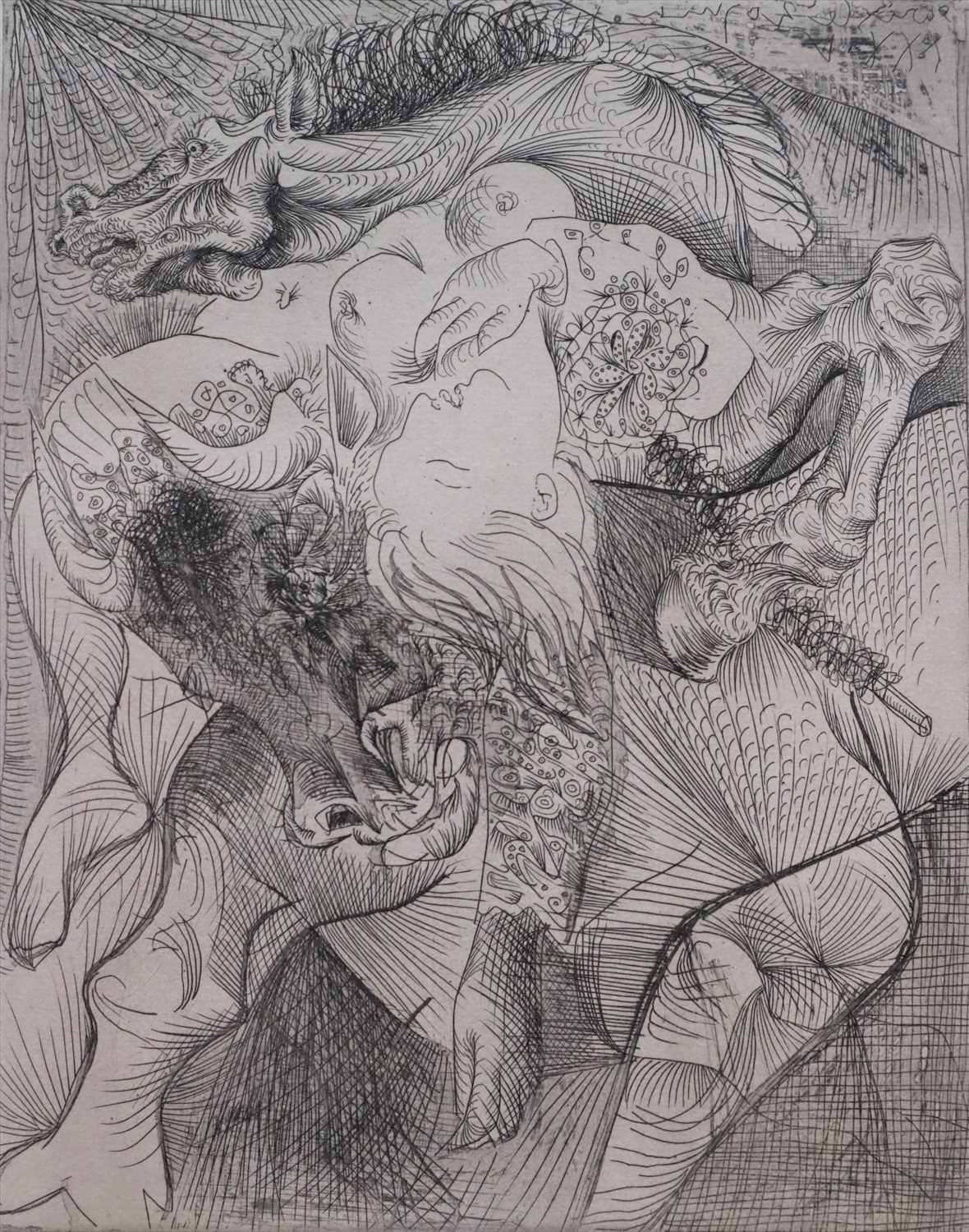 Lot 23, Pablo Picasso (1881-1973), Female Bullfighter II, £2,000-£4,000 (+bp)
Etchings will be a strong feature of the auction with a collection of works by Harry Becker (1865-1928) one of the last British Impressionists, famed for his emotionally charged depictions of farm labourers in the age before heavy machinery. Welsh Art is also continuing to thrive at Halls with a significant single owner collection of paintings by Machynlleth based artist Paul Martinez Frias, as well as artists such as John Piper, Gomer Lewis and Maurice Sheppard.
This auction will be live from Friday 9th - Sunday 25th October and can be viewed on Monday 19th October 9.30am - 4.30pm or Tuesday 20th October 9.30am - 2.30pm. 
For more information, or to book a viewing slot, please contact Modern and Contemporary Art Specialist Abigail Molenaar on 01743 450 700 or email adminfineart@hallsgb.com