Spanish Civil War Memorabilia For Sale 

In 1936, the Spanish Civil began with a far-right Nationalist attempted coup by Army Generals on Spain's leftist government. In 1939, after much bloodshed, it ended with a Nationalist victory that left Spain under the leadership of Franco with an alliance of right-wing Spanish political parties. 
Due to the conflict's ideological nature, propaganda played a vital role in this struggle. Both sides set up bodies to persuade and spread their versions of events to both domestic and international audiences. The socialist Commissariat for Propaganda, founded in October 1936, quickly realised that a specialist type of propaganda would be needed to communicate with those on the home front and to the other Western democracies.
Targeted forms of media, therefore, sought to mobilise not only soldiers but also domestic factory workers, political adherents, women, children and foreigners alike.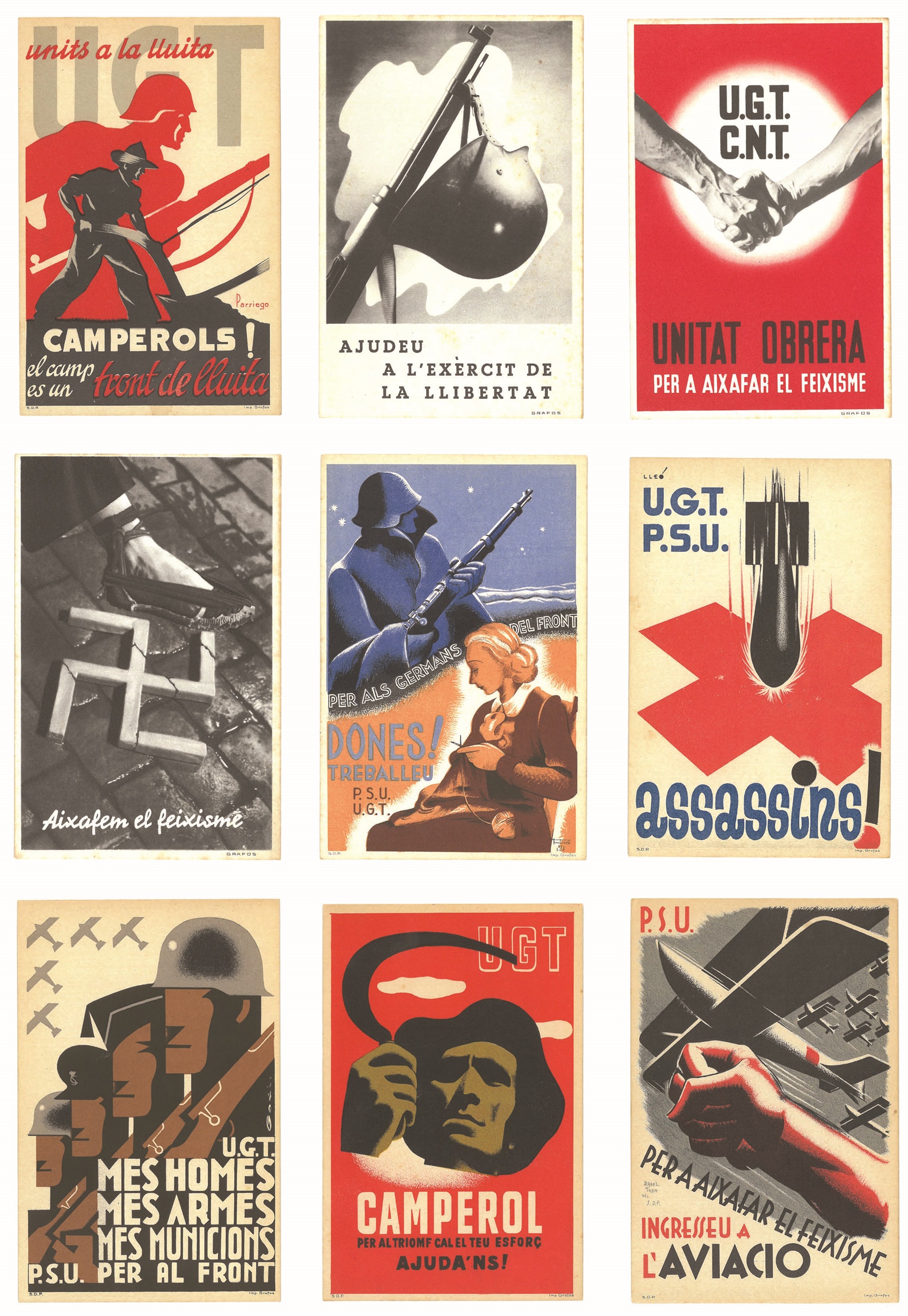 The war caused a worldwide reverberation of anti-fascist opinion. For many, saving the Spanish Republic from the fascist-inspired forces became the cause of the century. With this in mind, many artists were incentivised to design posters to aid the propaganda effort, creating a wide-ranging number of strongly recognisable illustrations.
The cards in this particular collection were created in support of the PSU-UGT, which was a coalition between the Catalan socialist party and the worker's union. The poster designs warn of the evils of fascism and hope to call citizens to action for various causes, such as food production and conservation.
Although written in Catalan, several postcards even feature multi-lingual text to the reverse, representing an attempt to bring otherwise neutral democracies into the war and unite the nations into a single cause.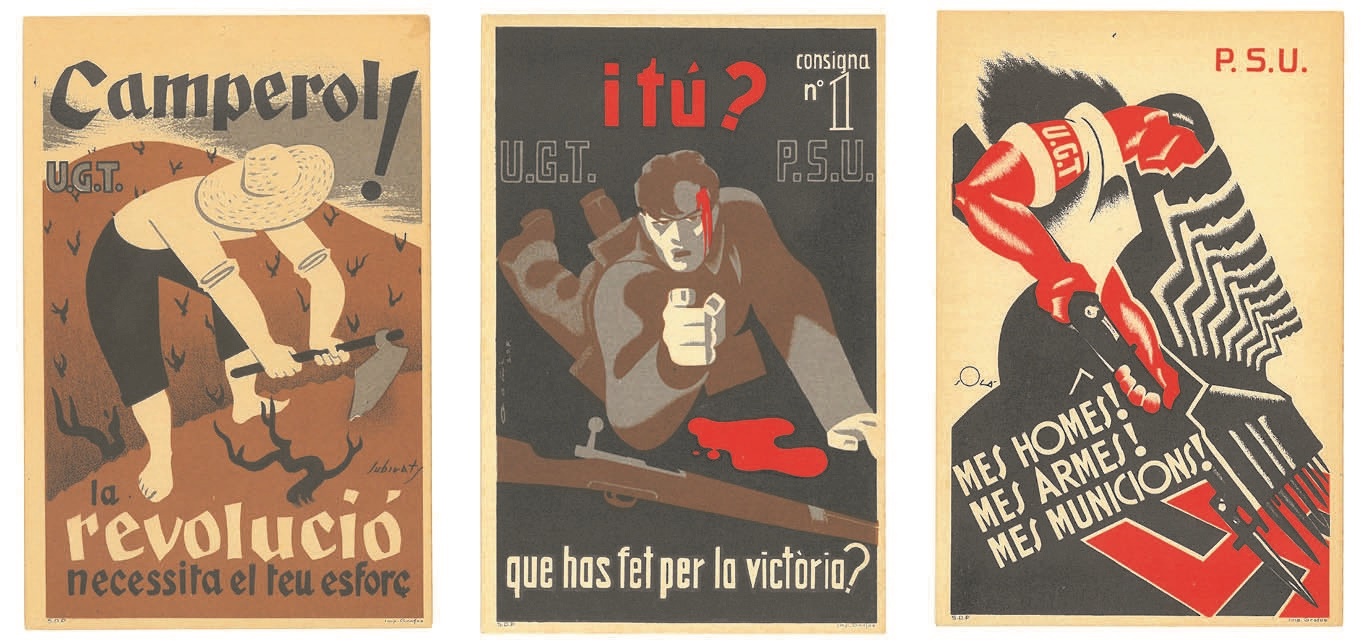 For both sides of the war and political spectrum, about 1,500 to 2,000 posters were designed. The editions usually consisted of 3,000 to 5,000 posters, or larger in exceptional cases.
The production of posters was more intense during the first part of the war because many young artists were called to the front as the war progressed, and materials such as paper became more difficult to source.
Furthermore, the posters were frequently reproduced in the media and included other mediums such as postcards. Aside from several examples promoting the call to arms, the focus of this particular set was to encourage the contribution of workers and peasants.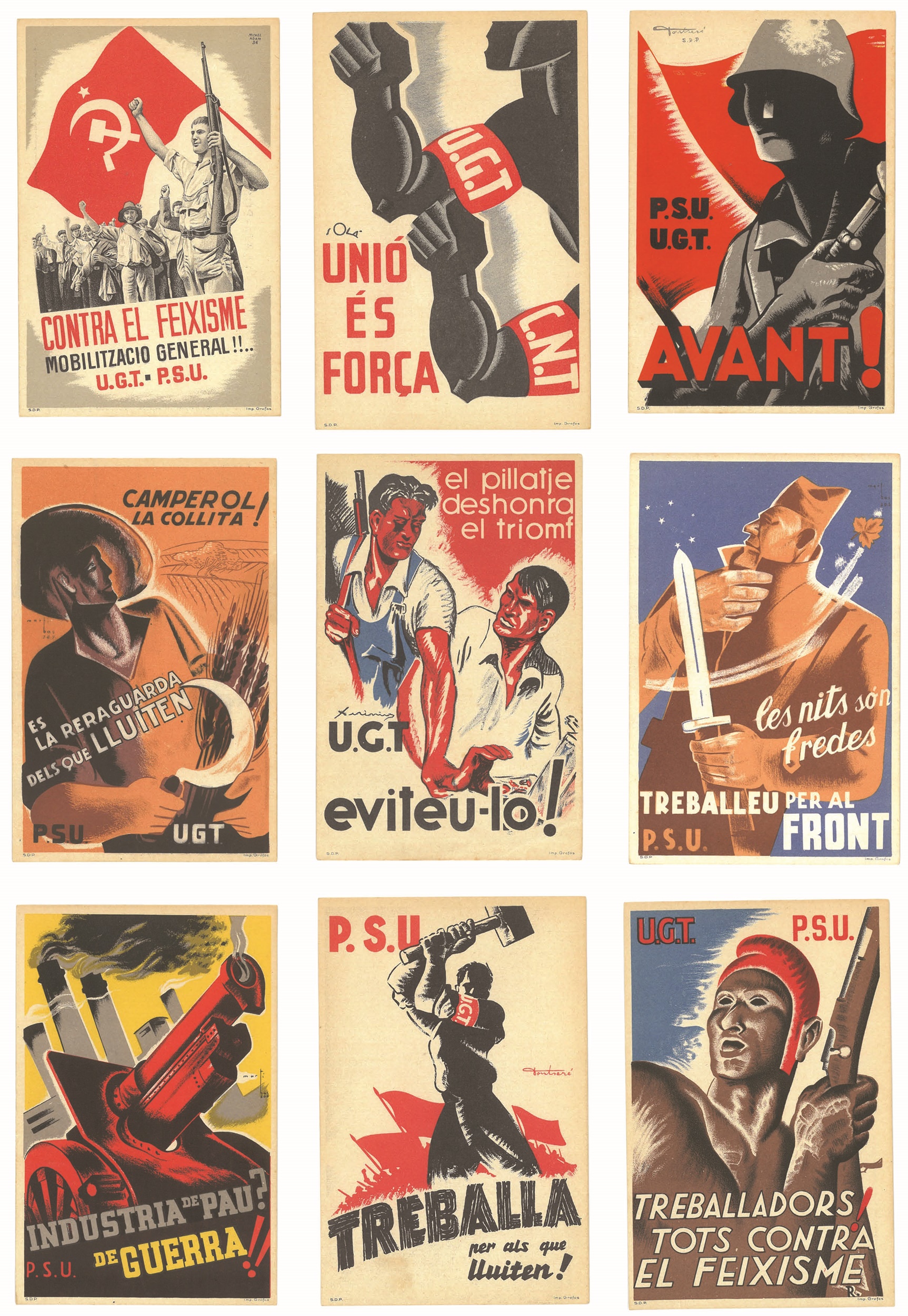 Estimated at £400/£600, it is scarce to find so many cards still together. These postcards benefit from a desirable cross-over appeal for those interested in military history and collectors of iconic poster design.
With the auction prices for the original posters often ranging from £300-£500 per example and becoming even harder to obtain in the present market, this is an excellent and much more affordable opportunity to purchase an original collection of influential wartime art and propaganda.
---
To consign to upcoming militaria auctions get in touch with our specialist Caroline Dennard for a free valuation of your military items and memorabilia