A painted model of the Market Hall in Llanidloes, circa 1900, showing the first floor door, used to load and unload flannel and wool and the ground floor door leading to the staircase to the first floor, in a glazed case, 59cm wide x 27cm deep x 49cm high
Provenance:
A private Welsh estate.
Footnote:
This model shows the first floor door (now absent), that was used to load and unload flannel and wool. In the early Victorian era when the flannel making industry was thriving, bales of flannel would be stored on the first floor of the market hall, before its transportation to Welshpool for sale. At the time this model was made the building had just started to be used as the working men's institute and library. This is supported by the models of working men outside the hall and sitting on the bench inside the arcading on the ground floor.
Note the differences between the hall as seen in this model and actual building as it is now. Clearly the two doors are now absent, but the decorative ridge tiles are now not present either.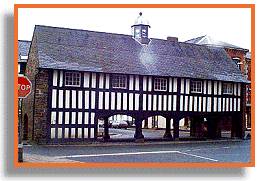 Condition Report

Ok. Case with minor scratches and dents.
Bidding indicates acceptance of the condition of the lot.  All lots are sold subject to general wear and tear commensurate with age and handling over time and only obvious faults will be mentioned after a visual inspection. If you have particular specialist questions on any lot, please state these before bidding since we cannot and will not provide a forensic examination of any lot but only a general condition report as a guide only. All condition reports given by Halls Holdings Ltd's representatives or agents are statements of opinion and not fact. If you require any further information about any lots in this auction or about bidding please do not hesitate to contact us again.